Sunday Platform – Girl Power! Youth Climate Activism in NYC
May 26, 2019 @ 11:00 am

-

12:30 pm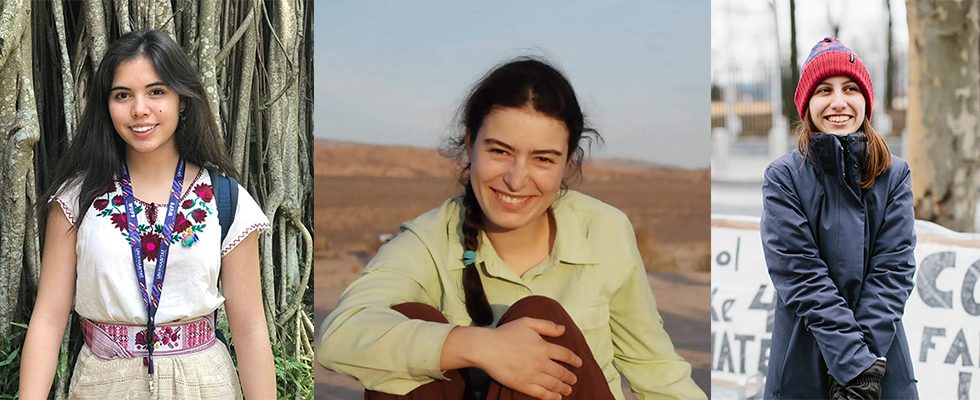 Ethical's Environmental Stewardship Committee co-chair Monica Weiss interviews three young, inspiring climate activists: Xiye Bastida, Colleen Schmidt, and Alexandria Villaseñor!
XIYE BASTIDA spoke up about the challenges that youth face because of the climate crisis at the 2018 UN World Urban Forum 9. She received the Spirit of the United Nations Award for her environmental work. A junior at Beacon H.S., Xiye is the leader of the school's Environmental Club and has worked with Action for Sustainable Development (A4SD) and numerous other climate organizations to communicate the implications of the existing climate crisis, among other issues.
COLLEEN SCHMIDT, an undergraduate studying Environmental Biology, is originally from Bozeman, Montana, where she grew up exploring rivers and mountains, developing a deep love for landscapes and wildlife. Her appreciation for the natural world has only increased through her studies of its complexity, resilience, and interconnectedness. The mission of the Sunrise Movement is the building of "an army of young people to stop climate change and create millions of good jobs in the process" through political action.
ALEXANDRIA VILLASEÑOR, a 7th grader, who — frustrated by the lack of progress of the UN Climate Change Conference in Poland, and inspired by 16-year-old Swedish climate activist Greta Thunberg, Alexandria — became a national and international organizer for the first-ever global youth climate strike on March 15, 2019, mobilizing nearly 2,000 youths from 123 countries to demand climate action from their world leaders. Alexandria was awarded the 2019 Tribeca Film Festival's "Disruptor" Award and The Common Good Foundation's Changemaker Scholarship and is on Politico's list of the top 100 people influential in climate change policy. Alexandria continues in her role as a prominent climate strike organizer, and is working to bring accurate climate science and climate change education into K-12 schools.
This week's shared charity is Zero Hour, whose mission is to center the voices of diverse youth in the conversation around climate and environmental justice. Zero Hour is a youth-led movement creating entry points, training, and resources for new young activists and organizers (and adults who support their vision) wanting to take concrete action around climate change.