Concert – Women of Romanticism: The Music of Clara Schumann, Josephine Lang, Fanny Mendelssohn, Cecile Chaminade, and Ethel Smyth
March 12, 2022 @ 4:00 pm

-

5:30 pm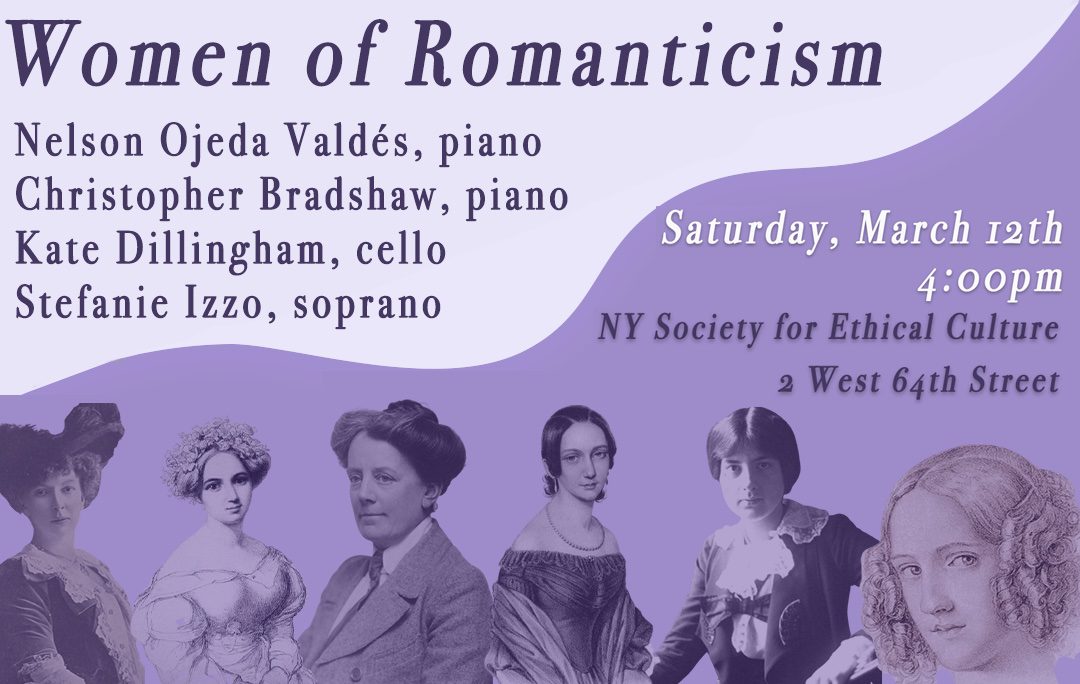 Join pianist Nelson Ojeda Valdés with guest performers soprano Stefanie Izzo, pianist Christopher Bradshaw, and cellist Kate Dillingham to celebrate Women's History Month with Women of Romanticism!
This concert features the music of several historically underrepresented European women composers of the 19th century, so that their music can be recognized alongside their better-known male contemporaries.
Wine and cheese reception follows!
$25 General Admission pre-sale
$20 for students, seniors (65+), and Society members
$30 at the door
COVID-19 Notice: Proof of COVID-19 vaccination, photo ID, and mask are required to attend.
Click Here to Purchase Tickets on Eventbrite!
Program
Performed by pianist Nelson Ojeda Valdés with soprano Stefanie Izzo, pianist Christopher Bradshaw, and cellist Kate Dillingham
Clara Wieck Schumann (1819-1896)
Four Fleeting Pieces Opus 15
Larghetto
Un poco agitato
Andante espressivo
Scherzo
Josephine Lang (1850-1880)
Two Selected Songs
Mignon's Klage Opus 10 No. 2
Am Flusse Opus 14
Fanny Mendelssohn Hensel (1805-1847)
Two Selected Songs
An Suleika (1825)
Suleika (1825)
März from Das Jahr
Cecile Chaminade (1857-1944)
Pieces Romantiques Opus 55
Primavera
La Chaise á Porteurs
Idylle Arabe
Sérénade D'Automne
Danse Hindoue
Rigaudon
Ethyl Smyth (1858-1944)
Sonata in A Minor for piano and cello Opus 5
Allegro moderato
Adagio non troppo
Allegro vivace e grazioso
Our Performers:
Nelson Ojeda Valdés, has been a soloist with the Pacific Symphony, Southeast Symphony, California State University Fullerton Wind Ensemble, and Lloyd Rodgers' Diverse Instrument Ensemble. He has performed at the Yamaha Resort (Nemunosato, Japan), Yon Sei University (Seoul, South Korea), Esterhazy Palace (Eisenstadt, Austria), Círculo Bellas Artes (Madrid, Spain), Ateneo de Madrid (Madrid), Fundación Juan March (Madrid), Fundación Canal (Madrid), Conde Duque (Madrid), Symphony Space (NYC), The DiMenna Center for Classical Music (NYC), Disney Hall (Los Angeles), Meng Concert Hall (Fullerton, CA), University of California Riverside's Department of Hispanic Studies, and Segerstrom Center for the Arts (Costa Mesa, CA). Nelson Ojeda Valdés's 2021-22 season includes participation in a complete performance of Olivier Messiaen's Catalogue d'oiseaux presented by Piano Spheres (Los Angeles), a chamber recital at the Steinway Society of Puerto Rico (San Juan), a performance of Paul Jared Newman's "Por la noche me llaman" at Ballet Hispanico (NYC), the premiere of Janet Emmons's "Requiem for Gaia's Children" at the New York Society for Ethical Culture (NYSEC), participation in Dr. Lisa Yui's series "Lives of the Piano" at Manhattan School of Music, performances of "Women of Romanticism" featuring the music of Clara Wieck Schumann, Fanny Mendelssohn Hensel, Josephine Lang, and Ethel Smyth at Pregones (Bronx), Redeemer Concert Series (Astoria), St. Boniface (Brooklyn) and NYSEC, and Edvard Grieg's Piano Concerto on tour with the Puerto Rico Summer Festival Orchestra.  Ojeda Valdés holds degrees from California State University Fullerton and Manhattan School of Music. His primary teachers have been Earle Voorhies, Susan Svrcek, and Constance Keene. For more information please visit nelsonojeda.com
Soprano Stefanie Izzo has been hailed as possessing a "gorgeously rich and full sound" for her work in opera and musical theatre. Her recent performance of Maria in West Side Story with St. Petersburg Opera was deemed "ideal in every way," and garnered a Theatre Tampa Bay Award nomination for Outstanding Lead Actress in a Musical.  Stefanie made her off-Broadway debut in 2012 as Monica in Menotti's The Medium, and her  international debut in 2011 as Adina in L'Elisir d'Amore with Musica Viva Hong Kong. She was chosen as the inaugural recipient of the National Italian American Foundation's Andrea Bocelli Music Scholarship, and holds a B.M. from NYU and an M.A. and Advanced Performance Certificate from CUNY Queens College. In addition to operatic repertoire, Stefanie devotes a significant amount of her time to art song, particularly that of female composers, and maintains an active concert schedule in the NYC area.  She is a co-founder of the chamber ensemble The Astoria Music Project. www.stefanieizzo.com
Pianist Christopher Bradshaw has performed solo and chamber music in the USA, Spain, Germany, Austria and Switzerland. He teaches piano in New York City, and frequently performs as a soloist and in collaboration with other instrumentalists, singers and choirs. He is music director at Church of the Redeemer in Astoria, Queens, and is artistic director of the Redeemer Concert Series. www.bradshawpiano.com
Cellist Kate Dillingham is a soloist, recording artist and an avid proponent of the music of living composers. She has performed as a soloist with The St. Petersburg Philharmonic, The Moscow Symphony Orchestra, The Salzburg Chamber Philharmonic Orchestra, the Moscow Chamber Orchestra and The Brno Philharmonic (Czech Republic). She has appeared at Carnegie Hall, The Metropolitan Museum of Art and Lincoln Center in New York City. Kate was a student of Bernard Greenhouse at Rutgers University and of Maria Tchaikovskaya at the Moscow Conservatory. A long association with Mr. Greenhouse led to collaboration on an edition of the Sonatas for Violoncello and Keyboard, BWV 1027-1029 by J.S. Bach, published by G. Schirmer Inc., which she presented in a combined concert and lecture at the Metropolitan Museum of Art and recorded with renowned harpsichordist Jory Vinikour for Affetto Records. Kate has produced and recorded albums of varied repertoire from Haydn to Higdon which are available at iTunes, Amazon, and Spotify. Kate is the Executive Director of ArtsAhimsa: Music for Peace, and Founder of MyBlueSkies.net, an online platform for teaching and streaming in high resolution audio. Kate also serves as President of the Violoncello Society of New York (VCS).
Related Events