Miguel De La Torre: "Why We Come: Rethinking Our Immigration Crisis"
August 15, 2021 @ 11:00 am

-

12:30 pm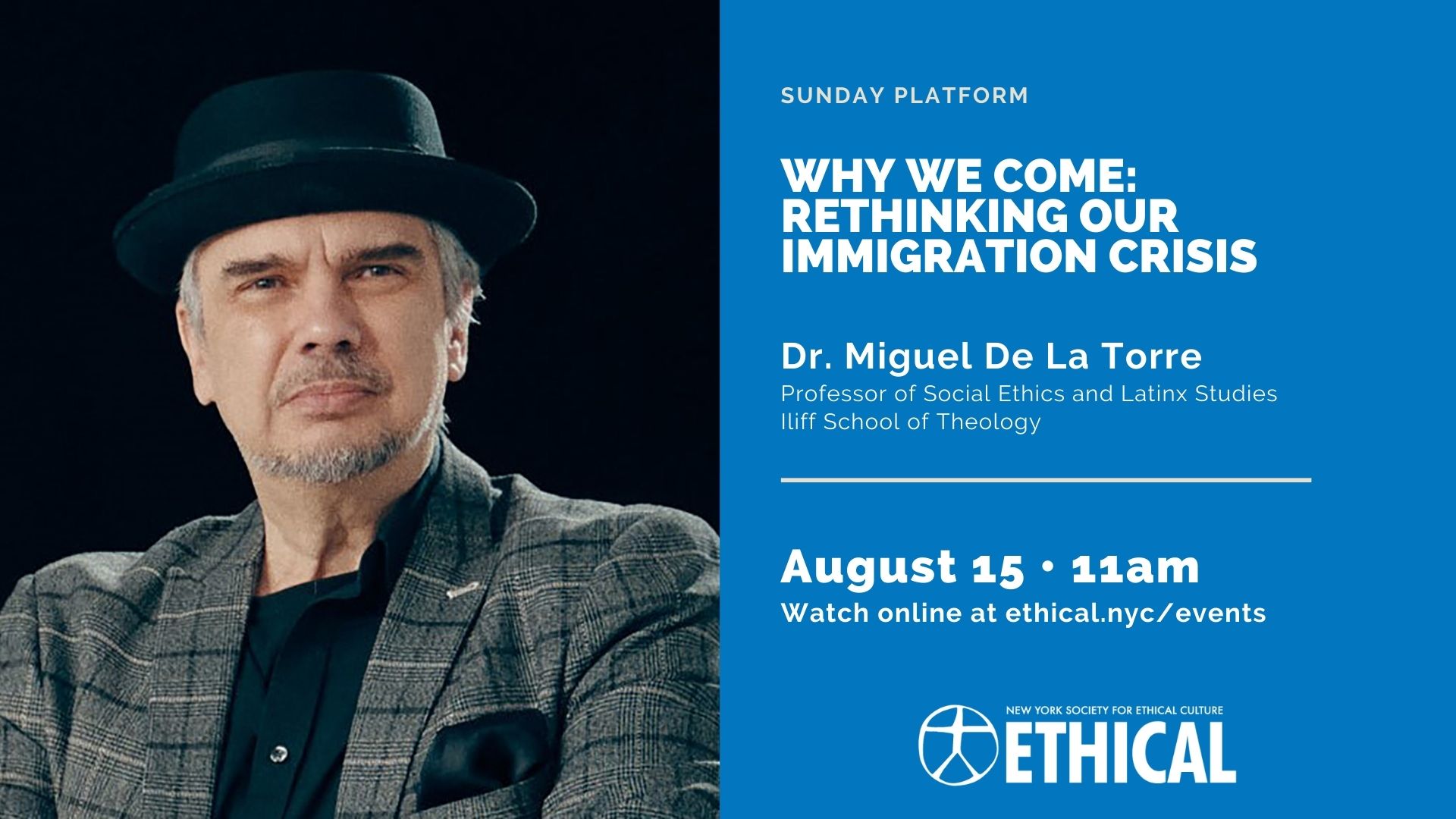 The current immigration crisis on our southern borders has little to do with migrants seeking a better life. Its causes can be traced to the 1840s. Dr. De La Torre is an immigrant—once an undocumented immigrant—because of U.S. domestic and foreign beliefs and policies, from Manifest Destiny to Gunboat Diplomacy. Because we fail to recognize the causes of our current immigration crises, we fail to develop proper ethical and moral solutions.
Dr. Miguel De La Torre focuses his academic pursuits on social ethics within contemporary U.S. thought, specifically on how religion affects race, class, and gender oppression. He is the recipient of the 2020 American Academy of Religion's Excellence in Teaching Award and the 2021 Martin E. Marty Public Understanding of Religion Award. Dr. De La Torre is Professor of Social Ethics and Latinx Studies at the Iliff School of Theology in Denver. He wrote the screenplay for the award-winning documentary film, Trials of Hope and Terror. A Fulbright scholar, he has taught in Indonesia, Mexico, South Africa, Costa Rica, Cuba, and Germany, and has authored over 100 articles and published 41 books (five of which won national awards). Dr. De La Torre served as the 2012 President of the Society of Christian Ethics, as Director of the American Academy of Religion, and sat on the editorial board of the Academy's Journal, as well as having been Co-founder and Executive Director of the Society of Race, Ethnicity, and Religion, and founding editor of the Society's Journal
Watch Online! – Click to join at start | ID 863 0430 0961 | Passcode 609424
Notice: Only fully-vaccinated Society members are invited to attend in-person at this time.
Presider: Monica Weiss
Shared Charity: Harlem Mothers S.A.V.E.
---
Sunday Platform is our most important and long-standing community event. These gatherings educate, stimulate personal growth, inspire reflection and action, and strengthen our community. Sunday meetings usually begin with music, followed by greetings and a talk given by a Society Leader, member, or guest.  Platforms cover a variety of topics that reflect current events, pressing social issues, and Ethical Culture philosophy. A collection basket is passed and money is shared between the Society and a charity selected for that day.  While contributions are always appreciated, Sunday meetings are free and open to the public.  Each Sunday meeting is followed by a luncheon and social hour.
To view previous Sunday Platform addresses and interviews, visit our Videos page and YouTube channel.
Related Events