Barbara Allan: Doing Our Time on the Outside (Hybrid)
May 8, 2022 @ 11:00 am

-

12:15 pm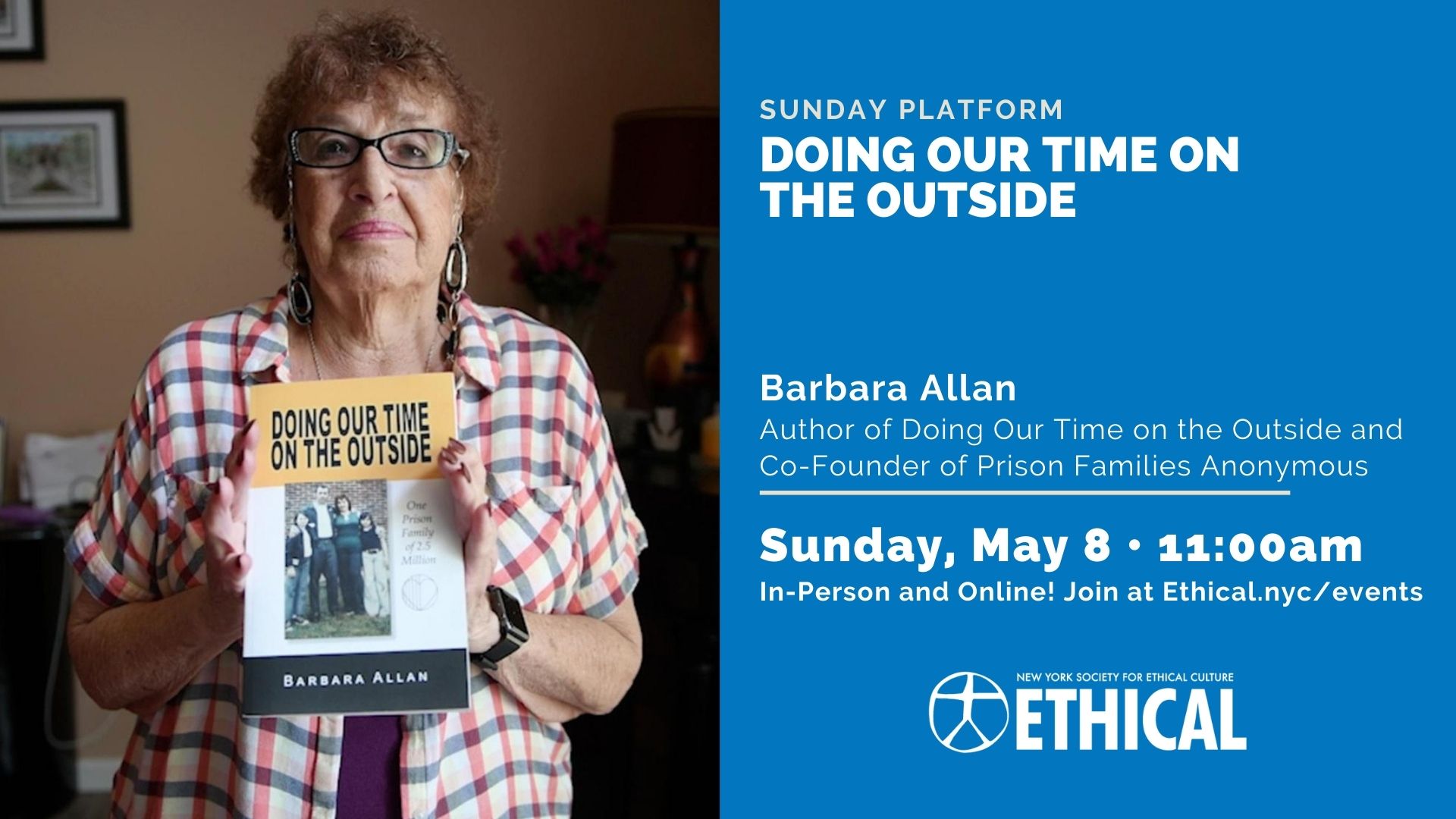 In-person and online!
Barbara Allan will share firsthand knowledge as she addresses our community on the devastating effects incarceration has on families. She will delve into how families and the community at large are the collateral damage of the carceral system.
Ethical NYC Food Drive: Please bring a can of protein–tuna, chicken, beans, etc.–a jar of nut butter, or box of pasta to Platform to support our Food Insecurity Initiative. Spices and cooking oils are requested as well, as they are not covered by SNAP and the price of cooking oil has skyrocketed. 
Barbara Allan was a schoolteacher, wife and mother who had no contact with the criminal justice system until 1966 when her husband was imprisoned. As she tried to deal with her feelings of isolation and confusion, she became aware of a new organization, The Fortune Society, whose goal was to disseminate information about a failing prison system. In a letter she wrote to Fortune, she said that she was doing time on the outside. That was the beginning of Barbara's advocacy.
Barbara, along with two other women, formed Prison Families Anonymous, an organization that provides support and advocacy for loved ones impacted by the juvenile or criminal justice system. A source of pride for Barbara was the work she did to institute contact visits in her state. She served on the board of directors of New Yorker's Against the Death Penalty; was on the advisory board of a maximum-security prison for women; a victims advocate of the Lauderhill Police Department; volunteered at Women's in distress, a domestic violence agency.
Currently she is on the board of directors of 3 criminal justice agencies, including on that is International. Barbara has been published in the congressional record, written her memoir, "Doing Our Time on the Outside: One prison family of over 2.5 million" and advised on the publication of the folio edition "All I ever wanted…Stories of the Children of the Incarcerated." She has appeared in two documentaries and is currently working on Houses on the Moon to help bring stories of the Prison Family to the stage.
Notice: Only fully-vaccinated individuals are invited to attend in-person at this time.
Watch Online: Click to join at start | ID 863 0430 0961 | Passcode 609424
To join by phone (audio only), dial (929) 205-6099 and enter the Zoom ID above.

Presider: Barbara Carlsen
Monthly Collection: Camp Linden
---
Sunday Platform is our most important and long-standing community event. These gatherings educate, stimulate personal growth, inspire reflection and action, and strengthen our community. Sunday meetings begin with music, followed by greetings and a talk given by a Society Leader, member, or guest.  Platforms cover a variety of topics that reflect current events, pressing social issues, and Humanist philosophy. Each Sunday meeting is followed by a luncheon and social hour.
To watch previous Sunday Platforms, visit our Videos page and YouTube channel.
Related Events