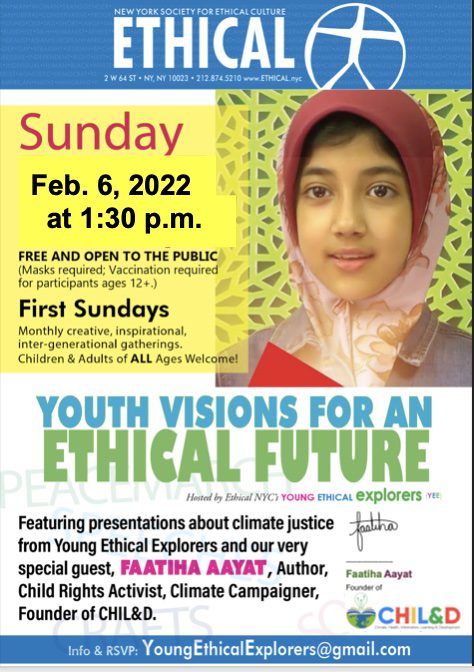 What is YOUR vision of an Ethical Future?  Your ethical future? The world's?  Ethical philosophers of every age, gathered to engage this question at FIRST SUNDAYS on Feb. 6th, 2022.
We have explored this from a different angle before:  A few years ago, at a spring festival, we reflected upon a related concept: ETHICAL INFINITY. You may have been there… As we focus on the ethical moment we are in, we may find it extends infinitely toward the past and the future. Connecting to both, we root to grow in this infinite path of humanity.

Just before the pandemic, young activist Faatiha Aayat and her father met Young Ethical Explorer Marifer Torres-Sandoval and her father in the grand auditorium at Ethical NYC on a historic eve.  It was the night Greta Thunberg, having sailed across the Atlantic, came to speak with many youth activists, hosted by Ethical Leader Ann Klaeysen and former VP of USA Al Gore.  https://ethical.nyc/chooseus-livestream/
Here the seeds were planted for both Faatiha and Marifer to share their "YOUTH VISIONS FOR AN ETHICAL FUTURE", as they did on Feb. 6th, 2022's FIRST SUNDAYS event.  Young Gabriel Pozdnyakov was also inspired to deliver his worldly awareness, inspiring his sister Katie to bring it home with a message of kindness!  Hayden Rich rose to share a moment of wonder.  Young Jai Williams was inspired to share a drawing. What a very special afternoon.
How can you explore this idea of an ETHICAL FUTURE?
1. Start seeing examples. Speaking to the future is exactly what Dr. King did in 1963 when he shared his dream for changes. For fairness, for equity, for peace. It is also what the young activists on stage were doing the night that Faatiya met Marifer.  They were imagining the world in 20 years… imagining success in their goals as activists for a healthy earth to call home.
2. Ask yourself or your friend questions about what you are HOPING for. Imagine your hopes manifesting.  See a picture in your mind and describe it.
3.  Invite the world to JOIN you in your vision.  If there is a DEED to pave the road toward this vision, describe it.
It takes a WILD IMAGINATION and a PLAYFUL MIND and COURAGE to create solutions to entrenched problems. That is why YOUTH VISIONS are especially important!  Go ahead, write up a vision. Draw a vision. Speak to the future. Sing to the future!
What if Dr. King and later Greta Thunberg had remained silent with their visions? It really
does take courage… and Ethical is here to cultivate that courage, and support you.