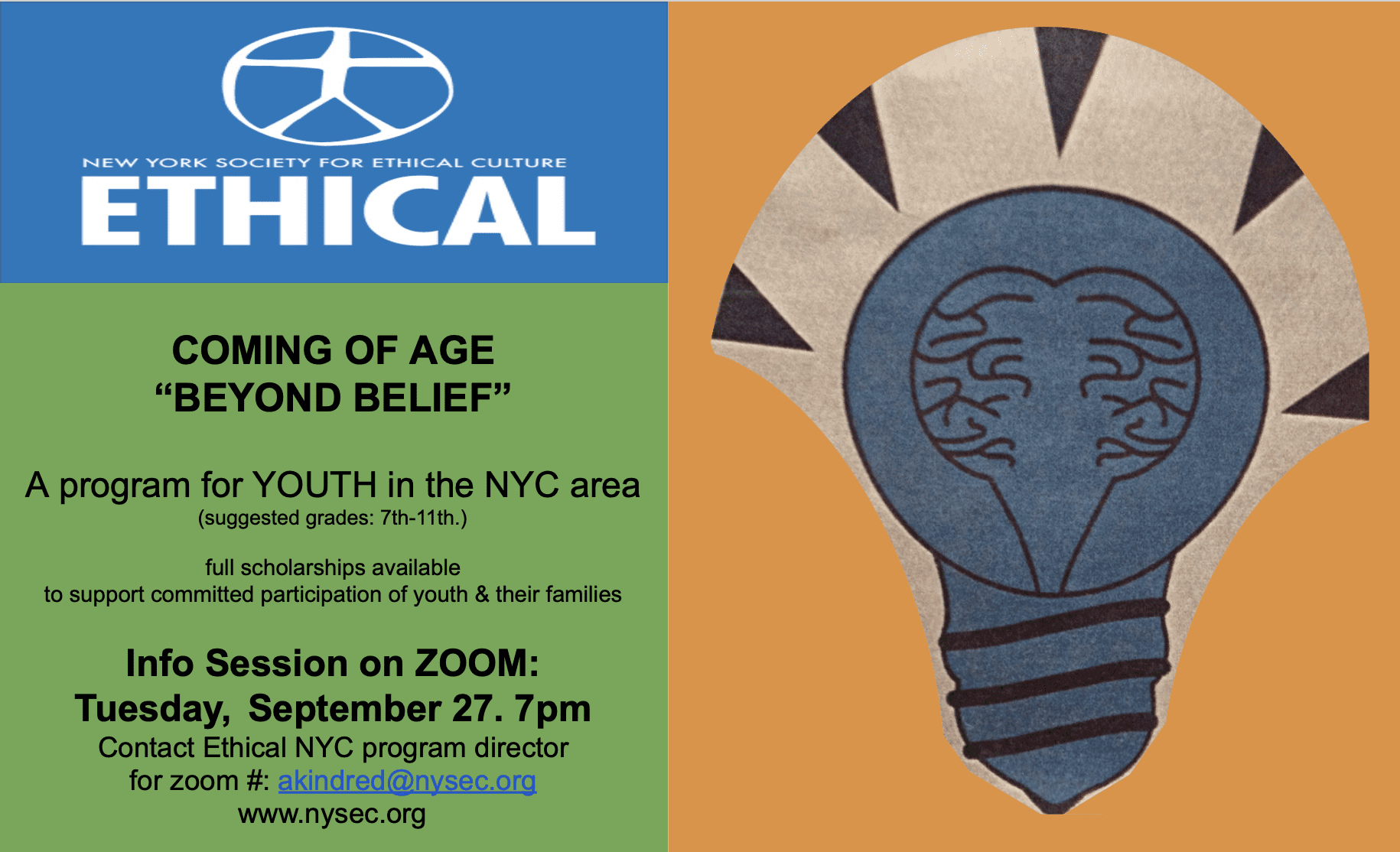 Dear Youth and Parents.
We are inaugurating a new Coming of Age cohort this season.
You are invited to a COMING OF AGE info session on Zoom… 
It will take place on Tuesday Sept. 27 at 7pm.
(sorry for any inconvenience about new dates ~ also please note that you are welcome to notify other families of this that you think might be interested.) 
This program is for youth starting in 7th grade, and can include high school students who may have not had a coming-of-age opportunity.
It is a process offered for those who wish to engage in a coming-of-age program "BEYOND belief."
Full scholarship support for families making a commitment to this process is available.
This program is not available as a per-session experience, but requires commitment and an effort to participate fully.
Our year long plan is to start this fall with a section simply called: HUMANISM & ME/WE, which will include  LEADER-meet-ups for a deep dive into ETHICAL CULTURE history, philosophy, vision. Participants will meet as a group this fall with various ETHICAL CULTURE LEADERS, workshopping with that leader uniquely, to gain expertise, enthusiasm and grounding from them.  This season (and the program at large) will be permeated with and scaffolded with self-help skills and practices for personal growth.
A blog with an overarching view of Ethical Coming of Age is valuable to browse before our gathering.
INFO/PLANNING MEETING: ZOOM Sept. 27 at 7pm-8pm
Contact Program coordinator for link:  YoungEthicalExplorers@gmail.com
Fall season outline for year long Coming of Age program:
HUMANISM AND ME/WE
Below are proposed dates for the fall season. In BLUE are larger community gatherings that the group is highly encouraged to participate in (and even help with!)
FIRST SUNDAY Oct. 2, 1pm-3pm
Saturday 10/15  Retreat to Stoney Point
Sunday  October 16,  2pm-4pm.  LEADER-meet-up with Dr. Joe Chuman: Philosophy of Humanism
Proposed Followup:  Wednesday. Oct. 19, 7-8:30pm. zoom
Sunday  October 30, 2-4pm.  LEADER-meet-up with Dr. Richard Koral: History of Humanism
Proposed Followup: Wednesday Nov. 2 on Zoom 7-8:30pm. zoom
        FIRST SUNDAY Nov. 6, 1pm
Sunday,   November 13, 2-4pm.  LEADER-meet-up with  Dr. Nori Rost ~
Religion of Humanism in an Interfaith Context (with faith objects)  or Je Hooper
Proposed Followup: Wednesday Nov. 2 on Zoom 7-8:30pm. zoom
Sunday, December 11, at 11am ~ Platform participation with Dr. Je Hooper
Fri. Dec. 16th at 6-8pm LEADER-meet-up with Dr. Je Hooper
Intergenerational Winter Fest: Dec. 18, 11am 
Final Wrap Up of Winter Season:  Dec. 18th 2-4pm.
Meetings and field trips for the new year will be determined with the group needs in mind.
Questions can be addressed to Ethical NYC's youth program coordinator: Audrey Kindred
YoungEthicalExplorers@gmail.com
(note: flyer image from Ish Islam, 2014