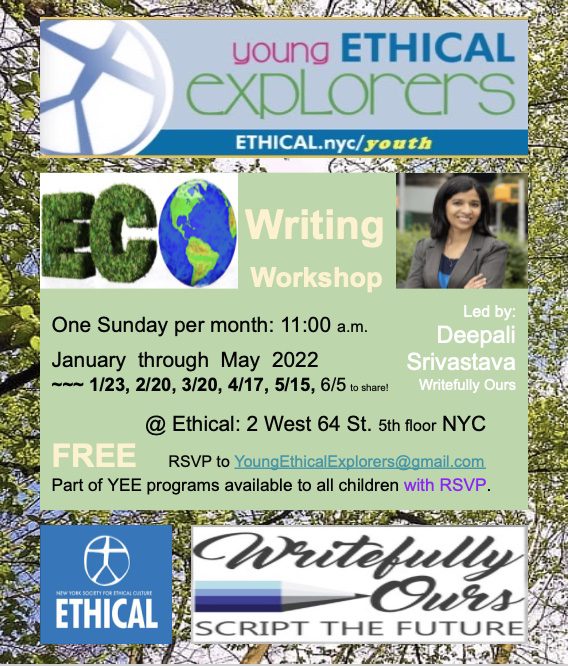 Writefully Ours teamed up years ago with Young Ethical Explorers … and young ethical writers have been growing and growing!
Now… Here is a unique invitation to participate in a mini-series:
a monthly ECO-WRITING workshop for young writers of all ages to write/draw their love of Earth through many genres.  Sign up for the WHOLE series through YoungEthicalExplorers@gmail.com.
ECO-writing Workshop for Young Writers of all ages.
Monthly on select Sundays,  at 11:00 a.m. as part of ETHICAL NYC's weekly Young Ethical Explorers Program.
January  through  May 2022 with a public sharing opportunity in June.
(dates to mark on your calendar are:
1/23, 2/20, 3/20, 4/17, 5/15 and 6/5)
A HYBRID PROGRAM:
At  Ethical NYC, 2 West 64 St. on the 5th floor.
or via zoom (rsvp for link).
RSVP to YoungEthicalExplorers@gmail.com
FREE for all ages of children with reservation.
Vaccination is required for all who attend in person.
We aim to make this a Hybrid format, so those who are not yet vaccinated, can attend virtually.
Naturally, it's time to write!  Young writers will dabble in five genres: short story, comic book, news article, poetry and speech writing.
Jan. 23:  Comic book writing:  What's your 'Element'ary superpower? Young writers will develop a story about a superhero with secret superpowers to protect Planet Earth. We will focus  on creative character and plot development as every superhero tackles an environmental issue they care about. 
Feb. 20:  Breaking News!: Write an exciting and informative news report on animal sightings!  It could unfold in your neighborhood, on a trip, in Central Park or during coronavirus lockdowns. We'll give picture prompts, and young writers will create their own headlines, photo captions. They will  write stories complete with interviews and eye witness accounts.
March 20:  Once upon a time in the Amazon Rainforest: Write a story to save the Great Kapok Tree from the perspective of an Amazon rainforest animal. Do you want to be a slithering slimy snake,  a buzzing busy bee or a shiny spotted Jaguar? Does your story have a happy ending? 
April 17:  Poetry in Nature: A poem is built around words, not sentences. Serious or funny, long or short, rhyming or not, it can take any shape or form. It always expresses personal thoughts and feelings. 
May 15:   Climate Activist Speech: Launch a campaign, make your poster, write a speech and show the world that no one is too small to make a difference!
AND FINALLY… AN INVITATION FOR ECO-WRITERS TO SHARE WITH COMMUNITY…. 
June 5 at 1:30 First Sundays Series: ECO-FEST featuring Young ECO Writers