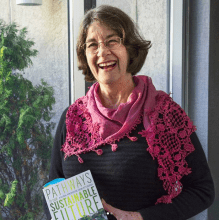 Meet Patty, an author, radio host, environmental activist, and the latest in our Ethical Humans series exploring the impact of ethics in society. Ever since she was five years old, Patty has been interested in the environment. She collected butterflies in her backyard and was always growing a new plant. Since then, she has turned her childhood passion into her life's work.
For Patty, climate change is not an issue of technology but ethics. We have the capabilities to drastically reduce greenhouse gases, we just haven't made a strong commitment as a society to take action. In her book Pathways to our Sustainable Future: A Global Perspective from Pittsburgh, which she recently presented at New York Society for Ethical Culture, Patty writes about how to move from awareness to action on climate change. She reiterates this message in her role as an Adjunct Professor at the University of Pittsburgh, and her words have inspired work from students like Eva Resnick-Day, who famously confronted Hillary Clinton about her environmental policy. She was also the executive director of the Rachel Carson Homestead Association and director of the Rachel Carson Institute at Chatham University.
Creating a more environmentally sustainable society depends on building a community of people who care about each other and the earth. You can learn more about Patty and her work on environmental ethics at patriciademarco.com.
GIVEAWAY ALERT: Who is the most ethical human you know? Tell us in the comments and use hashtag #EthicalHumans. One winner will be selected to receive a signed copy of Patricia DeMarco's new book, Pathways to our Sustainable Future: A Global Perspective from Pittsburgh.