Young Ethical Explorers' Calendar offers support for a: 
GR

EE

N HOLIDAY SEASON AHEAD. 
Families of all kinds are welcome, with RSVP (a quick note with your names, intention to come and the age of your child)
to YoungEthicalExplorers@gmail.com.
ECO-ACTIVISM IN OCTOBER:
Growing MOOOOOORE GREEEEEEEN!
On Sunday, October 30, YEE offered kids a DIY Maker Space to make RRR costumes!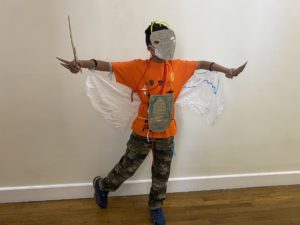 Reflecting with GREEN Appreciation: 
In September YEE workshopped with Eco-educator Petya Georgieva Miller! We love her Eco-project coloring book: Healthy Earth!
She joined YOUNG ETHICAL EXPLORERS to honor CLIMATE WEEK  and to share our ethical mission of a positive and uplifting education for children which takes on the serious challenges of our World.  Petya is the Indie-author of Healthy Earth – a book empowering kids with practical environmental knowledge about sustainability and climate actions without causing eco-anxiety.
Petya Georgieva Miller has an eclectic background of professional experience and interests. For more than 12 years, she has worked in the field of communications, branding, and advertising.   During that time, she also became a yoga teacher and got a Masters's Degree in Psychology. Diving into spirituality and psychology, stirred a big change in her, resulting in a career pivot. She directed her communications experience and psychology knowledge towards supporting meaningful causes dedicated to environmentalism, climate change, and animal protection. That's how the idea about Healthy Earth was born. As she likes to wrap it up, she is passionate about mental, physical, and environmental health.
Petya is also a cat-mom of two furry cat sisters, a writer, a plant-based connoisseur, a traveler, and a bibliophile. Born in Varna, Bulgaria, her interest in intercultural dynamics led her to explore more than 30 countries. She has lived in the Netherlands, Norway, Hungary, Sri Lanka, Florida, Vermont, and currently resides in New York City.