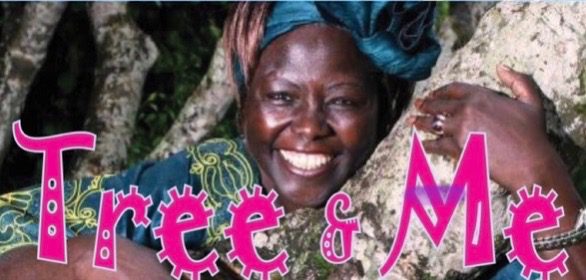 DEAR ETHICAL COMMUNI-TREE!
Celebrate the B-EARTH DAY of an Ethical Hero… Dr. Wangari Maathai
…Below is a short film as a gift for you in honor of her.
Inspired by her, Young Ethical Explorers nurtured TREE-voices…  including inviting artist in residence Jody Sperling to "grow her tree dance" through rehearsal processes in Ethical Culture's lovely spaces.  This tree is bearing fruit, so to speak… so please put this date on your calendar for a lovely performance.  It is free of charge, and you may invite many friends and neighbors to share in this gift!
SAVE THE DATE:
Performance of Jody Sperling's TimeLapse Dance:  MAY 19, 7pm in Adler Hall.
April 1st, 1940 is the birthdate of an ethical hero whose work as a scientist and community activist laid ground for our modern environmental movement.  In honor of the B-EARTH DAY of Dr. Wangari Maathai, here is a film about the deep work she has inspired with the Young Ethical Explorers (footage from last spring, 2022).
In 2001, Wangari Maathai came to NYC and visited the Brooklyn Society for Ethical Culture. There, she joined the circle of children, with teachers Audrey Kindred and Simba Yangala, and spoke with the adults at platform.  Three years, later,  she was honored internationally with the Nobel Peace Prize, presented by Al Gore.  This was a revolution in peace-work itself.  To what human's traditionally honored as PEACE (which was relations between humans), Dr. Wangari Maathai asserted the essential element of: our mutual care of the EARTH.  She was the first Black African woman to gain recognition by the Nobel Peace Committee.  She was introduced to Ethical by long time Leader of Ethical Culture from Long Island, Arthur Dobrin, and hosted by Leader Emeritus, Lisel Burns.   Ever since meeting her, both teachers (Simba and Audrey) who met her that day, have honored her birthday with majesty, through education of young ethical explorers in many venues, from schools to Ethical Culture itself.
Below is a link to ways Young Ethical Explorers have developed "tree voices" in honor of Wangari Maathai for many years.
Earth-work to honor of Dr. Wangari Maathai!