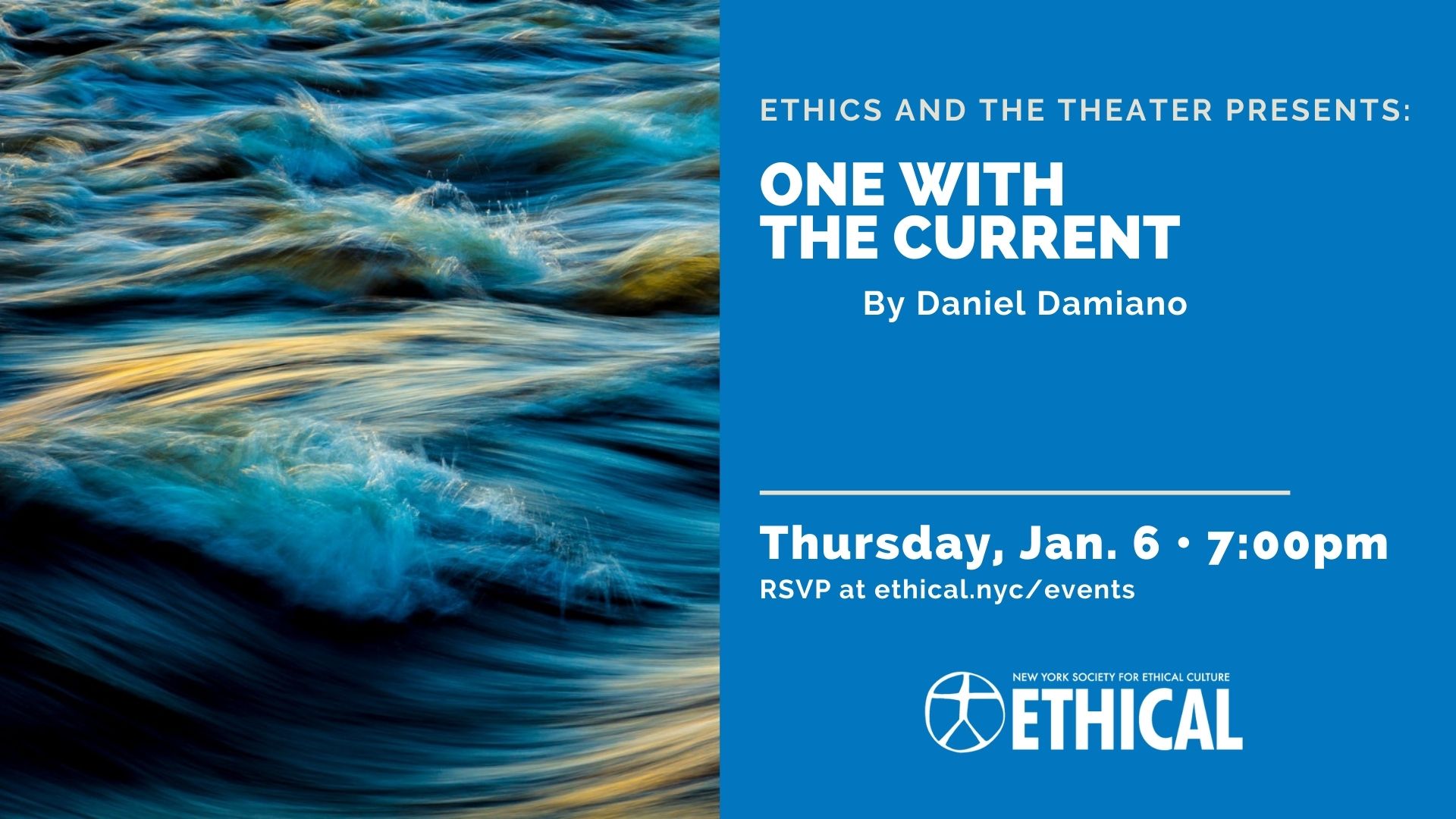 NOTICE: This performance has been postponed. A new date and time will be announced soon.
********
Our long-running staged reading and discussion series continues at 7pm on Thursday, January 6 with a special session featuring One With The Current by Daniel Damiano:
A North Carolina husband, father, and hardware store owner's life becomes radically altered during the pandemic.
Performed by Daniel Damiano and Judy Alvarez. Directed by Leslie Kincaid Burby.
Following the reading, Society Leader Dr. Nori Rost will lead a discussion exploring the ethical issues raised in the play, including the choices that people make, and the power of those things that influence us for good or evil.
Join us as we struggle to come to terms with the events of this historic day.
Suggested Donation: Members $5, Guests $10 (at door)
COVID-19 Notice: Proof of COVID-19 vaccination, photo ID, and mask are required to attend.
***
Daniel Damiano is an award-winning playwright, screenwriter, poet, actor and novelist based in Brooklyn, NY. His plays have been performed throughout many areas of the U.S., as well as London, England and Sydney & Melbourne, Australia. His acclaimed play DAY OF THE DOG premiered with St. Louis Actors' Studio in 2013 and subsequently transferred to 59E59 in NYC in 2014. It was a 2013 St. Louis Critics Choice Best Play Nominee, and was published by Broadway Play Publishing in 2018. Other more recent productions of his work include HARMONY PARK ("4 Stars" – Detroit Free Press, with Detroit Repertory Theatre), THE LEPERS (Ensemble Studio Theatre, NYC) and his acclaimed solo play AMERICAN TRANQUILITY (which has been lauded in both NYC and Washington DC). His new play, THE WILD BOAR, was a 2019 Finalist for both the Woodward/Newman Award and the Janet & Bruce Bunch Award. He was a 2013 Nominee for the Pushcart Poetry Prize and a Finalist for the 2012 Arts & Letters Prize for Drama. His debut novel, The Woman in the Sun Hat, was published in March 2021 through fandango 4 Art House.