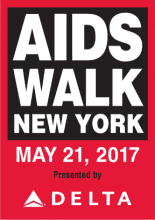 Help Ethical raise money for AIDS research by sponsoring, spreading the word, and walking with us at the 2017 AIDS Walk! Sunday, May 21 at 10am.
We can share stories of what this level of activism means to us. For us, many of our friends survived the plague of the '80's — and many also died from it. Those who survived have been instrumental in creating a movement that has taught America to stand up for the deep justice of health care, community care, and the importance of diverse needs being met.
Walk, sponsor, or both!
Sign up to join our team here: https://ny.aidswalk.net/Team/View/41102/ETHICAL-9707
We will create a lovely day! Our team meets on the side of AEU – Ethical NYC building, at Central Park West and West 64th Street at 10am on Sunday, May 21st. Bring water bottles and snacks, and wear sun-block. Feel free to contact Audrey Kindred with questions at ethicsforchildren@nysec.org.