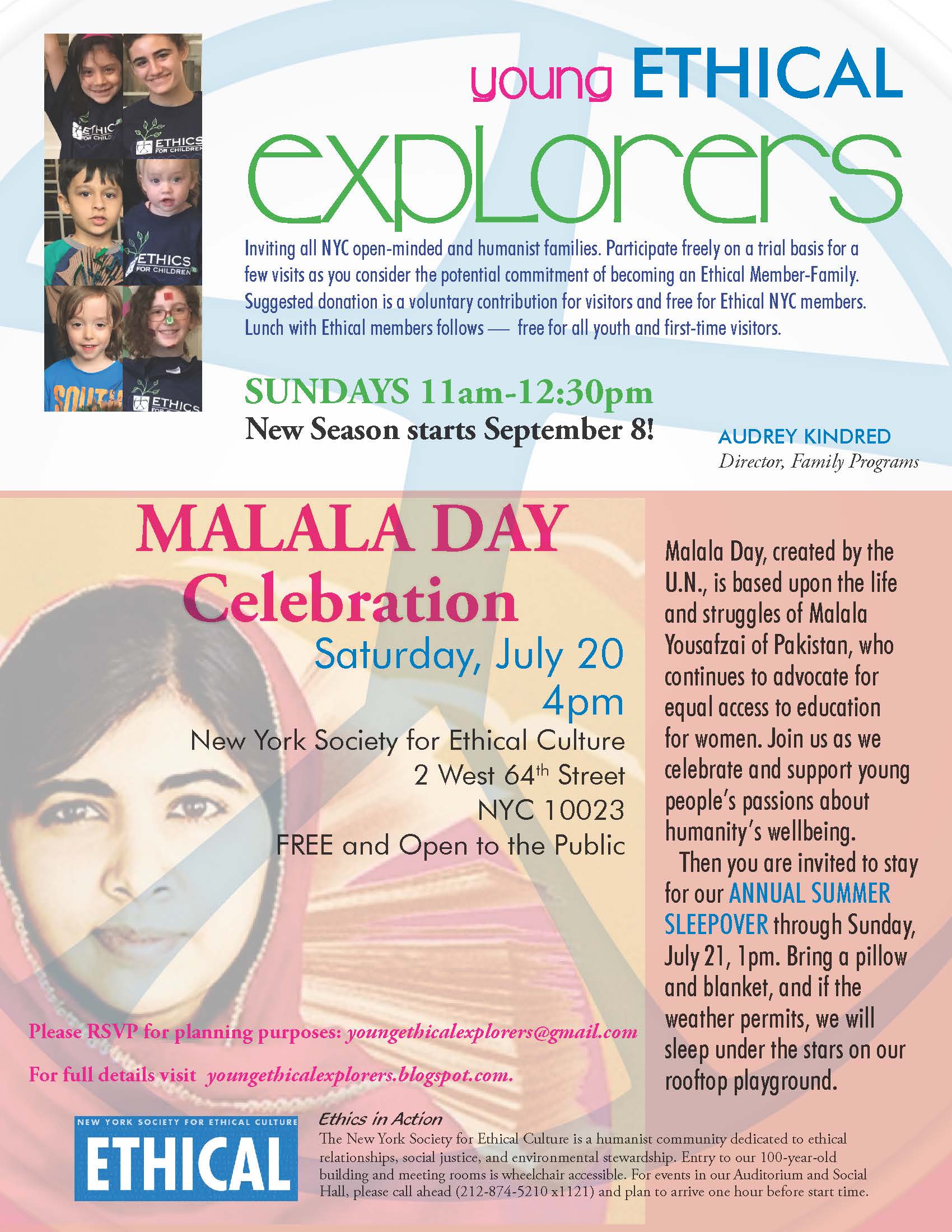 Malala Day, July 12, was created by the United Nations for the international celebration of Malala Yousafzai of Pakistan, who continues to advocate for equal access to education for women and girls. Join us as we celebrate her and support young people's passion for education and bettering the world!
We'll also be joined by our wonderful friend and artist Simba Yangala and her performing arts company JungleDom, for a performance of "What Forgiveness Looks Like."
For many years Simba has taught Ethics for Children and led inter-generational events at the Brooklyn Society for Ethical Culture. She grew up in what used to be called Zaire, now the Democratic Republic of the Congo, and does a lot of work as teacher, performer and activist to bridge these worlds. The show is based on four characters: the thinker, the dreamer, the dancer, the singer — who represent four orphaned Congolese children whose worlds she invites us to understand, and whose educations, she invites us to support.
As a collective DEED, we will pass a hat for Simba's cause. All proceeds will go to support the welfare and education of these Congolese orphans through JungleDom.
Following our Malala Day Celebration, children and guardians are invited to our Annual Summer Rooftop Sleepover, running through Sunday at 1pm. Bring a pillow and blanket, and if the weather permits, we'll sleep under the stars on our rooftop playground overlooking Central Park!
We'll enjoy a potluck dinner and breakfast, along with stargazing, animating, and more! Sleeping arrangements can be as formal as a tent on the rooftop and as Informal as a blanket on the slide.
Both events are FREE and open to the public. Please RSVP with Audrey at youngethicalexplorers@gmail.com.
---
Ethics for Children/Young Ethical Explorers is our Humanist Sunday school, designed for youngsters from ages 4 to 13, and takes place concurrent with our Sunday Platform meetings. Sessions raise issues of personal identity and integrity, appreciation and respect for others, and knowledge of religions, philosophies, and social concerns. Topics are explored in an age-appropriate way through discussion, storytelling, dramatization, music, art, games, and field trips.