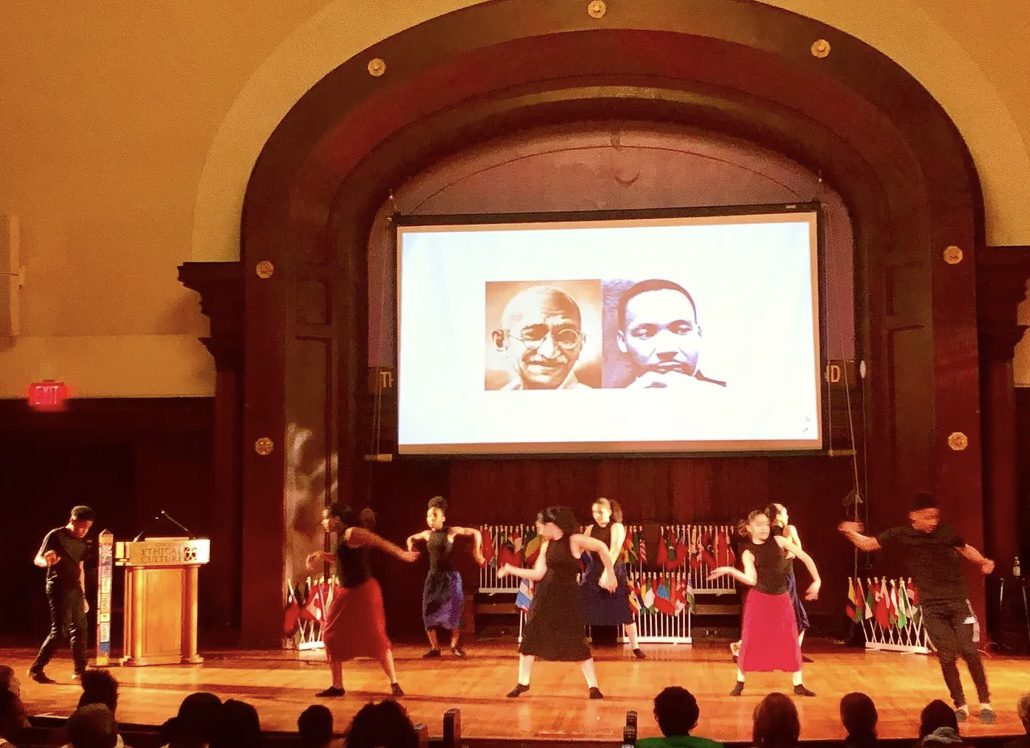 Ethical Friends, near & far…young & old… of all beliefs and approaches to peace-making on Earth!….
You are invited to actively join the intergenerational GANDHI/KING SEASON OF NON-VIOLENCE.
It is an inspired period of time, framed by two historic dates of tragic GUN VIOLENCE that took the lives of our world's most renowned non-violent leaders.  It is a project of peace.
On January 30th…. Gandhi was shot (1948, 74 years ago, India)….
AND
On April 4th…. Dr. King was shot (1968, 54 years ago, USA).
The Gandhi and King families collaborated to create the concept of  A SEASON OF NON-VIOLENCE framed by these two dates. So, between  January 30 and April 4, peace makers everywhere are invited to actively study NON-VIOLENCE, and practice it, grow it, manifest it.  We can try out new efforts toward peace making. ACTIVELY ENGAGE in the re-igniting of non-violence on Earth.  Learn about peaceful ways to solve problems — personally and globally.
A special song has become the tradition of SFN's culminating event…. on April 4th. Here are the lyrics and links to music so you can learn the song and participate!  Sing it, and come participate in a group video-singing process with Young Ethical Explorers at Ethical NYC's 4th floor on Sunday March 13th at 1pm. RSVP at YoungEthicalExplorers@gmail.com to confirm plan.  In the meantime, practice
Here's just piano with lyrics: https://www.youtube.com/watch?v=bJBa6QjSEUM
But here is a wonderful wonderful version to try… there are tons of them once you start looking! https://www.youtube.com/watch?v=oSRgmqJhTu8
To honor copyright issues, the lyrics can be viewed at this link.  We will use the school-version that replaces words: God with Earth and Brother with Family, to be more inclusive.  For this version, link here and scroll down to the bottom. http://www.jan-leemusic.com/jan-leemusic/Copyright_Info_and_Lyrics.html
Thanks to a peer from the committee of SFN for researching the copyright issues involved with this song! An earlier posting has been amended here to respect what the copyright statement requests.
This song will be video-ed and pieced together with many many others:  LET THERE BE PEACE ON EARTH AND LET IT BEGIN WITH ME.   Please learn it, and join Young Ethical Explorers in a video of this to contribute to the SFN event.   To participate in our video, contact YoungEthicalExplorers@gmail.com for the plan.
You can reach out directly to SFN as well, to get more involved:
(917)-727-MLK1  or  (917)-727-6551
#GandhiKingSFN
In this "Season For Non-Violence" we may all dive deeper toward our peace studies, developing our peace skills.  You may explore a concept that infused Gandhi's commitment to non-violence: AHIMSA. This ancient Sanskrit word is translated most simply as "DO NO HARM." What does this mean to you? How can you "practice AHIMSA?" Here is a lovely children's story about practicing AHIMSA on the playground.
Each year, the Season For Non-Violence (SFN) hosts programs organized by an intergenerational team of peace organizers. All ages are respected equally.
Each year a heroic figure from the Civil Rights movement is upheld. Herein, we gain great insight into the Beloved Community of many brave activists whose actions created society's essential revolutionary changes during the Civil Rights era!
Angeline Butler came to Ethical through SFN before the pandemic.  She taught us about her participation in "civil disobedience" to protest segregated public spaces, such as lunch counters.
As the pandemic persists, The Season For Non-Violence is planning "virtual" events. YEE will be participating in the activities that lead up to the culminating virtual event on April 4th.  We will be participating in the FLAG CEREMONY by each accepting a country to represent… researching and drawing their flag, and making a short video that offers  peace to that part of the world.  "MAY PEACE PREVAIL ON EARTH."
You can see last year's flag ceremony if you scroll down on this link here!
The song LET THERE BE PEACE ON EARTH is sung each year on April 4th as part of the SFN's closing ceremonies.
Link here for lyrics, and choose the "school-version".
http://www.jan-leemusic.com/jan-leemusic/Copyright_Info_and_Lyrics.html
Make a family band and sing it in your family's root-language. Share a video of your version, with us!
Here's just piano with lyrics: https://www.youtube.com/watch?v=bJBa6QjSEUM
But here is a wonderful wonderful version to try… there are tons of them once you start looking! https://www.youtube.com/watch?v=oSRgmqJhTu8
To get involved with the YEE's collaboration with the Season of NonViolence by Learn, Lead, Serve Inc… to engage with this "beloved community"  reach out to YEE coordinator: Audrey Kindred at YoungEthicalExplorers@gmail.com