Coming of Age Program Info Session (Online)
September 27, 2022 @ 7:00 pm

-

8:00 pm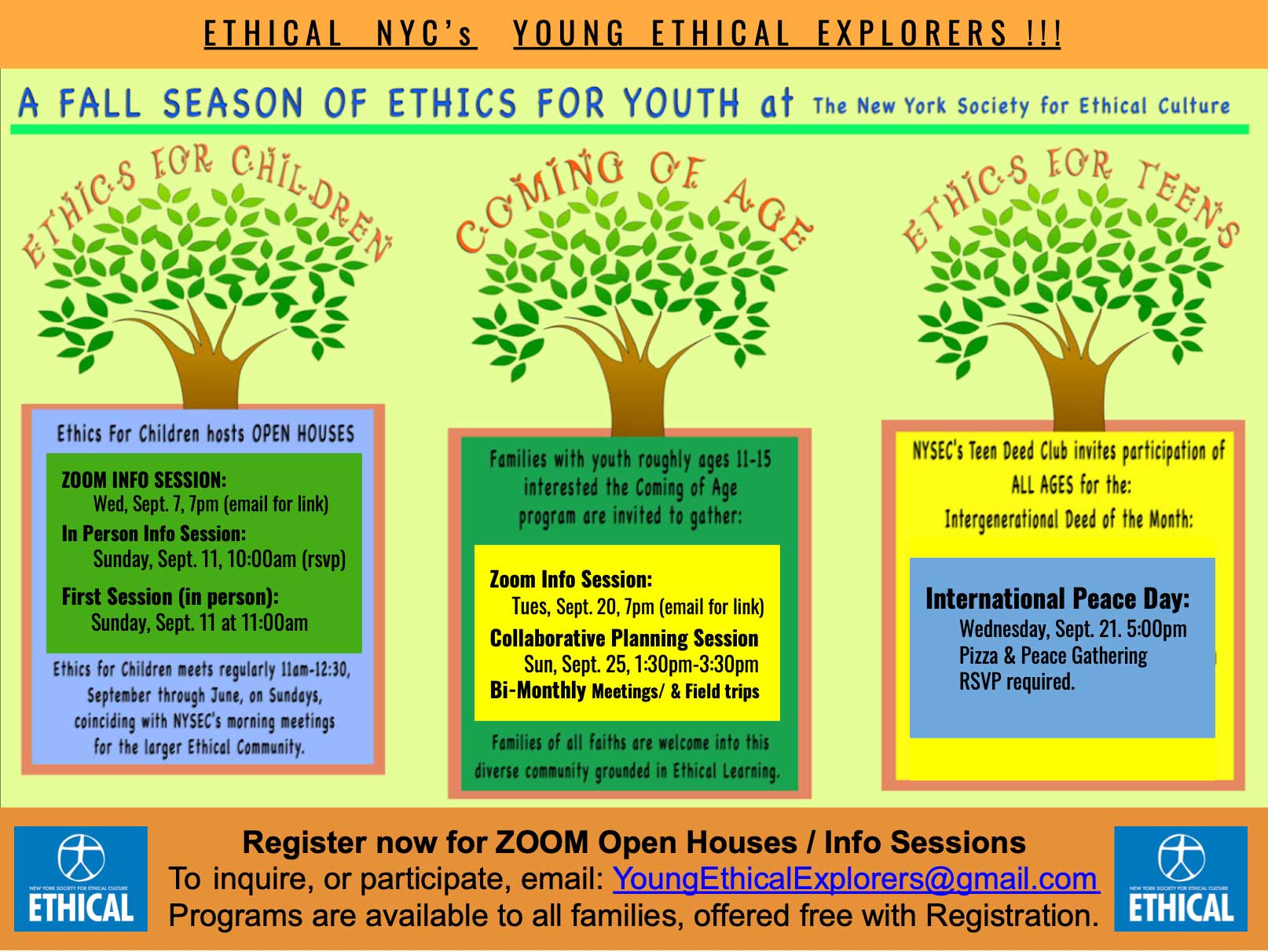 This fall, the Society will be restarting our Coming of Age youth program, geared toward children (roughly) ages 11-15. Families of all faiths and belief systems are welcome to join our community grounded in ethical learning.
For those who are interested in the programs, Youth Programs Director Audrey Kindred will be hosting an online 'open house'/info session on Tuesday, September 20 at 7pm. To RSVP, or for questions, please contact Audrey at youngethicalexplorers@gmail.com.
A collaborative planning session will also be held on Sunday, September 25 from 1:30-3:30pm. For more information about our Youth and Family programming, please visit ethical.nyc/youth.
About our Coming of Age Program
"Coming-of-age" marks a young person's transition from childhood to adulthood. Families are invited to enroll their older teens in our coming-of-age program, whose guiding principle is to provide a safe and creative environment, and ethical grounding, to empower every young adult to blossom within our community. The age at which this transition takes place varies in society, as does the nature of the transition. It can be a simple legal convention or part of a ritual as practiced in many societies and religions.
In our diverse community, we welcome young people who are seeking an opportunity to mark their life path with a process and celebration focused on
Self-inquiry
World awareness
Personal and social responsibility
Community service
Recognizing that children mature at different rates, we meet with children and parents to determine when a child is ready, and the curriculum is geared to the needs of the individual and family. With a Humanist anchor, we will explore a world of ideas and values together.
TK
Related Events