Ethics Unplugged: Sexual Ethics with El/yse Ambrose, Ph.D. (Online)
May 17 @ 7:00 pm

-

8:00 pm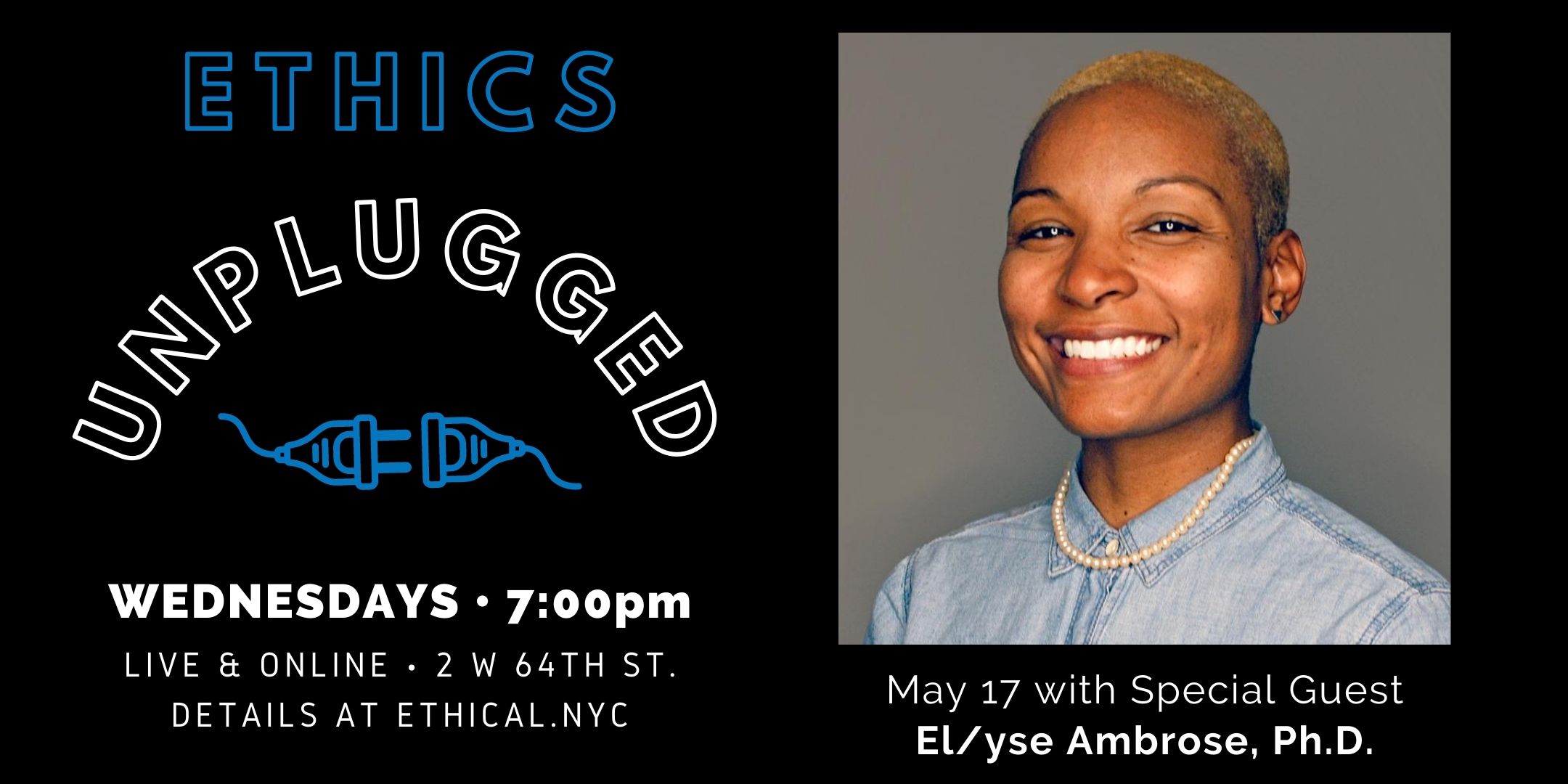 Notice: This week's session will be held online only.
Join us for this special Ethics Unplugged with our special guest, Dr. El/yse Ambrose, a Queer sexual ethicist who will join us to discuss how we can all navigate the pleasures of sex with integrity and joy.
Featuring music by Lindsey Wilson!
El/yse Ambrose, Ph.D. (they/them)* is a blackqueer ethicist, creative, and educator whose research, art, and teaching lie at the intersections of race, sexuality, gender, and spirituality/religion. Ambrose's forthcoming book, A Living Archive: Embodying a Blackqueer Ethics (T&T Clark [London], Enquiries in Embodiment, Sexuality, and Social Ethics series) offers a construction of a communal-based ethics of sexuality and grounded in blackqueer archive. Their artistic work-in-progress, mycountryboy|what do i know, is a photo-sonic study of Ambrose's paternal roots that addresses themes of place, opacities, monstrosity, and religion.
Ambrose's most recent completed photo-sonic exhibition, "Spirit in the Dark Body: Black Queer Expressions of the Im/material," premiered in November 2019 during the annual meeting of the American Academy of Religion at the L Street Fine Arts Gallery (San Diego, CA) and has shown at the House of Mark West (Bronx, NY)— one of the few black queer-owned galleries in the country.  Ambrose currently serves as Assistant Professor of Religious Studies and Black Study at the University of California, Riverside. Their research has been supported by the Louisville Institute for the Study of American Religion, the Forum for Theological Exploration, Columbia University's Center on African American Religion, Sexual Politics, and Social Justice, the Henry Luce Foundation, the Yale University LGBT Studies Fellowship, Auburn Seminary and CrossCurrents Journal.
Ambrose's work and commentary have been featured in the Huffington Post, the Christian Century and their podcast Contemplating Now, Medium, ForHarriet.com, Vice, and CBC Radio One's Tapestry.  Ambrose's research interests include black religion, religious ethics, religion and social change, queer and trans studies in religion, Africana spiritual traditions of the U.S. South, and blackqueer cultural history and production. Elyse Ambrose resides in Southern California. They are a proud plant sibling and parakeet parent.
May's Theme: Pro-Pleasure Activism
This month at Ethics Unplugged we'll be focusing on embodied pleasure. Often, it's easy for folx engaged in social justice activism to get caught up in the pursuit of justice and forget to appreciate what it means to be embodied, and the pleasure we can find in our flesh and bones.
We'll explore some of the more radical ways our bodies can delight us, and the power of physical pleasure in the many forms in which its revealed to us as embodied beings. As always, we will bring the hermeneutics of ethics to these conversations, remembering that there is an ethical practice in even the most radical spaces, and in the most revolutionary acts of pleasure.
Watch Online! Click to Join at Start | Zoom ID 864 8703 7420
In-person and online! Join Society Leaders Nori Rost and Jé Hooper for Ethics Unplugged, an exciting reimagining of Ethical Culture, every Wednesday at 7:00pm. Come early for wine and snacks!
Free and open to the public!
COVID-19 Notice: Masks are optional but strongly encouraged.