Ethics Unplugged Art & Soul: mama [rose.] Film Screening with storäe michele
March 30 @ 7:00 pm

-

8:30 pm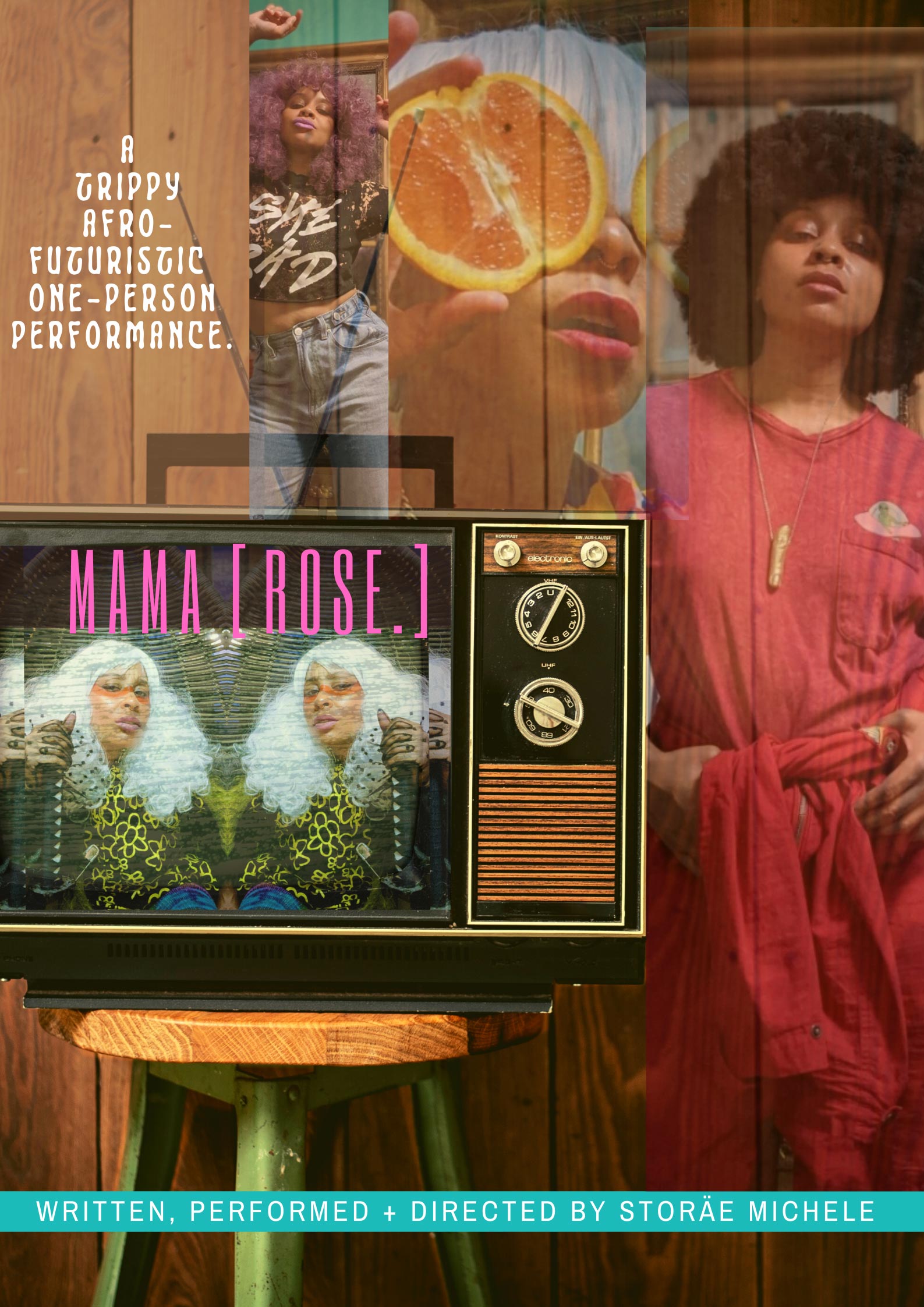 Join us for a free screening of mama [rose.]!
mama [rose.] is an afro-futurist queer, circular time-traveling performance piece following three familial relationships and their journeys toward acknowledging and addressing intergenerational wounds. In part auto-ethnographic, as a black queer non-binary filmmaker, poet, playwright, performer, theologian and educator, this piece incorporates storäe's family history and memories as retold by my 97-year-old grandmother.
Through VHS archives of past-present-future times, an eighty-nine-year old trans archaeologist and oracle, Mama Rose, transmits indigenous wisdom and ways of knowing to her grandchild, a sixteen-year-old non-binary teen named Sid, as Sid navigates their own becoming and transforming relationship to their mother, Delores.
Click Here to RSVP on Eventbrite!
storäe michele (they/them) is a black queer, shape-shifting, non-binary femme, afro-futurist performer + storäe-teller. their creative practice builds a present + embodied archive of black femme futures + aliveness.   their art is in dialogue with black feminist philosophers, activists, and African disaporic folk + futurist writers, with whom they co-create blueprints for navigating black life and livelihood despite living in a state of perpetual and persistent precariousness, and yet, coping, surviving, and thriving. storäe centers these subversive narratives as methods for divesting from flat images and caricatures, evoking rituals of self-love, cultivating accountability within community, and learning from black queer feminists who envision worlds beyond white supremacist capitalist patriarchy. their first film, [the listening heart], earned the Robert E. Seaver Award granted by Union Theological Seminary and was officially selected in film festivals internationally +  domestically. their directorial debut was celebrated on the front cover of Women CineMakers, a digital magazine in Berlin. storäe is a Lambda Literary Fellow (Playwriting Cohort, 2021) and their choreopoem, mama [rose],  was nominated for the 2022 Lammy Award for LGBTQ Drama. storäe is a fellow for the 2023 Baldwin for the Arts Residency and the 2023 Greenhouse Residency (SPACE on Ryder Farm). their upcoming performance piece [claustrophobia], is supported by a grant from Columbia University's Center on African American Religion, Sexual Politics & Social Justice. storäe is a Master of Professional Studies graduate in Creative Arts Therapy + Creativity Development of Pratt Institute (2008), an Interdisciplinary Master of Divinity graduate of Union Theological Seminary (2017), and recent Master of Fine Arts graduate in Performance + Performance Studies (2021) at Pratt Institute in Brooklyn, NY. storäe is inspired by badass femmes of the funk era + might be spotted in big hair, leopard print or bright, kaleidoscopic, fuzzy garments.   Learn more at www.storaemichele.com.