Unplug Yourself: Flash Tattoo and Piercing Session (Temporary or Permanent!) with Red Ink Tattoo
April 27 @ 7:00 pm

-

8:00 pm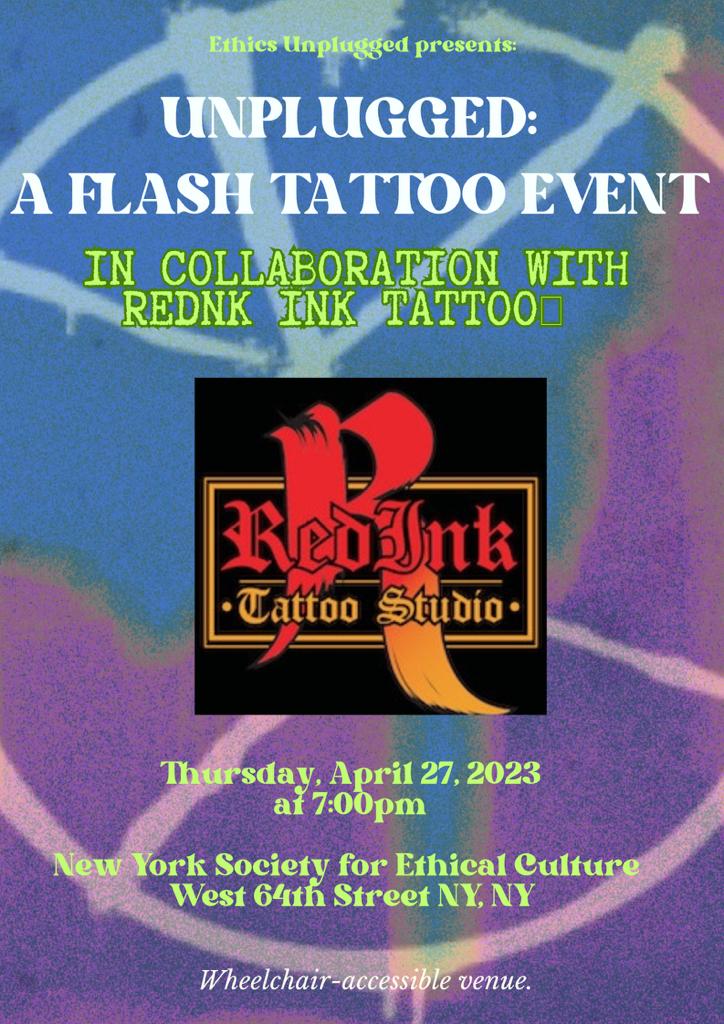 As promised, this will be an opportunity to get permanent or temporary flash tattoos for yourself! There will be licensed tattoo artists and a piercer. Tattoos will be selected from flash sheets with accompanying prices. The same goes for piercings. Once again, in you attend all four Wednesday Ethics Unplugged IN PERSON, you are eligible to receive one free flash tattoo or piercing! What stories will your body tell?
Every 4th Thursday of the month is a special event reflecting the month's theme in a more embodied, fun way. This month we will provide the opportunity for people to get a flash tattoo from Red Ink Tattoo. There will be two licensed tattoo artists available to do flash tattoos, and one licensed piercer.  A flash tattoo is only done on arms or legs and can only be selected from the flash sheet available. A flash piercing can only be ears, septum, or eyebrow. There will a price sheet available in advance. As an incentive for attending all four Ethics Unplugged, people will be eligible to get one free flash tattoo. We will also have temporary tattoo designs available for folx who aren't quite ready to make a more permanent commitment.
Click here to view available flash tattoo designs and prices!
April Theme: Stories Our Bodies Tell
This month we will be exploring the stories our bodies tell through choice and chance. For many of us tattoos are an important way to tell the stories of our lives. For some, scars derived from accidents or surgeries have equally profound stories to share. Join us as we explore these mediums of life.
Free and open to the public!
COVID-19 Notice: Masks are optional but strongly encouraged.