Exploring Ethical Dilemmas: 'Star Trek' with James Frey Croft (Online)
September 25, 2022 @ 7:00 pm

-

8:30 pm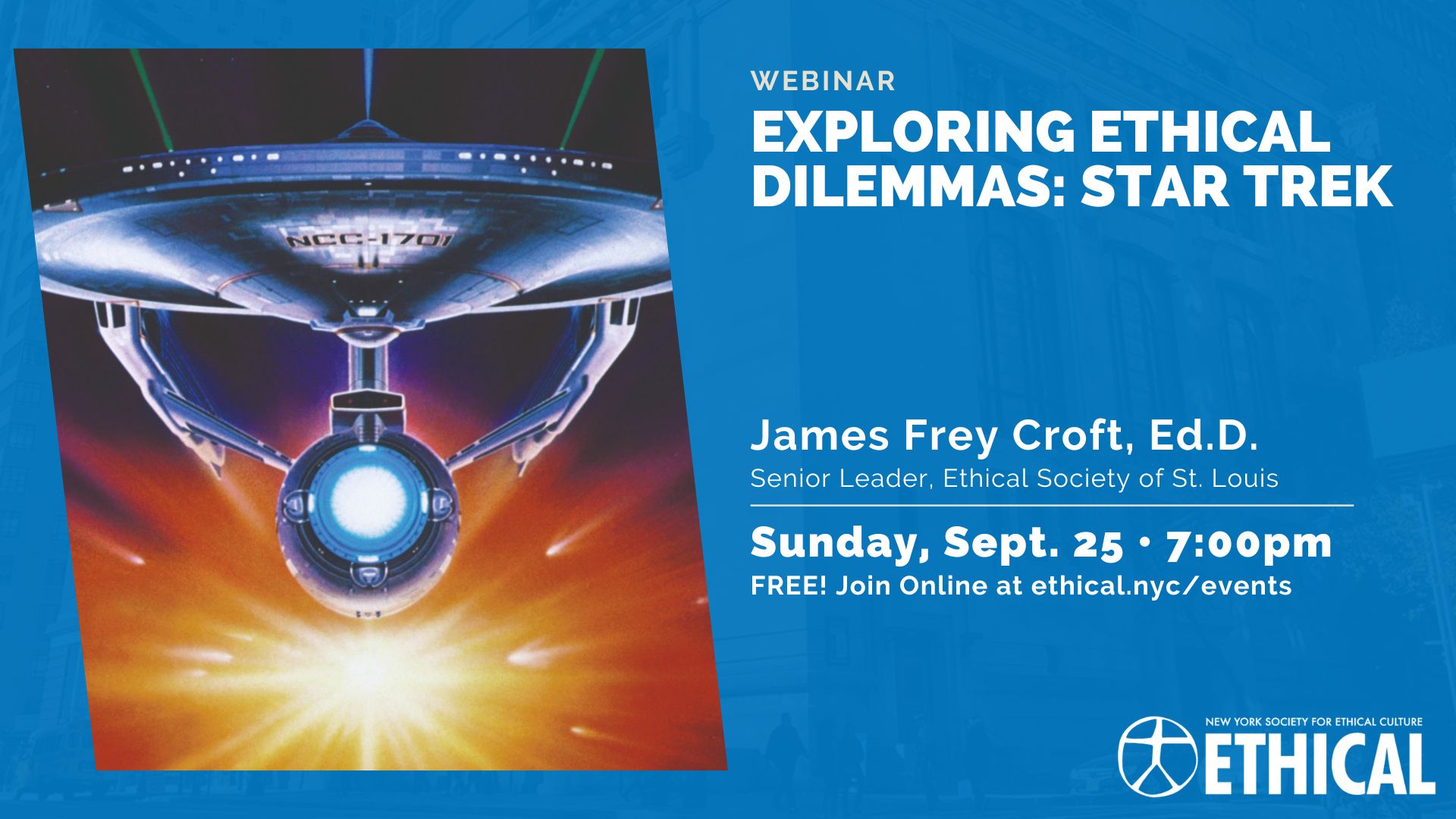 Star Trek, one of the world's most successful and beloved television series is also uniquely concerned with ethics. Many of its episodes directly address questions of right and wrong, exploring ethical questions in a science fiction setting.
In this presentation, James Croft, Ed.D., Senior Leader of the Ethical Society of St. Louis, will share clips from the series and explore how the show examines questions of ethics and inspires us to be better human beings. Live long and prosper!
Click to join at start | Zoom ID 838 1778 1084 | Passcode 675527
To join by phone (audio only), dial (929) 205-6099 and enter the Zoom ID above.
About James
James Croft is the Senior Leader of the Ethical Society of St. Louis, one of the largest Humanist congregations in the world. As clergy for one of the few thriving congregations for people without a traditional faith, James tells stories and designs aesthetic experiences to invite people into the work of social change.
James is a specialist in interdisciplinary research into the arts. He completed his Master's and Doctoral degrees at the Harvard Graduate School of Education, where he focused on the intersection of the arts and learning. He is the winner of many awards for his academic work, including a prestigious Frank Knox Fellowship, awarded to those who demonstrate "leadership, strength of character, keen mind, balanced judgement and a devotion to the democratic ideal."
James is a gay rights and Humanist activist. His first speech as an activist, "6.12 seconds", has been used around the world to train leaders in the art of Public Narrative (the use of personal stories to move people to action), and is literally a textbook example of the effective use of narrative to make change. In addition to his work as Humanist clergy, James provides coaching for those who wish to communicate more persuasively.
A native of London, England, James lives in St. Louis, MO with his husband Kolten and their darling chihuahua Ella.
---
What does one do when there's no clearly defined ethical road to take? Exploring Ethical Dilemmas features speakers from a variety of backgrounds — medicine, law, business, science, education, the arts, social work, etc. — who share their experience and knowledge of ethical issues in those fields.