Jazz Cafe Presents: The Fying Tomboulians
November 15, 2019 @ 7:00 pm

-

9:30 pm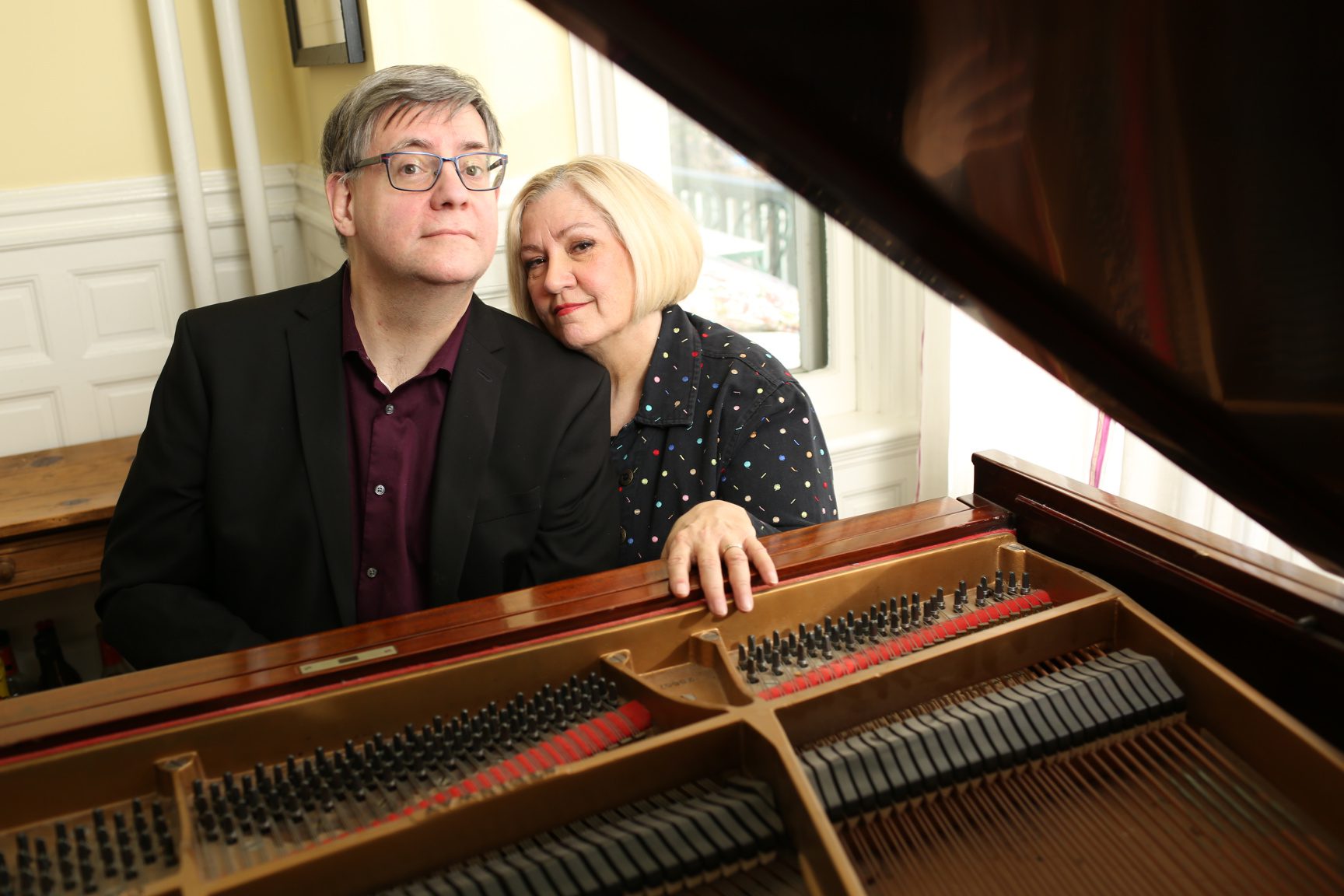 "A rich and world-wise tone."
-George W. Harris of Jazz Weekly
"A rapturous solo reading of the jazz standard I Get Along Without You Very Well features her penchant for re-harmonization as a pianist while showcasing her flawless intonation, clear articulation, natural vibrato and warm, soaring vocal delivery."
-Bill Milkowski, Journalist and Author
"She is a multi-talented singer-composer-pianist with a gorgeous voice and message the world needs to hear. Listen!"
-Roseanna Vitro, Grammy-nominated Jazz Vocalist & Producer
"Elizabeth Tomboulian has a wide range, a controlled voice with slide and scat ability, and a solid blues feel equal to her jazz chops. Add some really intriguing arrangements, and you have a singular musical personality."
-Alix Cohen, Cabaret Scenes
Elizabeth Tomboulian cut her teeth on folk and blues, migrating from Arkansas to Houston in the late seventies. She discovered avant-garde jazz at Carnaby's Monday sessions that featured upcoming famed multireedist Tony Campisi, who taught jazz improvisation at University of Houston. She was the first to enroll as a vocalist.
Houston's famed jazz vocal coach Ray Sullenger launched her into the jazz style she has refined through the years, as she gigged on Bourbon Street in New Orleans, was a regular opening act at the Blue Note in Boulder, and performed at the Bluebird Café and Exit/Inn in Nashville. During this time she recorded her 10-piece band, "Whatever It Takes."
She journeyed back to Arkansas, where she met her husband, Lee (also a pianist), and they dove into the music of Uruguay and Brazil. Their 6-piece Latin jazz group Circo Verde, played festivals and concerts regionally. When they moved to Texas, Elizabeth was in UNT Jazz Singers, Denton Bach Choir, and Circo. There, Maestro Hugo Fattoruso (Uruguayan music director) produced her first recording, "North/South Convergence" with Circo, featuring her singing horn unisons with saxophonist/flutist Pete Brewer.
In 2006 she and Lee moved Wisconsin, where she forged her path as an energy healer, ultimately creating QuantumStarsong as the integration of her musical work with her healing work. She continued study with Rhiannon, taught jazz vocals at Northwoods Jazz Camp, and moved to the NYC area in 2011.
She sites vocal artists Bobby McFerrin, Rhiannon, Classical soprano Patrice Michaels, Barbara Maier Gustern, and Billy Harper among her many teachers over the years.
Elizabeth has performed either as a soloist, guest vocalist or with Lee Tomboulian as part of The Flying Tomboulians at various New York clubs, including Pangea, Cornelia Street Café, The Shrine, Antique Garage, The Kitano, and Smalls Jazz, and Maureen's Jazz Cellar (in Nyack).
Her latest recording is her first debut as leader "Love's In Need of Love Today" conceived as a reaction to the horrific shootings at the Pulse disco in Orlando, Florida in 2016. Elizabeth says, "Love has the power to change everything and catalyze healing. Music is the carrier frequency— voice the original instrument. These are songs about love—broken, in need of repair, in denial, sexy, naughty, bluesy, longing, and high-flying. Love wins." Visit her online at www.elizabethtomboulian.com.
Lee Tomboulian
Pianist/composer/educator Lee Tomboulian has performed on piano, accordion, and keyboards with noted jazz artists, Pharoah Sanders, Airto, Nat Adderley, Doc Cheatham, and Sheila Jordan. He was also a member of the world-famous University of North Texas One O'Clock Lab Band and is a founding member of the Brazilian and Uruguayan ensemble Circo.
He leads Ana Choired Taste, the Weekly Reeders, Circo and other ensembles. He has played with Maria Schneider, Kenny Wheeler, Jimmy Witherspoon, Winard Harper, and many more. He studied with Mike LeDonne, Art Lande, William Schimmel and others.
While living in Wisconsin, Lee served as Instructor of Jazz Piano and Improvisation at Lawrence University Conservatory of Music, until 2011, when he and Elizabeth relocated to New York City. Since then, Lee has released a solo piano CD, "Imaginarium" and performs frequently, becoming a familiar presence at such venues as Smalls Jazz Club, the Lenox Lounge, and Kitano Jazz. Visit him online at www.leetomboulian.com.
Doors at 6:30. Following our featured artist is an Open Mic hour.
$10 Members, $15 non-members, includes snacks and a beverage (wine, beer, soda)
---
The Jazz Cafe is curated by John Wilmeth and Steph Walker. Music Director pianist John Wilmeth is a multi-instrumentalist with experience in many genres. He has worked with the likes of Jerry Garcia, Boz Scaggs, Al Jarreau, James Moody, and Jon Hendricks. Open Mic Emcee Steph Walker is a singer of many genres, and a poet, and has performed at such popular jazz venues as Silvana's, Flute Bar, The Metropolitan Room, and The Triad.
The John Wilmeth Jazz Trio includes: Dave Meade, renowned drummer/percussionist.  Dave has worked with a wide spectrum of artists and musicians, including Nancy Wilson, Keely Smith, and Tony award winning singers Leslie Uggams, Paulo Szot, and Diahann Carroll. Meade has toured with Aretha Franklin, The Mamas and the Papas, and the Arturo O'Farrill Afro Cuban Orchestra, to highlight a few.  Back in the day, Dave played nightly at the world-famous Rainbow Room; and bassist Ratzo Harris, a Thelonious Monk Competition semi-finalist, has worked with such musicians as Les Paul, Charles Lloyd, and Betty Carter. "Ratzo Harris plays bass that's living root and steel girder." (blogcritics).
"Wonderful! A step back in time." -D. Berkowitz, Asheville, NC
"Totally delighted the whole evening! Classic intimate place, delightful people, and energy the whole time!" – W. T., Brentwood, New York, NY
"The venue for the music was wonderful. There were round tables complete with table clothes and nice mood lighting. The chandeliers were dimmed and it was a nightclub atmosphere. The music was excellent and then there was an open mike so I got to see a number of talented neighborhood folks get up and do their thing. Some people even felt moved to dance. I loved it!" -G. Walsh, Fair Lawn NJ