Making Education a Federal Right for All Children
October 3, 2019 @ 6:30 pm

-

8:30 pm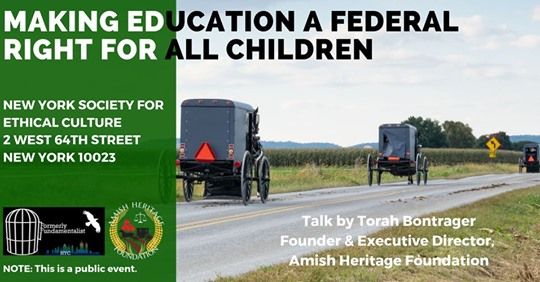 Join us for an evening talk and discussion, "Making Education a Federal Right for All Children," by Torah Bontrager. This event is organized by our partner, Formerly Fundamentalist NYC, in their series of monthly Thursday talks.

Torah, born and raised traditional Amish, will read excerpts from her memoir, An Amish Girl in Manhattan, that bring to life her Amish school experiences. She'll also talk about how the 1972 Supreme Court case Wisconsin v. Yoder enables child abuse and what her nonprofit Amish Heritage Foundation is doing to overturn Yoder.
FREE! Click here to RSVP at Eventbrite.
Torah is very personally connected to Yoder and will share the backstory that led to 1972. Ten years before Yoder, the Amish in the community that she was born in were protesting the Iowa public school system. A now iconic photo of Amish children fleeing to the cornfields to avoid being forced out of their Amish one-room schoolhouse and onto the public school bus made national headline news. One of the children in that photo (by Thomas DeFeo) is Torah's uncle.
Torah literally escaped in the middle of the night at age 15 in order to go to high school. Eventually she graduated from Columbia University. She speaks English as a second language, is a recurring sexual assault survivor, has no contact with her birth parents and siblings (they say she's going to hell), and, to her knowledge, is the first/only traditional Amish escapee to graduate from the Ivy League.
WHAT IS WISCONSIN v. YODER?
The landmark 1972 Supreme Court case Wisconsin v. Yoder specifically denies Amish children––and consequently all children in the US and Native/indigenous lands––an education beyond the eighth grade. Yoder put the rights of a religion above a child's Constitutional right to grow up equipped with the tools to make an informed choice about their future, and to participate in and contribute meaningfully to US democracy.
Coming up on 50 years later, Yoder affects every single one of us, not just the Amish.
And, there is a direct link between educational deprivation and sexual assault.
This event is co-sponsored by Amish Heritage Foundation.