Norman Siegel: The First Amendment and Free Speech
May 15 @ 7:00 pm

-

9:00 pm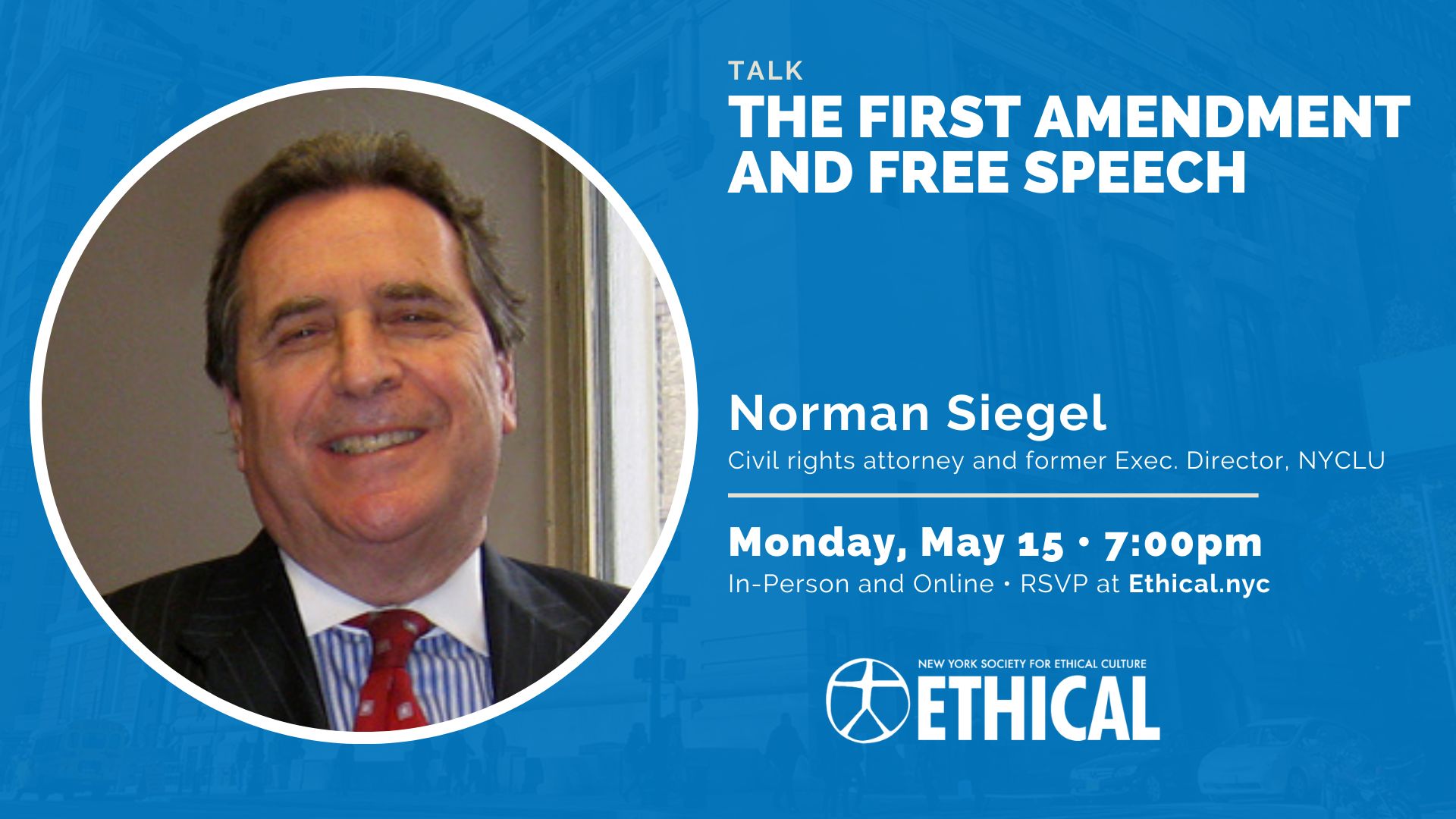 FREE in-person and online!
Join us for an evening exploring the First Amendment and free speech with Norman Siegel, celebrated civil rights attorney and advocate.
This wide ranging discussion will touch on free speech controversies on college campuses, hate speech, inciting to violence, and more. Mr. Siegel will also be available after his talk to address questions and to allow people to speak to him individually.
Click here to RSVP to attend IN-PERSON
Click here to register to watch ONLINE
About Norman Siegel
Norman Siegel is the former executive director of the New York Civil Liberties Union (NYCLU), New York's leading civil rights organization, as well as a noted civil rights and civil liberties lawyer. Norman is a graduate of Brooklyn College (1965) and New York University School of Law (1968).
Norman's law career has focused on cases dealing with voting rights, civil liberties, and civil rights. In the early 1970s, as field director of the NYCLU, he spearheaded the historic New York campaigns for both the impeachment of President Richard M. Nixon and passage of the New York State Equal Rights Amendment. From 1985 to 2000, Norman served as executive director of NYCLU. In this capacity, he was on the frontline in some of New York City's most critical civil rights and civil liberties struggles; the creation of an independent Civilian Complaint Review Board; the successful defense of the Brooklyn Museum's right to exhibit controversial art; the fight for citizens' access to the steps of City Hall; the battle against involuntary hospitalization of people with mental illness; the struggle for improved community-police relations and greater accountability on the part of the NYPD. In private practice since 2002, Norman's work in civil rights and civil liberties law continues.
Born in New York City and raised in Brooklyn, Norman graduated from NYC public schools and is committed to restoring excellence in public education. Norman and his wife, Saralee Evans live on Manhattan's Upper West Side.