Puffin Interview Series w/ Joe Chuman: 'Keep 'Em in the East' with Richard Koszarski (Online)
February 5 @ 4:00 pm

-

5:00 pm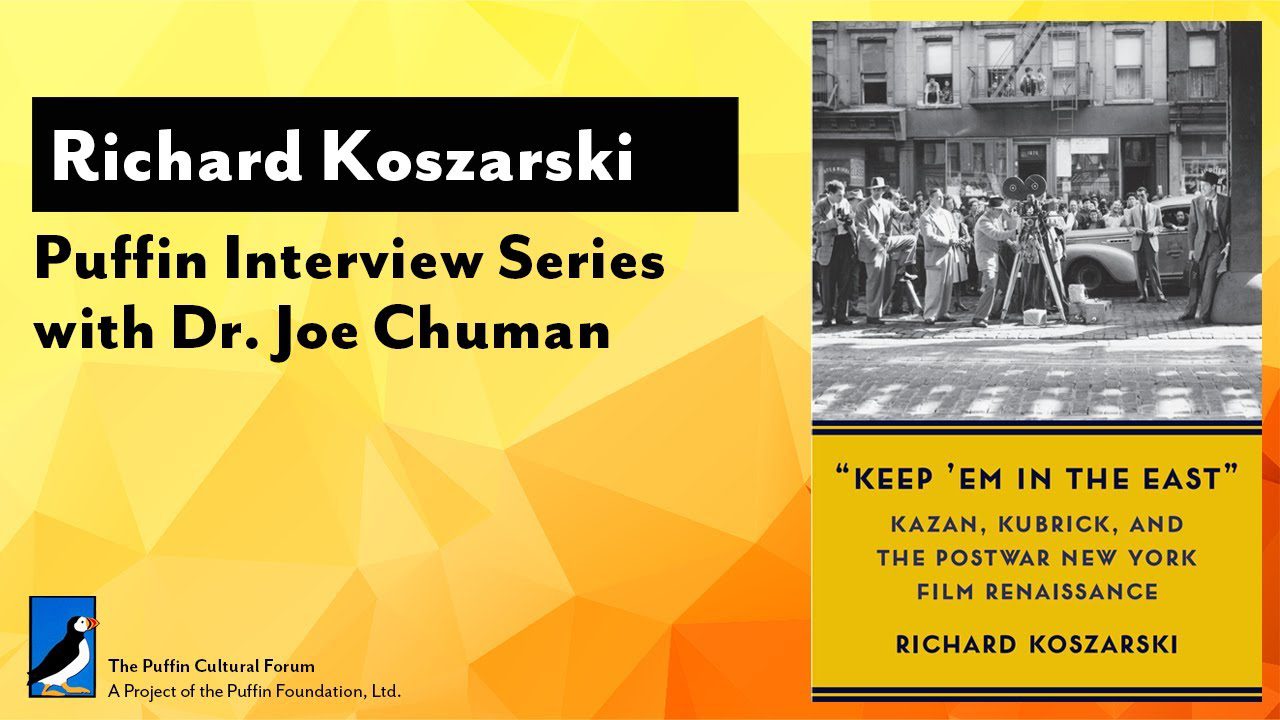 This event is being hosted by the Puffin Cultural Forum. For details and to RSVP, please visit their website. Livestream information is below
Cost: $10 Suggested Donation (In-Person)
Location: Online and at 20 Puffin Way, Teaneck, NJ
Tickets and Reservations
In his book Keep 'Em in the East: Kazan, Kubrick, and the Postwar New York Film Renaissance, Richard Koszarski chronicles the compelling and often surprising origins, looking beyond such classics as Naked City, Kiss of Death, and Portrait of Jennie. He examines the social, cultural, and economic forces that shaped New York filmmaking, from city politics to union regulations, and shows how decades of low-budget independent production taught local filmmakers how to capture the city's grit, liveliness, and allure. He reveals the importance of "race films"—all-Black productions intended for segregated African American audiences—that not only helped keep the film business afloat but also nurtured a core group of writers, directors, designers, and technicians. Detailed production histories of On the Waterfront and Killer's Kiss—films that appear here in a completely new light—illustrate the distinctive characteristics of New York cinema.
Richard Koszarski is professor emeritus of English and Cinema Studies at Rutgers University. He was formerly a curator at the Museum of the Moving Image and is the founder and editor emeritus of Film History. His many books include Hollywood on the Hudson: Film and Television in New York from Griffith to Sarnoff (2008).
$10 Suggested Donation (In-Person)
Reservations recommended- tix@puffinfoundation.org
Watch Online Here!
---
About the Interview Series & Dr. Chuman
The Puffin Cultural Forum is proud to present our "Puffin Interview Series with Dr. Joe Chuman." On the first Sunday of every month Dr. Chuman will delve into and explore the work of renowned authors through meaningful dialogue in an intimate interview format. There will be an opportunity for audiences to ask their own questions during a Q&A session. Dr. Chuman recently retired from his post as the leader of the Ethical Culture Society of Bergen County after forty-six years. He has taught at Columbia University, Hunter College, and the United Nations University for Peace in Costa Rica. His works have been published in the New York Times, The Humanist, Free Inquiry, Humanistic Judaism, The Hill and many other periodicals.