Speaking of Science with Eve M. Valera, Ph.D.: 'Intimate Partner Violence and Traumatic Brain Injury' and 'The Brain and Adult ADHD'
September 14, 2022 @ 7:00 pm

-

8:00 pm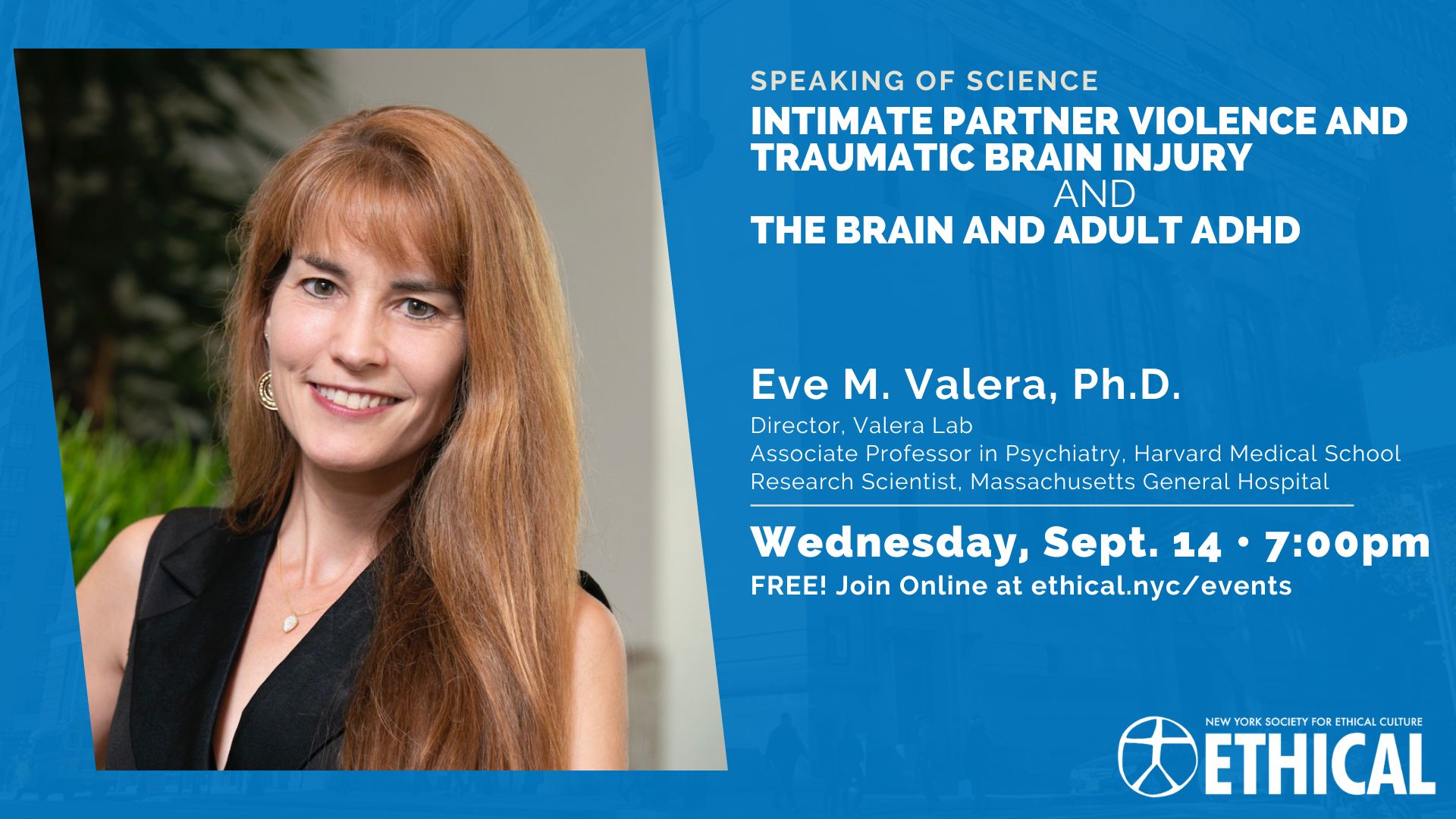 Join us for our monthly series exploring current discoveries and debates in science. This month's topic: Intimate Partner Violence Related Traumatic Brain Injury:
The Valera Lab uses MRI in conjunction with measures of cognitive functioning to assess the effects of physical abuse resulting in traumatic brain injury (TBI) in women sustaining intimate partner-violence (IPV). In our current work, we are using a range of methodologies including neuroimaging, neuropsychological assessment, and interviews to characterize women's partner-related TBI history and its relationship to neural, cognitive, and psychological functioning.
Dr. Eve M. Valera is currently Director of the Valera Lab, an Associate Professor in Psychiatry at Harvard Medical School, and a Research Scientist at Massachusetts General Hospital. She has been working in the field of domestic violence for over 25 years. Her current work uses a range of methodologies to understand the neural, neuropsychological and psychological consequences of traumatic brain injuries (TBIs) resulting from intimate partner-violence (IPV). Dr. Valera also spent a significant portion of her career working to understand the neurobiology of Attention-Deficit/Hyperactivity Disorder and in particular, the role of the cerebellum in this disorder.  She frequently lectures on these topics locally, nationally and internationally and spends much of her time training stakeholders and raising awareness of partner violence related brain injuries.
Click to join at start | Zoom ID 838 1778 1084 | Passcode 675527
To join by phone (audio only), dial (929) 205-6099 and enter the Zoom ID above.
Related Events