Sunday Platform – Kay J. Maxwell: "The League of Women Voters: Education and Advocacy" (Online)
October 4, 2020 @ 11:00 am

-

12:30 pm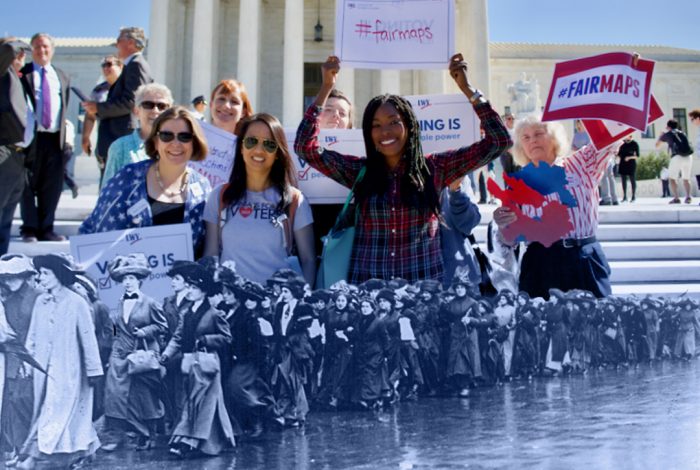 Since its founding in February 1920,the mission of the League of Women been to encourage the active and informed participation of citizens in their government. That has meant registering and educating voters, but it has also meant advocating on public policy issues. The League is non-partisan in that it never supports or opposes specific candidates or parties, but it is a grassroots, action organization that lobbies government entities on issues it has studied. League members are activists not archivists!
Kay Maxwell served as the 16th president of the League of Women Voters of the United States (LWVUS) and chair of the League of Women Voters Education Fund (LWVEF) from 2002-2006.
During her 30 years of service with the League of Women Voters, Ms. Maxwell has held numerous leadership posts at different levels within the national organization. Her first exposure to the national League was as a lobby corps member in the early 1980s. Ms. Maxwell returned to a national post as budget chair for the League from 1996-1998. In 1998, Ms. Maxwell was elected to serve a two-year term on the League's national board as first vice president. During that time, she conducted training of women leaders in Bosnia and was the Oversight Trustee for several League international programs.
Ms. Maxwell's leadership in the League and her commitment to strengthening democracy worldwide has earned her several honors, including the first "Citizen of the Year" award from the Connecticut Secretary of the State in 1993, the 1999 BRAVA Award for Career and Volunteer Accomplishments from the YWCA of Greenwich, Connecticut, the "Woman Who Makes a Difference" award from the International Women's Forum in 2003, the Liberty Bell Award from the Fairfield County Bar Association in 2019 and the Community Impact Award from Planned Parenthood of Southern New England in 2020.
Click here to join at start time | ID 863 0430 0961
For full join information, please also see this week's Ethical Weekly email.
Presider: Sarah Sprott
Shared charity: The New York Society for Ethical Culture
You can download Zoom at https://zoom.us/download, although it's not necessary to do ahead of time. Zoom is available for tablets and smartphones in both main app stores, Apple and Google Android. Attendees don't need to register for a Zoom account although it's free and helpful. To join a meeting, simply click the event's invitation link above.
---
Sunday Platform is our most important and long-standing community event. These gatherings educate, stimulate personal growth, inspire reflection and action, and strengthen our community. Sunday meetings usually begin with music, followed by greetings and a talk given by a Society Leader, member, or guest.  Platforms cover a variety of topics that reflect current events, pressing social issues, and Ethical Culture philosophy. A collection basket is passed and money is shared between the Society and a charity selected for that day.  While contributions are always appreciated, Sunday meetings are free and open to the public.  Each Sunday meeting is followed by a luncheon and social hour.
To view previous Sunday Platform addresses and interviews, visit the Ethical NYC YouTube channel.
Related Events