AEU All-Society Platform: "Sources of Hope: Values From Our Past as We Build the Future" (Online)
August 8, 2021 @ 11:00 am

-

12:30 pm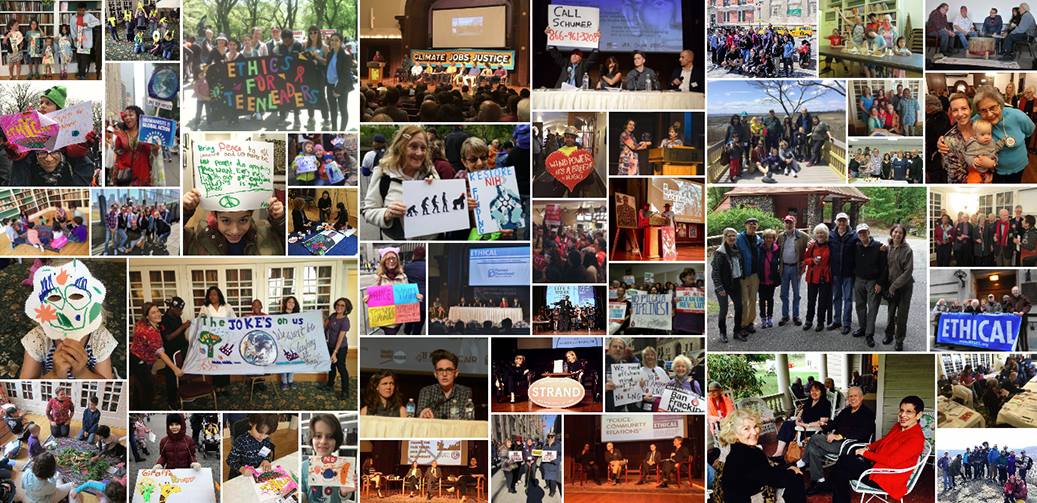 This 106th Assembly of the AEU has addressed "the whole truth about America," where history has been triumphant for some and traumatic for others. How do we understand and reconcile such disparity? Let us recognize underlying ethical values that animate efforts, throughout our history, to create "a more perfect union," to elicit goodness from diverse peoples, to find and demonstrate hope.
We gather today virtually from across the country and around the world, something that was inconceivable when our nation began or when Felix Adler founded Ethical Culture in 1876. Let us envision together and commit to building a nation of equity, decency, and compassion.
ANNE KLAEYSEN, NYSEC Leader Emerita;
ROBERT BERSON, Leader, Northern Westchester Society;
GREG BONIN, CHRISTIAN HAYDEN, LOUISE JETT, and SARAH TIELEMANNS: Leaders-in-Training;
ELIZABETH COLLIER, Chair, AEU Leadership Committee
For more information and to watch, please visit https://aeu.org/event/sources-of-hope-values-from-our-past-as-we-build-the-future/
---
Sunday Platform is our most important and long-standing community event. These gatherings educate, stimulate personal growth, inspire reflection and action, and strengthen our community. Sunday meetings usually begin with music, followed by greetings and a talk given by a Society Leader, member, or guest.  Platforms cover a variety of topics that reflect current events, pressing social issues, and Ethical Culture philosophy. A collection basket is passed and money is shared between the Society and a charity selected for that day.  While contributions are always appreciated, Sunday meetings are free and open to the public.  Each Sunday meeting is followed by a luncheon and social hour.
To view previous Sunday Platform addresses and interviews, visit our Videos page and YouTube channel.
Related Events