Joe Chuman: The Resurgence of Antisemitism in Our Time
January 22 @ 11:00 am

-

12:15 pm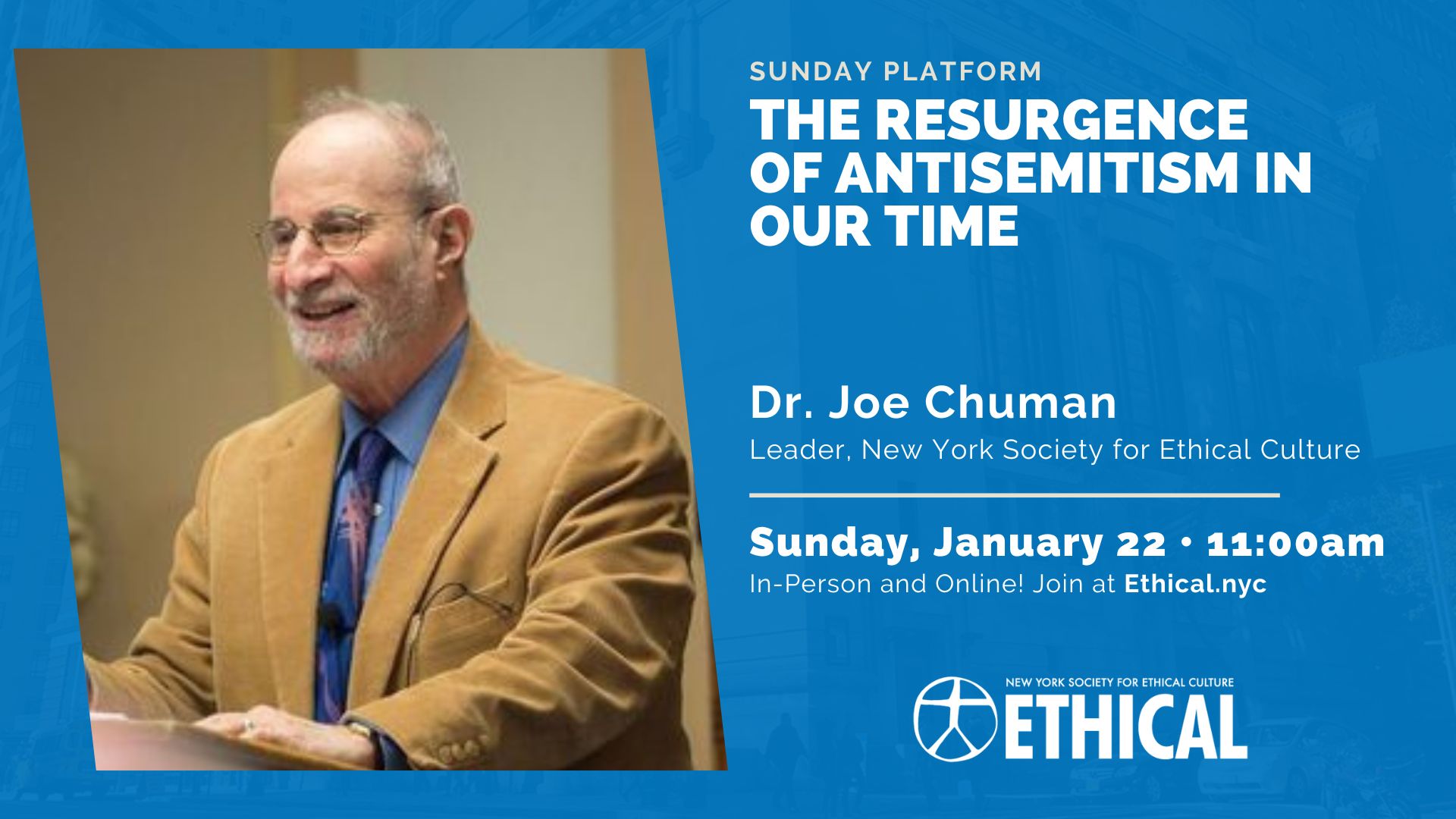 In-person and online!
We are experiencing in the United States a resurgence of antisemitism, reaching its highest level in the past 40 years. According to the Anti-Defamation League, which tracks hate crimes, in 2021 there was a total of 2,717 antisemitic incidents across the U.S. These include not only harassment, swastika daubing, and vandalism, but also assaults on persons. The terrorist massacre at the Tree of Life synagogue in Pittsburgh in October 2018 left eleven people dead and was the deadliest antisemitic attack in American history. It is part of the mosaic of escalating hatred of Jews. Antisemitism has always been with us, but it is attaining active expression and becoming regularized.
Clearly, the volatile reappearance of antisemitism is tied to the outpouring of hate on the American landscape that we witness more generally. But it also has its distinctive dynamics that revive ago-old stereotypes about Jews. Added to it is a growing criticism of Israel and Zionism that too readily shade into anti-Jewish hatred. Also of concern is the role of evangelicals, and so-called "Christian Zionism," and its place in fomenting the dark forces of religious nationalism.
As a person of Jewish ethnicity, and shaped by my upbringing and background, the concern about the rise of antisemitism is very much personal as well as political.It is a difficult and complex topic. I will strive to provide some clarity.
Notice: Only fully-vaccinated individuals are invited to attend in-person at this time. Proof of vaccination, photo ID, and mask are required.
Watch Online: Click to join at start | ID 863 0430 0961 | Passcode 609424
To join by phone (audio only), dial (929) 205-6099 and enter the Zoom ID above.
Monthly Collection: M.K. Gandhi Institute for Nonviolence
---
Sunday Platform is our most important and long-standing community event. These gatherings educate, stimulate personal growth, inspire reflection and action, and strengthen our community. Sunday meetings begin with music, followed by greetings and a talk given by a Society Leader, member, or guest.  Platforms cover a variety of topics that reflect current events, pressing social issues, and Humanist philosophy. Each Sunday meeting is followed by a luncheon and social hour.
To watch previous Sunday Platforms, visit our Videos page and YouTube channel.
Related Events