Ethics Unplugged: What We Owe the Future
May 14 @ 11:00 am

-

12:15 pm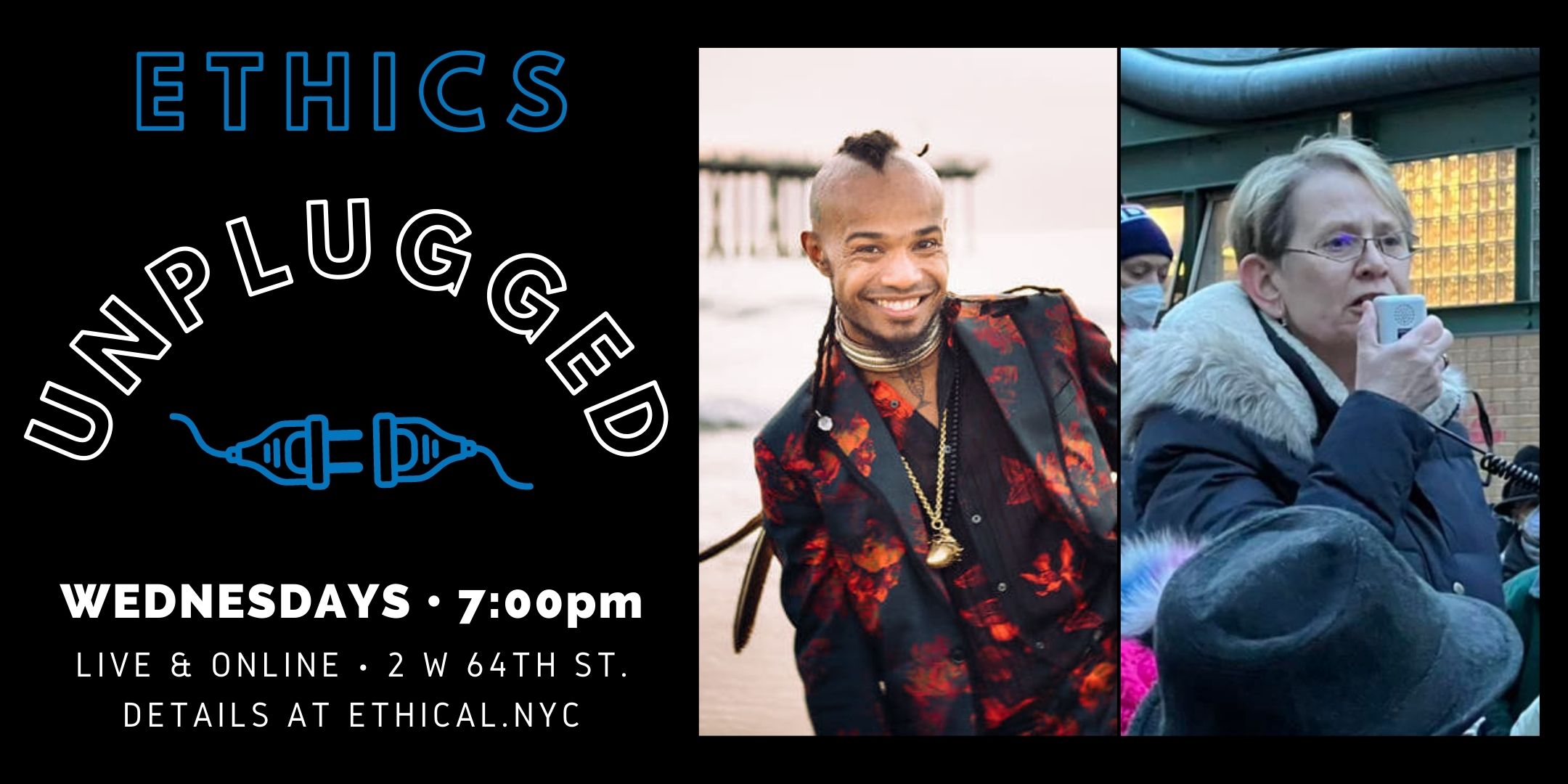 In-person and online!
Join us on this Sunday morning as Dr. Nori Rost and Dr. Je Hooper bring their wildly popular midweek program to Sunday morning! If you haven't tuned in to, or attended, the 7 PM program each Wednesday, this will be a great opportunity to experience on Sunday morning.
On the 147th anniversary of Ethical Culture, Nori and Je will discuss the book, What We Owe Our Future by William MacAskill. In this book, MacAskill makes the case for longtermism—an ethical stance which gives priority to improving the long-term future—and proposes that we can make the future better in two ways: "by averting permanent catastrophes, thereby ensuring civilisation's survival; or by changing civilisation's trajectory to make it better while it lasts.  According to MacAskill, the present era is a critical juncture:
Few people who ever live will have as much power to positively influence the future as we do. Such rapid technological, social, and environmental change means that we have more opportunity to affect when and how the most important of these changes occur.
Join us as Nori and Je discuss how this relates to our movement and how we can use the lens of longtermism to ensure a thriving, healthy Ethical Movement for the generations to come.
A special treat: Lindsey Wilson, the fabulous musician who accompanies Je and Nori at Ethics Unplugged on Wednesday evenings, will also be joining us this morning.
COVID-19 Notice: Vaccination required. Masks optional but strongly encouraged.
Watch Online: Click to join at start | ID 863 0430 0961 | Passcode 609424
To join by phone (audio only), dial (929) 205-6099 and enter the Zoom ID above.
Monthly Collection: Planned Parenthood Action Fund
---
Sunday Platform is our most important and long-standing community event. These gatherings educate, stimulate personal growth, inspire reflection and action, and strengthen our community. Sunday meetings begin with music, followed by greetings and a talk given by a Society Leader, member, or guest.  Platforms cover a variety of topics that reflect current events, pressing social issues, and Humanist philosophy. Each Sunday meeting is followed by a luncheon and social hour.
To watch previous Sunday Platforms, visit our Videos page and YouTube channel.
Related Events