AEU All-Society Platform: Our Climate Future with Our Children's Trust
April 30 @ 11:00 am

-

12:15 pm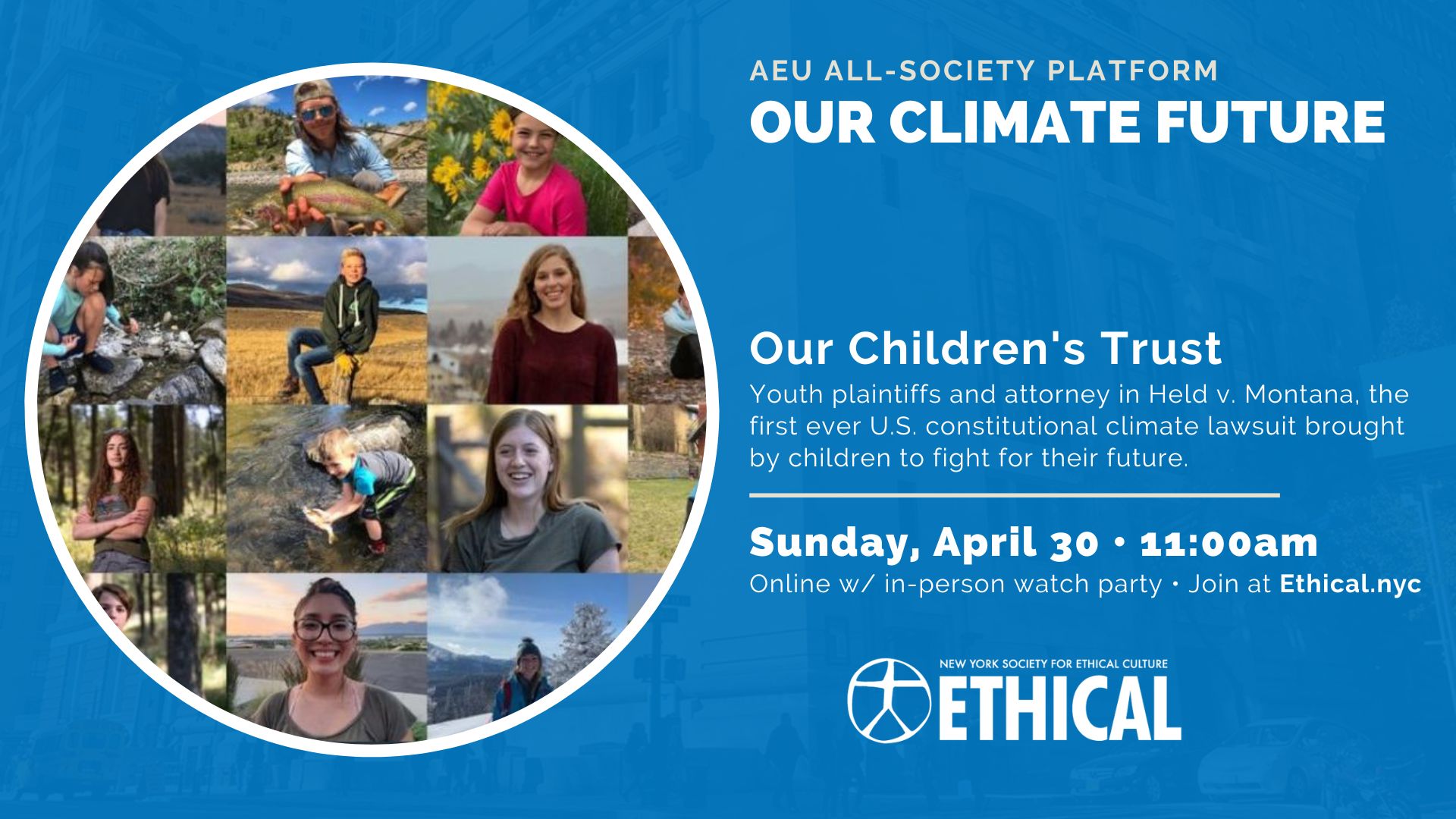 Watch online and at our meeting house in-person watch party!
We are thrilled to announce that our next All-Societies Platform with special guests from Our Children's Trust is taking place on April 30th! This is a great opportunity to meet the lawyer and some of the youth plaintiffs in the upcoming lawsuit  Held v. State of Montana, the first ever constitutional and children's climate trial in U.S. history- which will begin on June 12th in Helena, Montana. On March 13, 2020, 16 young people from across the state of Montana filed their constitutional climate lawsuit against the state, asserting that by supporting a fossil fuel driven energy system, which is contributing to the climate crisis, Montana is violating their constitutional rights to a clean and healthful environment, to seek safety, health and happiness, and to individual dignity and equal protection of the law. They also argue that the state's fossil fuel energy system is degrading and depleting Montana's constitutionally protected public trust resources, including the atmosphere, rivers and lakes, fish and wildlife
This is a unique opportunity for Ethical Culture families to explore together how to empower our youngsters to speak up and speak out, and to show them a path forward that is empowering and grounded in our beliefs. Click on the link below to RSVP for what will be an amazing event. We hope to see you there.
Read more about "the greening of state constitutions" at the Brennan Center.
About Our Children's Trust
Our Children's Trust (OCT) is a non-profit, public-interest law firm that provides campaign-based, legal services to youth from diverse backgrounds to secure their legal rights to a safe climate. We work to protect the earth's climate systems for present and future generations by representing young people in global legal efforts to secure their binding and enforceable legal rights to a healthy atmosphere and a stable climate, based on the best available science.
Zoom Info
Join by computer, tablet, or smartphone: http://vh9d.2.vu/aprasp
---
Sunday Platform is our most important and long-standing community event. These gatherings educate, stimulate personal growth, inspire reflection and action, and strengthen our community. Sunday meetings begin with music, followed by greetings and a talk given by a Society Leader, member, or guest.  Platforms cover a variety of topics that reflect current events, pressing social issues, and Humanist philosophy. Each Sunday meeting is followed by a luncheon and social hour.
To watch previous Sunday Platforms, visit our Videos page and YouTube channel.
Related Events