Interview with Andrew Boyd: Navigating the Climate Crisis with Grief, Hope, and Gallows Humor
September 17 @ 11:00 am

-

12:30 pm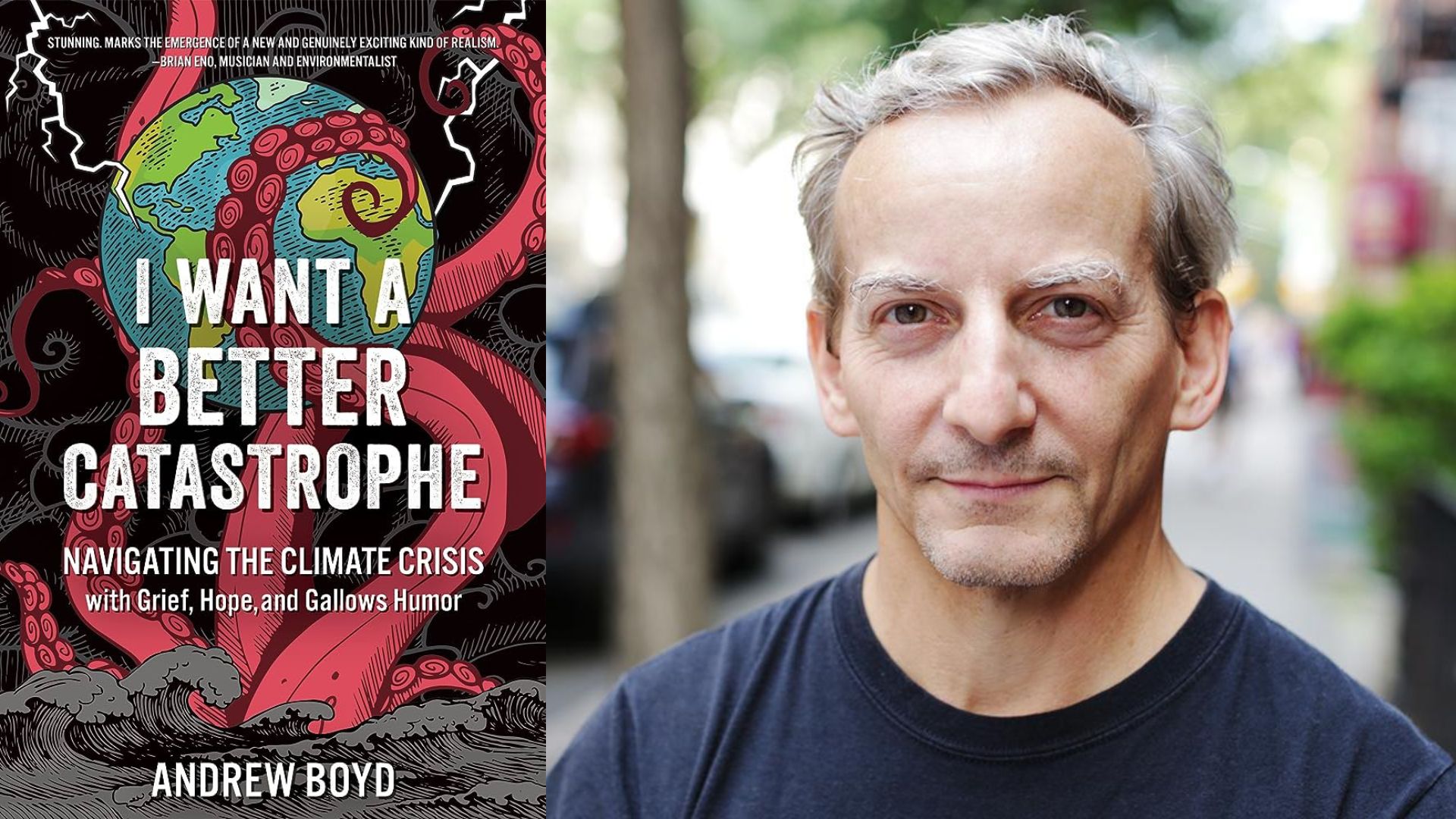 In-person and online!
Leader Dr. Joe Chuman interviews Andrew Boyd, author of I Want a Better Catastrophe.
With global warming projected to rocket past the 1.5°C limit, lifelong activist Andrew Boyd is thrown into a crisis of hope, and off on a quest to learn how to live with the "impossible news" of our climate doom. Join us as Dr. Joe Chuman interviews Andrew and learn how he maps out our existential options while tackling some familiar dilemmas: "Should I bring kids into such a world?" "Can I lose hope when others can't afford to?" and "Why am I even recycling?"
Andrew Boyd is an author, humorist, and climate activist. His new book, I Want a Better Catastrophe: Navigating the Climate Crisis with Grief, Hope, and Gallows Humor was published by New Society Press in February 2023. He is currently CEO (Chief Existential Officer) of the Climate Clock, a global campaign he co-founded that melds art, science, technology, and grassroots organizing to get the world to #ActInTime. Boyd also co-created the grief-storytelling ritual the Climate Ribbon and led the 2000s-era satirical campaign "Billionaires for Bush." His previous books include Beautiful Trouble (OR Books, 2012); Daily Afflictions (WW Norton, 2002), and Life's Little Deconstruction Book (WW Norton, 1998). Unable to come up with his own lifelong ambition, he's been cribbing from Milan Kundera: "to unite the utmost seriousness of question with the utmost lightness of form."
Watch Online: Click to join at start | ID 863 0430 0961 | Passcode 609424
To join by phone (audio only), dial (929) 205-6099 and enter the Zoom ID above.
Monthly Collection: Maui Strong Fund
COVID-19 Notice: Vaccination is required. Masks are optional but encouraged.
---
Sunday Platform is our most important and long-standing community event. These gatherings educate, stimulate personal growth, inspire reflection and action, and strengthen our community. Sunday meetings begin with music, followed by greetings and a talk given by a Society Leader, member, or guest.  Platforms cover a variety of topics that reflect current events, pressing social issues, and Humanist philosophy. Each Sunday meeting is followed by a luncheon and social hour.
To watch previous Sunday Platforms, visit our Videos page and YouTube channel.
Related Events