Elise Auerbach: Human Rights in Iran at a Critical Juncture
December 10 @ 11:00 am

-

12:30 pm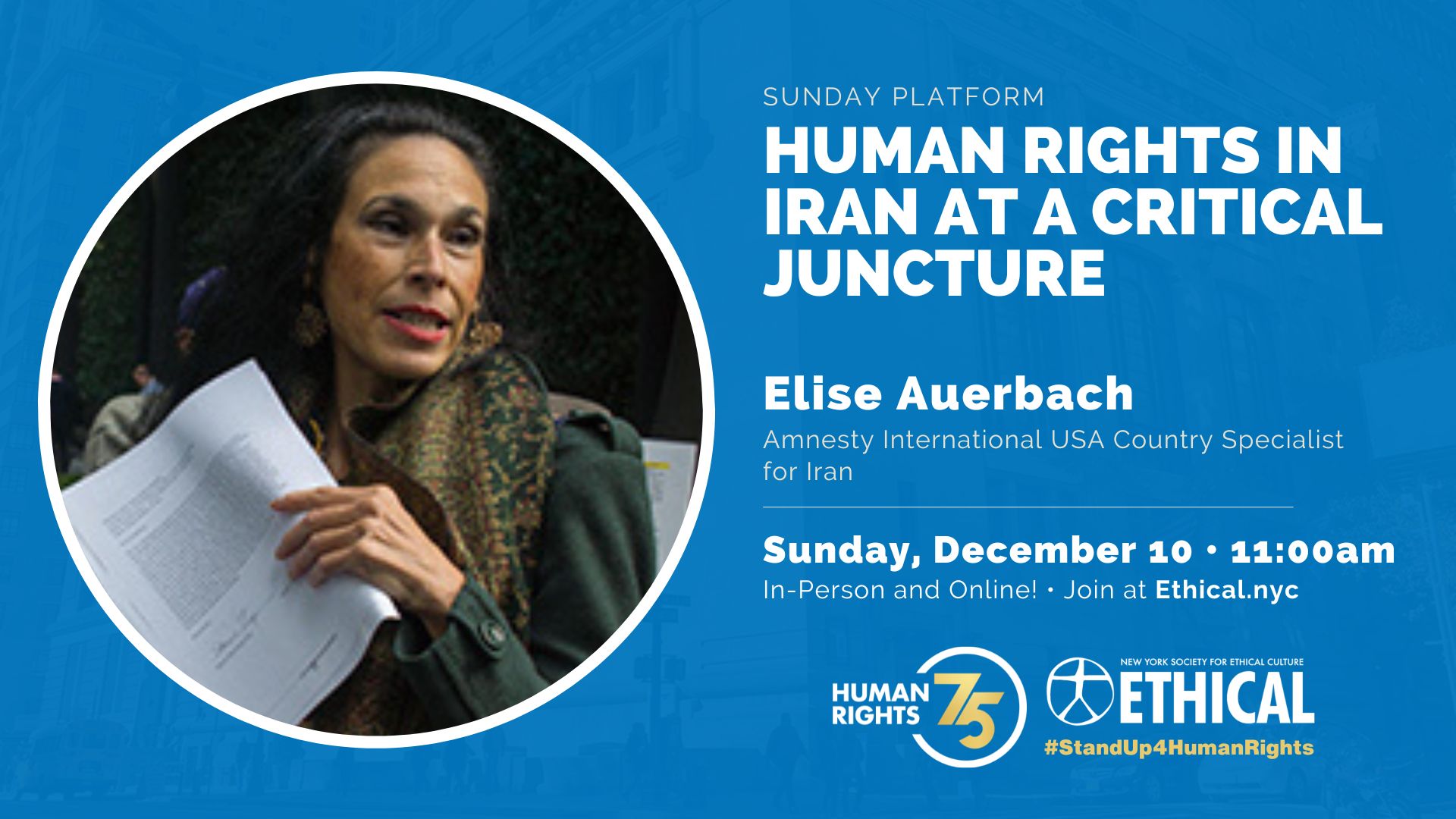 In-person and online!
Iran recently experienced an upheaval as millions of ordinary Iranians protested the death in custody of a young Iranian-Kurdish woman, Mahsa Amini in September 2022. Joined to their outrage at her death were simmering grievances over the authorities' pervasive human rights violations against any expression of dissent or non-conformity with the government's rigid strictures on acceptable conduct. The authorities carried out a predictably harsh crackdown on protesters.
Elise Auerbach, Amnesty International USA's country specialist for Iran, joins us to discuss how at this juncture, human rights activists both in Iran and out must figure out how to carry on their efforts to end the government's violations and ensure that all Iranians can enjoy and exercise their basic human rights.
About Elise Auerbach
Elise Auerbach is Amnesty International USA's country specialist for Iran. Elise has been a country specialist in the AIUSA Middle East Coordination Group since 1995. She received her Ph.D. from the Department of Near Eastern Languages and Civilizations at the University of Chicago. Elise is also the acting chair of the AIUSA country specialist committee that oversees the work to provide support for those seeking asylum and other forms of immigration relief.
Watch Online: Click to join at start | ID 863 0430 0961 | Passcode 609424
To join by phone (audio only), dial (929) 205-6099 and enter the Zoom ID above.
Presider: Leader Dr. Richard Koral
Monthly Collection: Amnesty International
COVID-19 Notice: Vaccination is required. Masks are optional but encouraged.
About Sunday Platform
Sunday Platform is our most important and long-standing community event. These gatherings educate, stimulate personal growth, inspire reflection and action, and strengthen our community. Sunday meetings begin with music, followed by greetings and a talk given by a Society Leader, member, or guest.  Platforms cover a variety of topics that reflect current events, pressing social issues, and Humanist philosophy. Each Sunday meeting is followed by a luncheon and social hour.
To watch previous Sunday Platforms, visit our Videos page and YouTube channel.
Related Events