Together We Rise: The Power of Female Leadership to Help Solve the Climate Crisis (Hybrid)
September 20, 2021 @ 7:00 pm

-

9:00 pm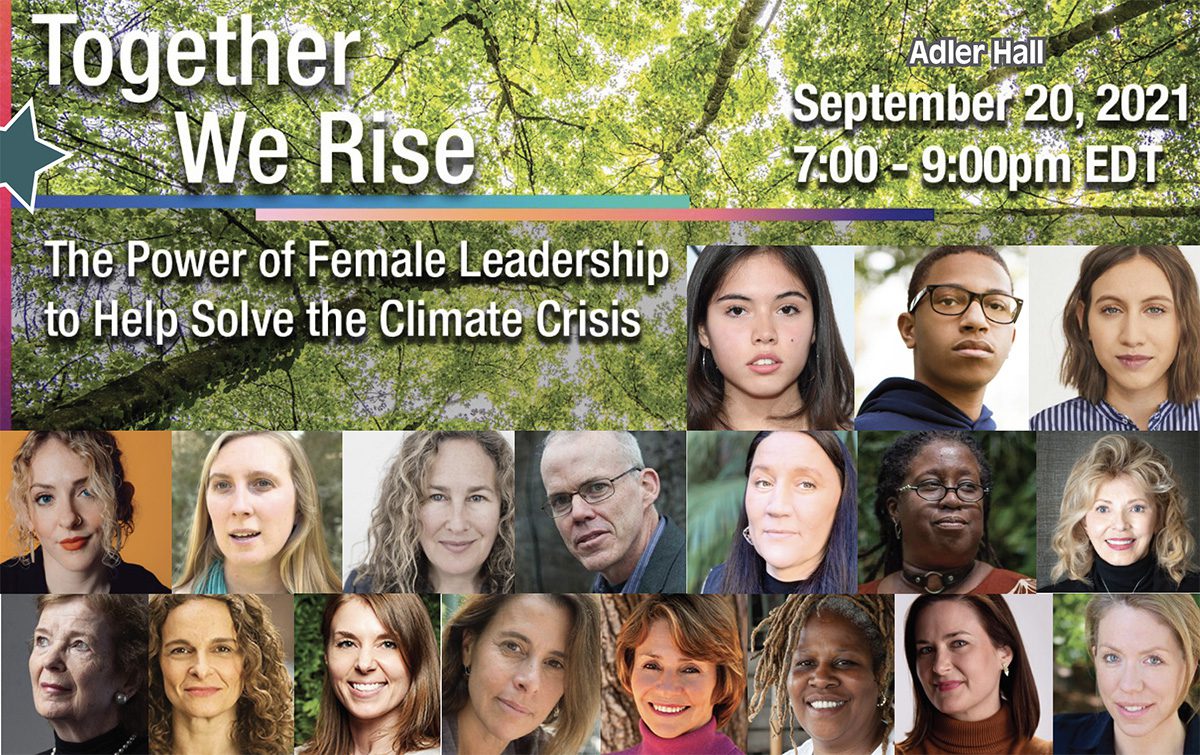 All of us alive today will determine the future of life on this planet. What we do or fail to do will affect generations to come. Will we have been Good Ancestors?
This is the moment to embrace collaboration, compassion and community – the inherent qualities of female leadership which have been missing at decision-making tables worldwide. All can embody these qualities to create the changes needed, with the urgency the crisis demands.
Please join our three globally recognized youth activist leaders: co-hosts, Xiye Bastida, Jerome Foster II, Alexandria Villasenor and other extraordinary presenters and performers for an intergenerational and illuminating evening.
Speakers include:
Mary Robinson, former President of Ireland
Bill McKibben, Founder, 350.org
May Boeve, Executive Director, 350.org
Al Gore, former Vice President of the United States
Katharine Wilkinson, All We Can Save Project
Deepak Chopra, founder, The Chopra Foundation
Lynne Twist, Co-Founder, Pachamama Alliance
Jamie Alexander, Director, Drawdown Labs, Project Drawdown
Sherri Mitchell, Indigenous Rights Attorney
Sally Ranney, Co-Founder, Global Choices and Arctic Angels
Emily Atkin, Climate Journalist, HEATED
Avery Schlicher, Director, Sustainability Solutions, Salesforce
Jacqui Patterson, former Director, NAACP Environment and Climate Justice, Founder, Chisholm Legacy Project
Natalie Isaacs, Founder, 1 Million Women
Dianna Cohen, Co-Founder, Plastic Pollution Coalition
Rabbi Jennie Rosenn, Founder, Dayenu
Harriet Shugarman, Executive Director, Climate Mama
Karen Washington, Founder, Rise & Root Farm
Michelle Wyman, Executive Director, Global Council for Science & Environment
Apricot Tang, Management Consulting Manager, Accenture
Hear from these men and women global climate leaders: activists, journalists, scientists, indigenous leaders, business champions, farmers and innovators. They will share what they are doing, what you can do and how leadership that embraces these feminine qualities holds a powerful key to solve the climate crisis.
Inspired by the recent collection of essays in All We Can Save, the event will celebrate and amplify the unique voices and approaches of women leading the climate movement and men who recognize and manifest that powerful and practical difference.
The science is clear; we must rapidly and radically take action to save the planet for future generations. We have the solutions. Discover, re-ignite and add your passion to solving the climate crisis.
The only way we rise is together.
Hosted at The New York Society for Ethical Culture, in collaboration with 350NYC, Pachamama Alliance, Drawdown NYC and Climate Reality NYC
Co-Sponsored by Salesforce + Accenture: A Partnership in Sustainability
COVID-19 NOTICE: Proof of COVID-19 vaccination and mask is REQUIRED for in-person attendance.