Intergenerational Sunday Platform with Dr. Arun Gandhi: 'Becoming the Change: Transforming Anger Into Peace Power'
October 2, 2022 @ 11:00 am

-

12:15 pm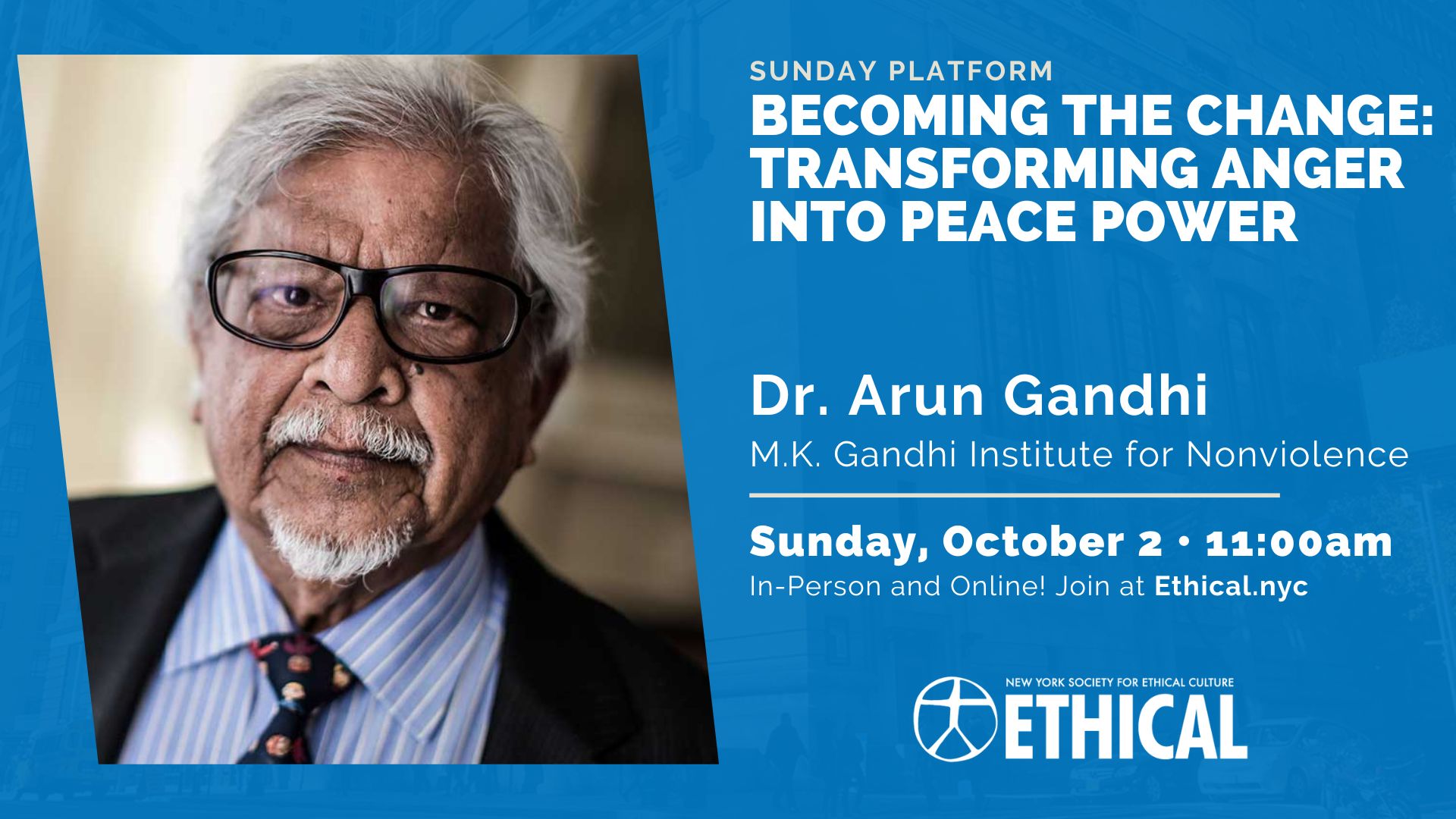 Special Inter-Generational Sunday Platform FREE In-Person and Online!
RSVP kindly requested. Click here to RSVP on Eventbrite.
Dr. Arun Gandhi, grandson of Mahatma Mohandas Gandhi and founder of the M.K. Gandhi Institute for Nonviolence, joins us for this special Sunday Platform on his grandfather's birthday, offering his story of growing up under the guidance of the renowned peace leader and sharing his own experiences transforming rage at injustice into peace power.
Ethical NYC was introduced to Dr. Gandhi and began collaborating with him through the Gandhi-King Season For Non-Violence. This summer, our Young Ethical Explorers program sent a representative, Favio Apollon, on a Learn-Lead-Serve field trip to meet Dr. Gandhi at his center in Rochester, New York. Now, it's our great honor to host him on this auspicious day.
Dr. Gandhi has written several books sharing his childhood experience, and became a peace farmer himself, creating the M.K. Gandhi Institute for Nonviolence.
About being a peace farmer, he says:
I call myself a peace farmer. Like a farmer goes out into the fields and plants seeds and hopes and prays to get a good crop, I go out and plant seeds of peace, and I hope and pray that I get a good crop of peacemakers.
Learn more about Dr. Gandhi at drarungandhi.com. This event is co-sponsored by the Gandhi-King Season for Nonviolence.
RSVP Kindly Requested for In-Person Attendance – Click here to RSVP on Eventbrite!
Notice: Only fully-vaccinated individuals are invited to attend in-person at this time. Proof of vaccination, photo ID, and mask are required.
Watch Online: Click to join at start | ID 863 0430 0961 | Passcode 609424
To join by phone (audio only), dial (929) 205-6099 and enter the Zoom ID above.
Presider: Audrey Kindred, Youth & Families Program Director
Monthly Collection: TBA
---
Sunday Platform is our most important and long-standing community event. These gatherings educate, stimulate personal growth, inspire reflection and action, and strengthen our community. Sunday meetings begin with music, followed by greetings and a talk given by a Society Leader, member, or guest.  Platforms cover a variety of topics that reflect current events, pressing social issues, and Humanist philosophy. Each Sunday meeting is followed by a luncheon and social hour.
To watch previous Sunday Platforms, visit our Videos page and YouTube channel.
***
Young Ethical Explorers is our Humanist Sunday school, designed for youngsters from ages 4 to 13, and takes place concurrent with our Sunday Platform meetings. Sessions raise issues of personal identity and integrity, appreciation and respect for others, and knowledge of religions, philosophies, and social concerns. Topics are explored in an age-appropriate way through discussion, storytelling, dramatization, music, art, games, and field trips.
RSVP is essential to guarantee your place and for planning purposes. If you are enrolled for the season or are members of Ethical NYC your spot is guaranteed. To RSVP as a guest, become a member, or enroll in season, please contact Audrey at YoungEthicalExplorers@gmail.com. Newcomers and visitors are always welcome!
Related Events