CreativeMornings NYC: Maria Popova on Sanctuary
January 13 @ 8:30 am

-

10:00 am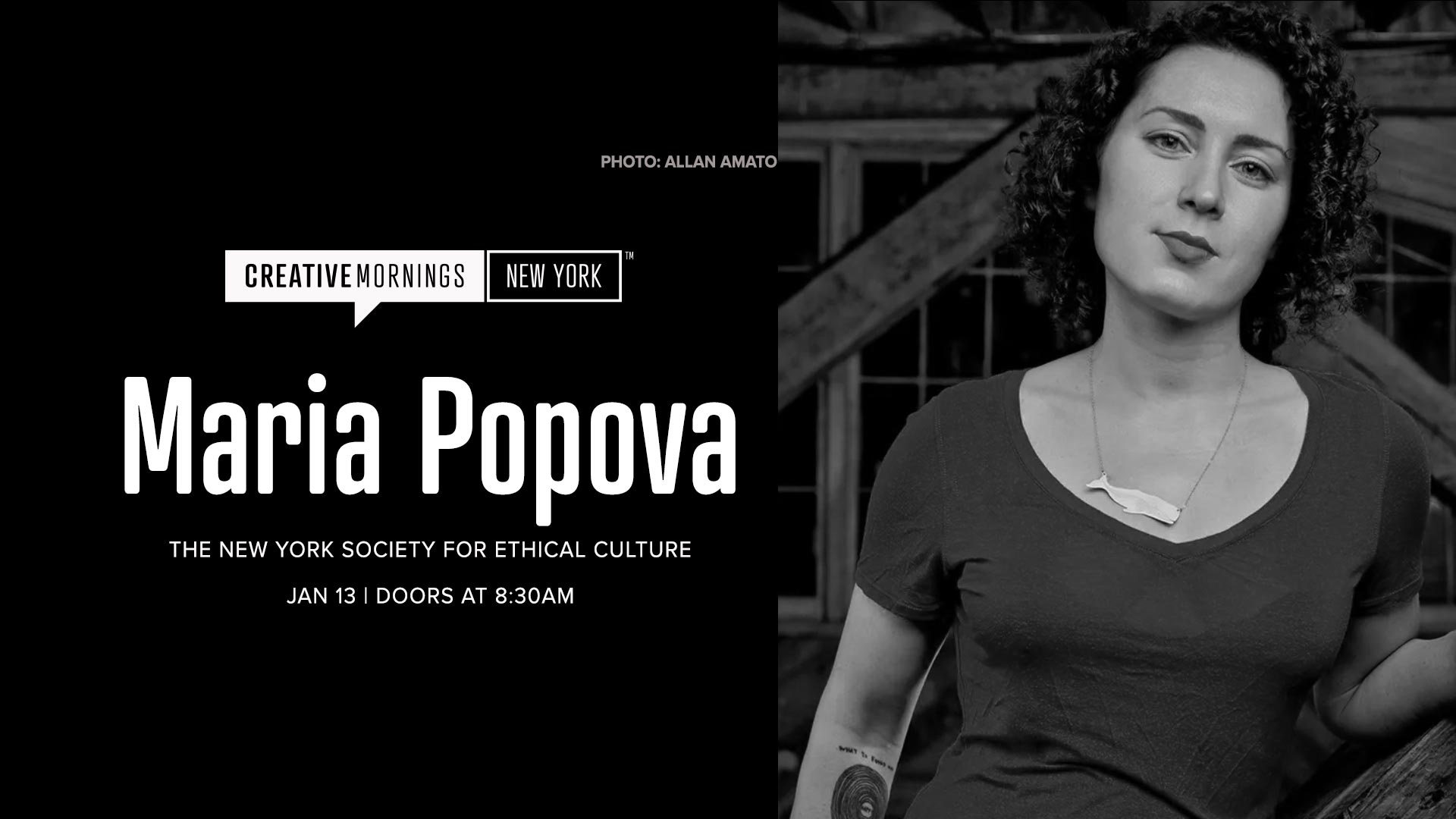 Ethical NYC is thrilled to host CreativeMornings NYC. CreativeMornings is a global breakfast lecture series for the creative community. CreativeMornings chapters meet once a month, typically on a Friday morning, for a cup of coffee and an inspiring talk featuring New York's most inspiring and influential doers. Events are free of charge and will always be.
FREE! RSVP Here (In-Person and Livestream)
Maria Popova is a reader and a wonderer reckoning with the meaning of it all in writing. The Marginalian is the record of the reckoning — a one-woman labor of love, exploring what it means to live a tender, thoughtful life of purpose and gladness, wonder-smitten by reality. Founded in 2006 as an email to seven friends under the outgrown name Brain Pickings and since included in the Library of Congress permanent web archive of culturally valuable materials, it remains a chronicle of her ongoing becoming — intellectually, creatively, spiritually, poetically — drawn from her extended marginalia on the search for meaning across science, art, philosophy, and the various other tendrils of human thought and feeling; a private inquiry shimmering with the ultimate question, the great quickening of wonderment that binds us all: What is all this?
Featuring Music by Joan as Police Woman
Joan as Police Woman started out studying to be a classically trained violinist, then expanded the terrain and role of the violin as she became a multi-instrumentalist, singer, songwriter, composer, and producer. She has released ten critically acclaimed albums and has performed and collaborated with Anthony and the Johnsons, Gorillaz, John Cale, Meshell Ndegeocello, Lou Reed, David Sylvian, Rufus Wainwright, and a constellation of other beloved musicians. Her latest album, The Solution Is Restless, is a collaboration with legendary drummer and Afrobeat pioneer Tony Allen. She lives in Brooklyn and loves the world.
Local Partners
COVID SAFETY PRECAUTIONS
This event will be indoors. You will be required to…
-Please provide proof of vaccination. Wear masks the entire time you are indoors unless you are eating or drinking. All food and beverages must be consumed before entrance into The New York Society for Ethical Culture's theatre.
-Stay home if you've tested positive for COVID-19 or are not feeling well with symptoms commonly associated with COVID-19 (e.g., loss of smell/taste and/or fever) ❤️ Children under 5 are not allowed in the theatre. Thank you for your understanding.