Ethics Unplugged: Mick Metal on the History of Tattooing and Body Marking
April 19 @ 7:00 pm

-

8:00 pm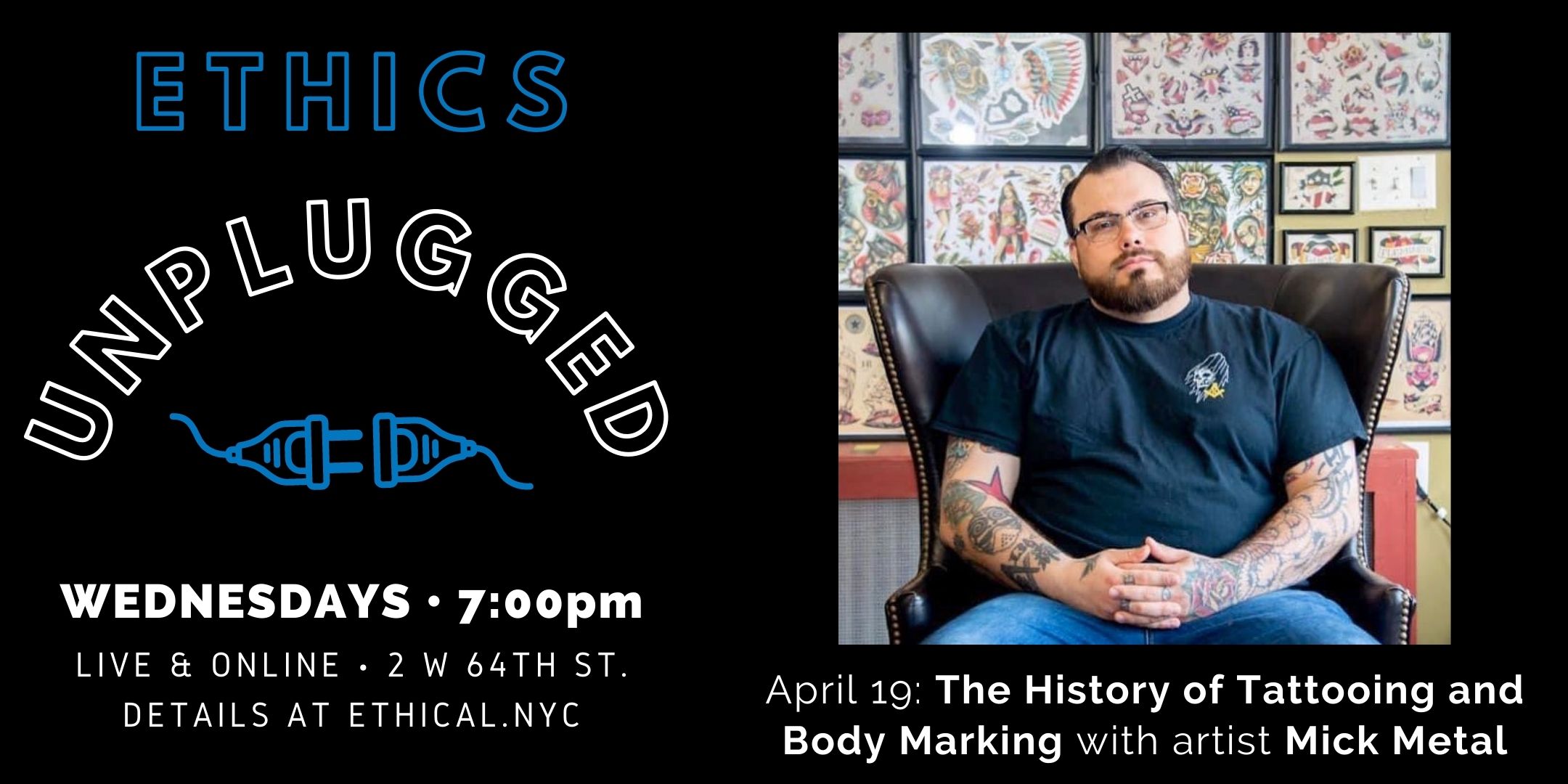 In-person and online! Join Society Leaders Nori Rost and Jé Hooper for Ethics Unplugged, an exciting reimagining of Ethical Culture, every Wednesday at 7:00pm. Come early for wine and refreshments!
Tonight we will be joined by guest speaker Mick Metal. Mick began in 2003 as a body piecer at Stiehl's Body Modification and came to work at Shotsie's Tattoo? in 2004 and went through his apprenticeship. Mick was Shotsie Gorman's last apprentice. He left to buy a tattoo shop in Guttenberg, NJ and then sold it to open Revolution Tattoo Co. in Pearl River, NY. In 2014 he and a few other tattooists fought against unjust ink laws that were put into law with out NY tattoo artists knowledge and ultimately had the laws reacted and rewritten and approved by then Governor Cuomo. As an advocate for tattooing he is as of 2021 a Board Member of the Alliance of Professional Tattooists and continues to fight for the rights of tattoo artists everywhere. Mick is available Wednesdays through Saturdays.
April Theme: Stories Our Bodies Tell
This month we will be exploring the stories our bodies tell through choice and chance. For many of us tattoos are an important way to tell the stories of our lives. For some, scars derived from accidents or surgeries have equally profound stories to share. Join us as we explore these mediums of life.
Get a tattoo or piercing at Ethical! We'll be joined by partner artists at our Thursday, April 27 Unplug Yourself session who will discuss and practice their art.
Watch Online! Click to Join at Start | Zoom ID 864 8703 7420
Free and open to the public!
COVID-19 Notice: Masks are optional but strongly encouraged.