Jazz Cafe: The Bill Rignola Quartet
April 14 @ 7:00 pm

-

9:00 pm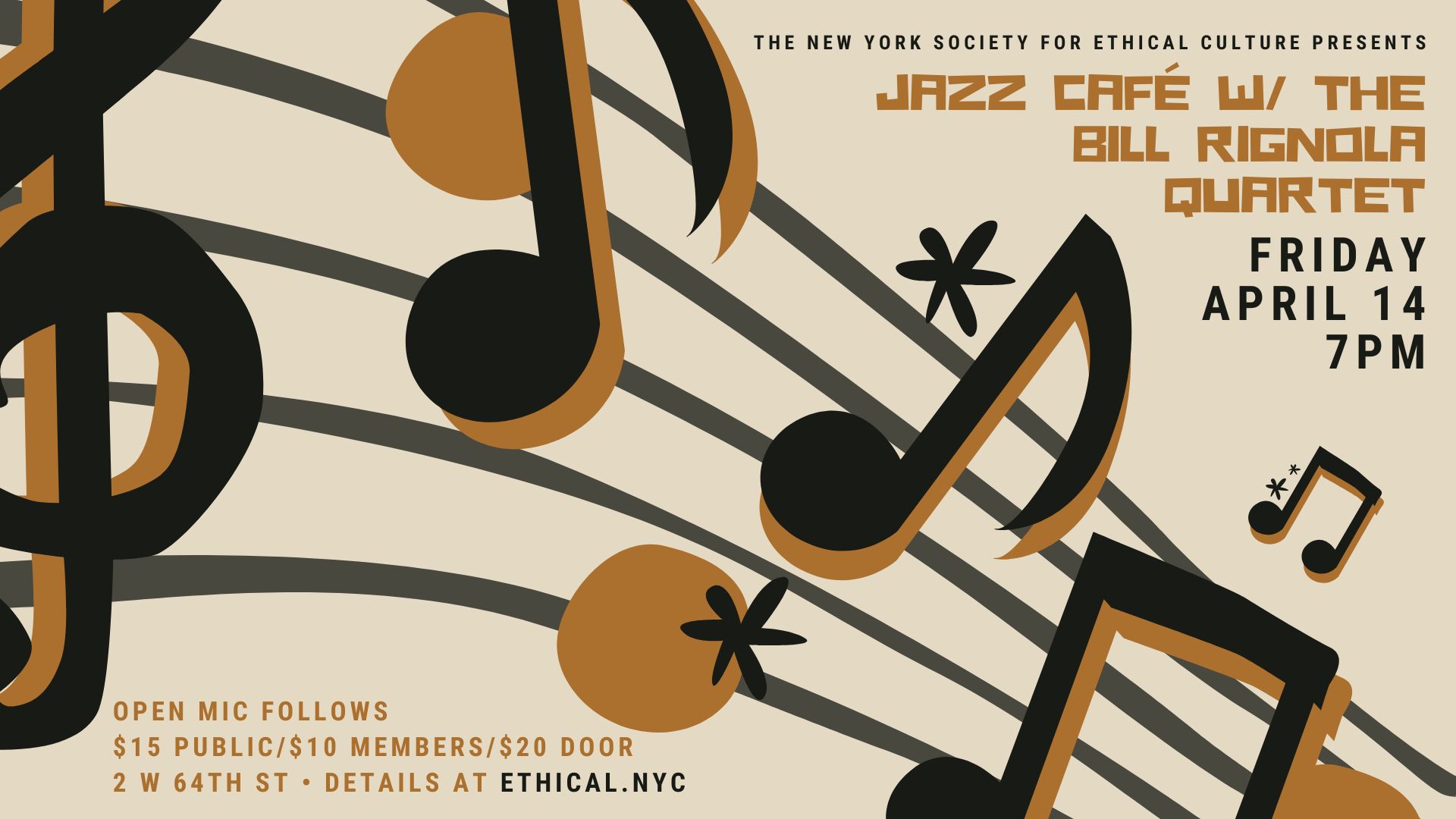 Jazz Cafe is back! Join us for our first session since 2020 featuring the Bill Rignola Quartet. Open mic follows!
Click here to purchase tickets on Eventbrite!
The Bill Rignola Quartet is:
Born in 1933 in East Patchogue, New York, Bill Rignola's first love has always been jazz. His musical career began in high school playing clarinet before he switched to tenor saxophone. In 1971, Bill formed a wedding band that started out with three pieces and grew to six pieces by 1990. Since 1996, he has been playing in jazz venues and restaurants spanning the east end of Long Island to New York City, and in Fort Myers and Naples, Florida. For the past 25 years, he's played at the Dunton Inn in East Patchogue every Wednesday night, which may be the longest running jazz jam on Long Island. It especially warms his heart to see the next generation of jazz musicians feeding off decades of experience ~ they are the ones who will keep Jazz alive! Bill is especially pleased his musical talent has manifested in his children and grandchildren.
Jerry McDonald is a native LI/NYC bassist who performs on both the upright bass and electric bass. After being introduced to the great Jazz-Fusion bassist Jaco Pastorius, Jerry's desire to study the tradition of Jazz Music was born. His musical journey, however, has led to many noteworthy performances in both Jazz and Rock genres. Jerry has had the opportunity to perform with Carl Allen, Dan Faulk, Rufus Reid Bass Quartet, Earl Williams, Tim Siciliano, Mark Marino, Tim Regusis, Steve Salerno, Ron Affif, Swingset Quartet, Jack Licitra, and The Al Miller Big Band. He has also toured with vocalist Anastasia Renee and her Quartet in Russia, as well as with Beledo Accoustic Trio in Puerto Rico. He's played electric bass for Soul Revival, a funk R&B Band, performing at many clubs and events throughout the New York tri-state area and northeastern United States.
Pianist Stu Waters is an accomplished pianist and vocalist, classically trained in piano at the Juilliard Prep School. Stuart started performing professionally at age 13 when he became involved in jazz and blues. At age 15, he was featured as a rising star on WQXR Radio's "Young America Plays". He has performed throughout the United States, and his performance and studio credits include projects with Joe Carbone, Joe Carter, Paula Atherton, Earl Williams, Walter Perkins, James Cammack, Chasey Dean and Rose Gunter
Jerry Nobile has been playing the drums for over 35 years at various events and at live performances all along the east coast. Motivating band players to perform their best is second nature to Jerry, and his training and skills in percussion allow his creativity to shine, whether he's playing jazz, funk or soul.
Doors at 6:30. Open mic hour follows our featured artist.
$10 Members/$15 non-members/$20 Door. Refreshments available (wine, beer, soda).
Click here to purchase tickets on Eventbrite!
---
About the Ethical NYC Jazz Cafe:
"Wonderful! A step back in time." -D. Berkowitz, Asheville, NC
"Totally delighted the whole evening! Classic intimate place, delightful people, and energy the whole time!" – W. T., Brentwood, New York, NY
"The venue for the music was wonderful. There were round tables complete with table cloths and nice mood lighting. The chandeliers were dimmed and it was a nightclub atmosphere. The music was excellent and then there was an open mic so I got to see a number of talented neighborhood folks get up and do their thing. Some people even felt moved to dance. I loved it!" -G. Walsh, Fair Lawn NJ
Related Events