Free Theater: 'One With the Current' by Daniel Damiano
January 8 @ 2:00 pm

-

4:00 pm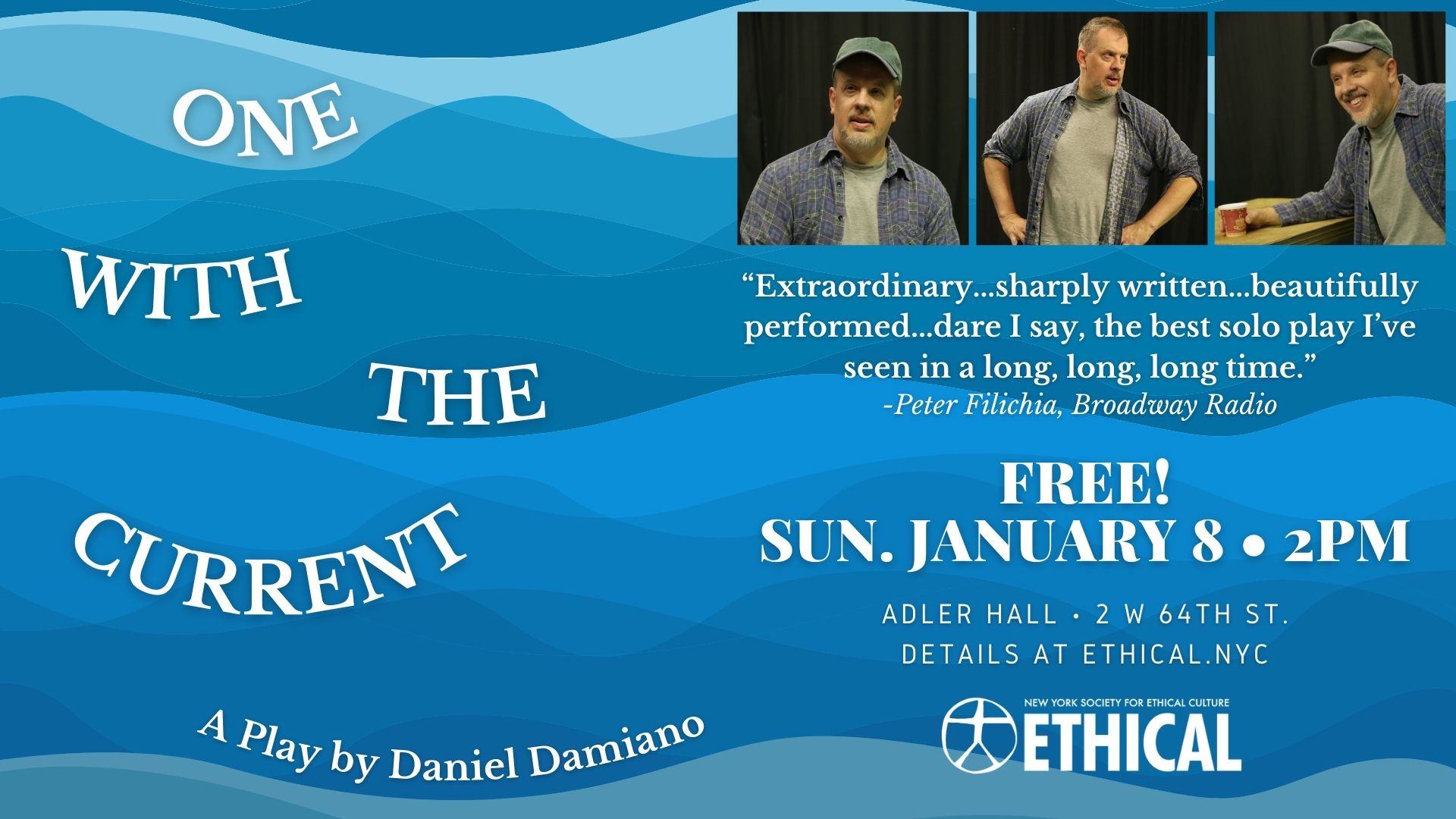 Notice: This performance is now at 2:00pm.
Join us for a free special performance of Daniel Damiano's acclaimed and timely solo play, One With the Current, which Broadway Radio's Peter Filichia calls "Extraordinary…sharply written…beautifully performed…dare I say, the best solo play I've seen in a long, long, long time."
A North Carolina husband and father accompanies his childhood friend on a fishing trip during the pandemic, but the events that ensue will change his life forever…
Written and Performed by Daniel Damiano. Directed by Leslie Kincaid Burby.
FREE! CLICK HERE TO RSVP ON EVENTBRITE
About Daniel Damiano
Daniel Damiano is an Award-winning Playwright, Screenwriter, Actor, Poet and Novelist based in Brooklyn, NY. He has been the recipient of the Christopher Brian Wolk Award for Playwriting, as well as a nominee for the Pushcart Poetry Prize and a Finalist for the Arts & Letters Prize for Drama. He was most recently a Finalist for the 2022 David A. Einhorn Memorial Playwriting Award. His acclaimed play, DAY OF THE DOG, was published in 2018 by Broadway Play Publishing, while one of his latest plays, THE WILD BOAR, was a recent Finalist for Dayton Playhouse's Futurefest 2022, and a previous Finalist for both the Woodward/Newman Drama Award and the Janet & Bruce Bunch Award. In September, three of his acclaimed plays (Harmony Park, The Golden Year, & The Dishonorable Discharge of Private Pitts) were published in PLAYS BY DANIEL DAMIANO – Volume 1.
In 2021, fandango 4 Art House published his debut novel, THE WOMAN IN THE SUN HAT (Seattle Book Review Recommendation), and subsequently his debut poetry book, 104 DAYS OF THE PANDEMIC. In December 2022, fandango 4 Art House released GRAPHIC NATURE, his second novel. Between 2017-2020, he performed his previously acclaimed solo play AMERICAN TRANQUILITY at the PIT Loft, the Downtown Urban Arts Festival, two separate engagements at the East Village Playhouse and at the Capital Fringe Festival in DC, all under the direction of Kathy Gail MacGowan. He premiered ONE WITH THE CURRENT as part of the 2022 Dream Up Festival at Theater for the New City in September, directed by Leslie Kincaid Burby. Visit him online at danieldamiano.com.
(Banner photos by Gerry Goodstein)