Steven Hassan: Two Years After the Violent Coup Attempt
January 8 @ 11:00 am

-

12:30 pm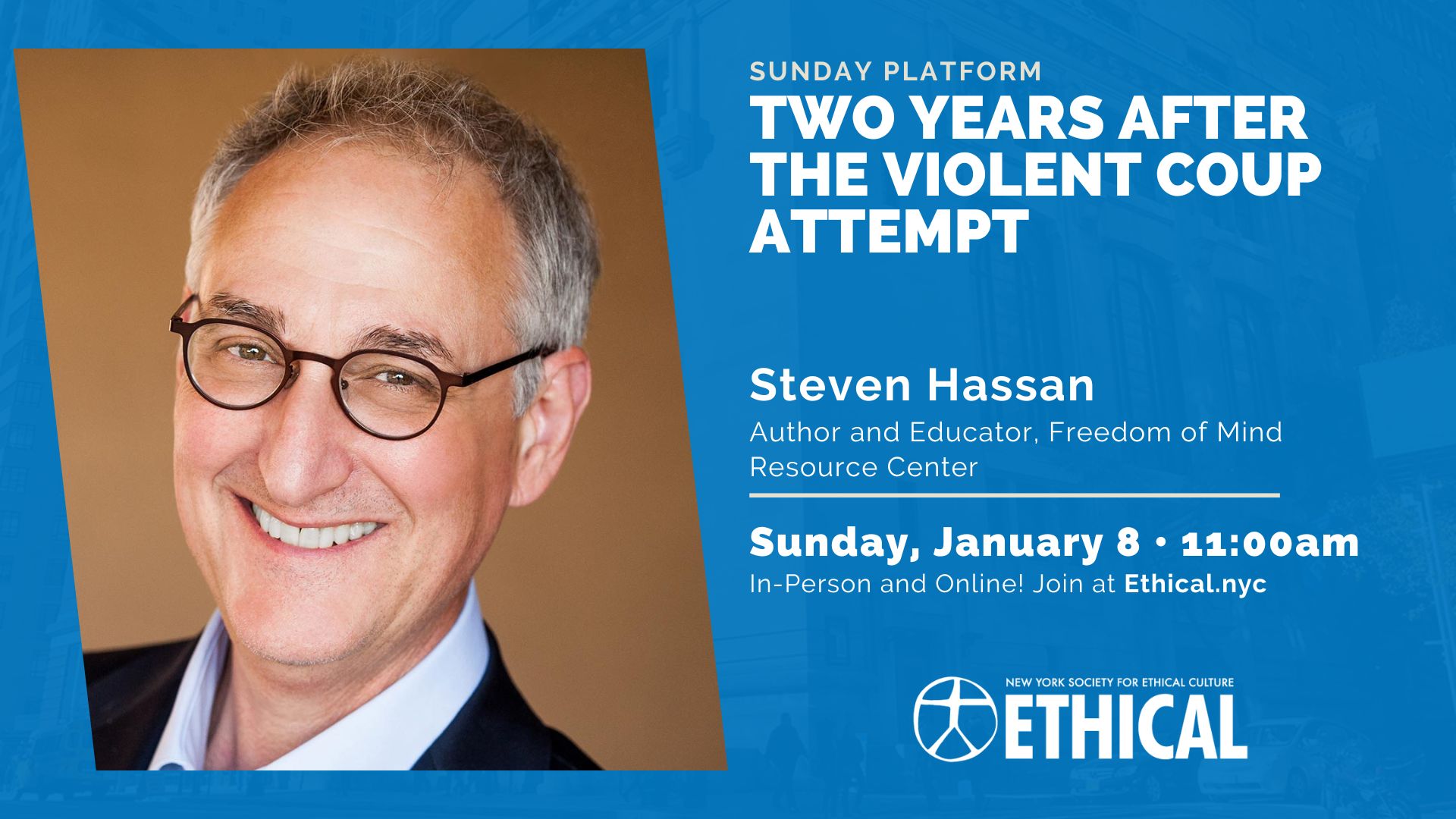 In-person and online!

Cult expert Steven Hassan, author of The Cult of Trump, joins us to examine developments since the January 6, 2021 attack on the Capitol, and discuss what we can do to stop those with wealth and influence, both here and overseas, who wish to propel the world into authoritarian darkness.
The U.S. government is in a lot of trouble: 121 Republican politicians were complicit in trying to stop the transfer of power to President Joe Biden, the legitimate winner of the 2020 election. The Department of Justice has a special prosecutor looking into charges against Trump, but the public remains largely ignorant of what a psyop is (think of QAnon), what undue influence is (brainwashing), and what we can do going forward to stop the plans of those with wealth and influence who wish to destroy the United States and propel the world into authoritarian darkness.
Many people are now waking up to the reality that they were, in fact, believers in The Cult of Trump. However, the media has largely censored the information in my book, while groups including Vladimir Putin, The Family, Opus Dei, the New Apostolic Reformation, Benjamin Netanyahu, and others have worked to undermine the rule of law, overthrow established law and legal precedent like Roe v. Wade, and further tear down the separation of church and state.
Steven Hassan, Ph.D. is a mental health professional who specializes in helping people to recover from mind control as well as helping loved ones to exit without coercion. He has been helping people leave destructive relationships and organizations since 1976 after he was rescued from the infamous cult, the Moonies. Hassan directs the Freedom of Mind Resource Center, a counseling and publishing organization outside of Boston, teaches at Harvard Medical School and Brigham and Women's Hospital, and recently received his doctorate from Fielding University. He is the author of The Cult of Trump, Combating Cult Mind Control, Releasing the Bonds, and Freedom of Mind: Helping Loved Ones Leave Controlling People, Cults and Beliefs.
Afterwards, join us at 2:00pm for a free performance of the acclaimed play One With the Current by Daniel Damiano!
Notice: Only fully-vaccinated individuals are invited to attend Platform in-person at this time. Mask wearing is required.
Watch Online: Click to join at start | ID 863 0430 0961 | Passcode 609424
To join by phone (audio only), dial (929) 205-6099 and enter the Zoom ID above.
Presider: Monica Weiss
Monthly Collection: M.K. Gandhi Institute for Nonviolence
---
Sunday Platform is our most important and long-standing community event. These gatherings educate, stimulate personal growth, inspire reflection and action, and strengthen our community. Sunday meetings begin with music, followed by greetings and a talk given by a Society Leader, member, or guest.  Platforms cover a variety of topics that reflect current events, pressing social issues, and Humanist philosophy. Each Sunday meeting is followed by a luncheon and social hour.
To watch previous Sunday Platforms, visit our Videos page and YouTube channel.
Related Events