First Sundays: 'Twas the Night Before Pride' with Author Joanna McClintick
June 5, 2022 @ 1:30 pm

-

3:00 pm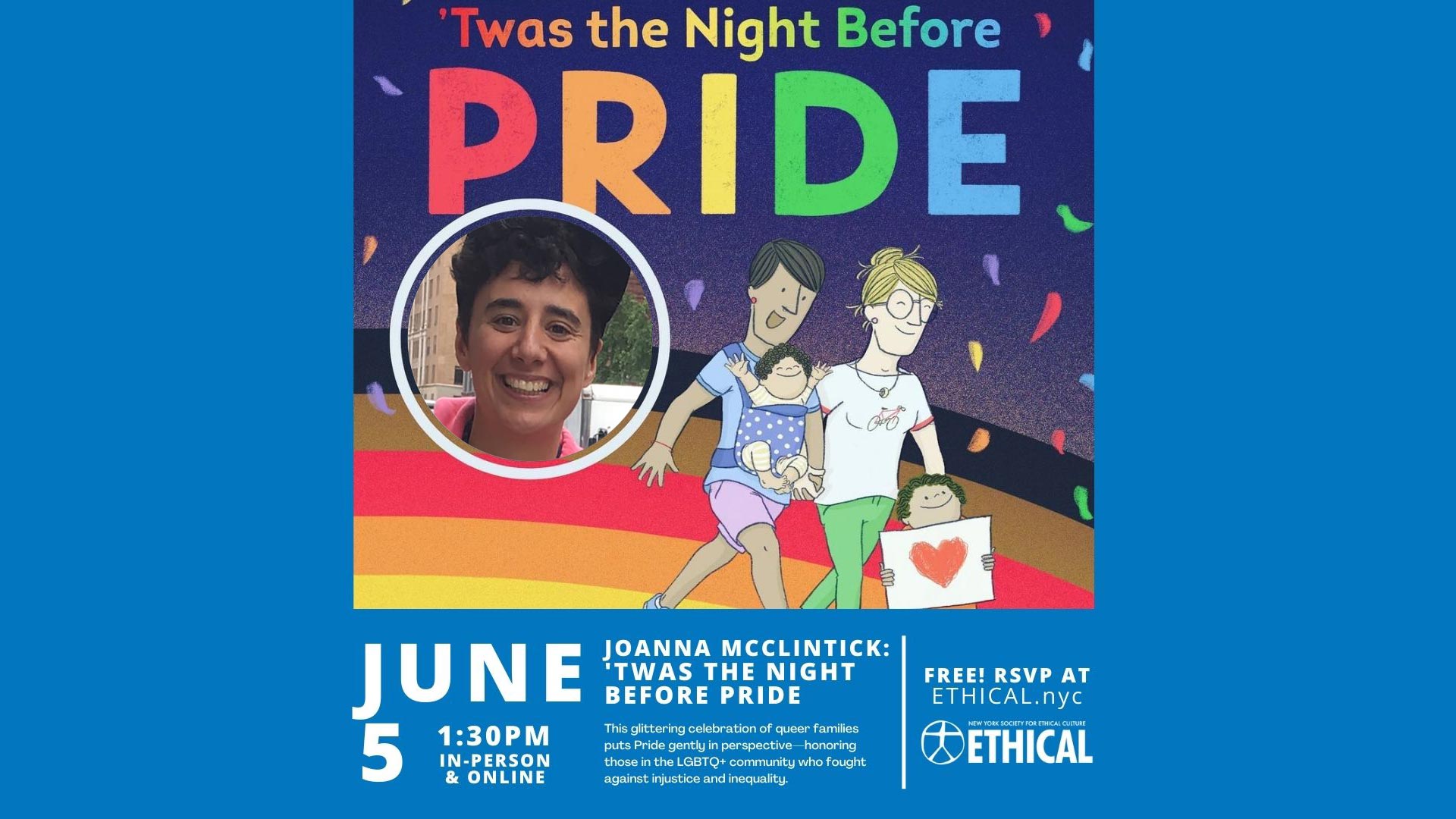 A glittering celebration of queer families puts Pride gently in perspective—honoring those in the LGBTQ+ community who fought against injustice and inequality.
Author Joanna McClintick joins us to share her illustrated poem 'Twas the Night Before Pride, that tells, beyond the glitter and rainbows of PRIDE, "the beautiful resistance that made PRIDE come to be."
This joyful picture-book homage to a day of community and inclusion—and to the joys of anticipation—is also a comprehensive history. With bright, buoyant illustrations and lyrical, age-appropriate rhyme modeled on "'Twas the Night Before Christmas," it tackles difficult content such as the Stonewall Riots and the AIDS marches. On the night before Pride, families everywhere are preparing to partake. As one family packs snacks and makes signs, an older sibling shares the importance of the march with the newest member of the family. Reflecting on the day, the siblings agree that the best thing about Pride is getting to be yourself. Debut author Joanna McClintick and Pura Belpré Award–winning author-illustrator Juana Medina create a new classic that pays homage to the beauty of families of all compositions—and of all-inclusive love.
Praise for 'Twas the Night Before Pride:
"Rainbows abound in Medina's full-color digital illustrations, which incorporate historical references and depict a wonderfully diverse cast. . . While there is no shortage of picture books about Pride, this one may be the most inclusive and expansive yet. . . . An affirming and kid-friendly history lesson."
—Kirkus Reviews
"McClintick presents a loving survey of the queer community in all its diversity. . . Medina's rainbow-flecked digital illustrations do a superb job of capturing the spirit and scope of Pride and the excitement it generates, while the sprightly text joins in the celebration. With affirming discussions of togetherness and LGBTQ+ rights, the book's final takeaway that "being yourself is a blast" hits just the right note."
—Booklist
Newcomers are always welcome! To join us in person or to receive the Zoom webinar link, please RSVP to Youth Programs Director Audrey Kindred at youngethicalexplorers@gmail.com. For more information about our youth and family programming, please visit www.ethical.nyc/youth.
---
Young Ethical Explorers is our Humanist Sunday school, designed for youngsters from ages 4 to 13, and takes place concurrent with our Sunday Platform meetings. Sessions raise issues of personal identity and integrity, appreciation and respect for others, and knowledge of religions, philosophies, and social concerns. Topics are explored in an age-appropriate way through discussion, storytelling, dramatization, music, art, games, and field trips.
RSVP is essential to guarantee your place and for planning purposes. If you are enrolled for the season or are members of Ethical NYC your spot is guaranteed. To RSVP as a guest, become a member, or enroll in season, please contact Audrey at YoungEthicalExplorers@gmail.com. Newcomers and visitors are always welcome!
Related Events