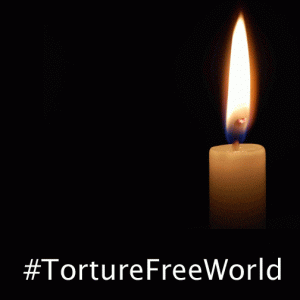 When you read this, Gina Haspel may be leading the Central Intelligence Agency. I hope not, but the political odds were in her favor. As Acting CIA Director, with over thirty years' experience, Trump's nominee was eminently qualified, but her claim, during her Senate Intelligence Committee hearing in May to have a "strong moral compass" was in serious doubt when she refused to answer whether or not she thought the CIA's torture program developed under President George W. Bush after 9/11 was immoral.
"After 9/11, I didn't look to go sit on the Swiss desk — I stepped up," Haspel said. "I was not on the sidelines. I was on the front lines in the Cold War, and I was on the front lines in the fight against Al Qaeda."
That fight employed brutal torture techniques, including waterboarding detainees, dousing them with ice water, forcing them to stay awake for as long as a week, and subjecting some to medically unnecessary rectal feeding. The program was ended in 2007 and its techniques prohibited by President Barack Obama in 2009. A report issued in 2014 by the Senate Select Committee on Intelligence analyzing internal CIA documents related to the torture of terrorism suspects concluded that "the CIA's use of its enhanced interrogation techniques was not an effective means of acquiring intelligence or gaining cooperation from detainees" and that "multiple CIA detainees fabricated information, resulting in faulty intelligence."
"Having served in that tumultuous time," Haspel said, "I can offer you my personal commitment, clearly and without reservation, that under my leadership, C.I.A. will not restart such a detention and interrogation program."
When asked if she would stand up to Trump, who apparently believes that torture works, should he order her to resume that program, she replied, "I do not believe the president would ask me to do that," adding, "I would not restart under any circumstances an interrogation program at C.I.A." We can only hope that this is true; the evidence isn't convincing.
June was declared Torture Awareness Month by human rights and faith organizations because on June 26, 1987, the nations of the world took a major step against the immoral practice of torture by establishing the Convention Against Torture and other Cruel, Inhuman and Degrading Treatment or Punishment (CAT). The United Nations later declared June 26th the International Day in Support of Victims of Torture.
Why, one wonders, in spite of overwhelming evidence that torture is ineffective in eliciting reliably truthful information, does it persist? In February 2016, forty-two retired generals and admirals wrote in a letter to presidential candidates, "Torture violates our core values as a nation. Our greatest strength is our commitment to the rule of law and to the principles embedded in our Constitution. Our servicemen and women need to know that our leaders do not condone torture of any kind."
Former prisoner of the Vietnam War and the chair of the Armed Services Committee John McCain was brutally tortured for more than five years but refused early release unless other captives were also freed. In a statement he made last month, he said that Haspel's "refusal to acknowledge torture's immorality is disqualifying," urging his colleagues to vote against her. "As I have argued many times, the methods we employ to keep our nation safe must be as right and just as the values we aspire to live up to and promote in the world."
In response, White House aide Kelly Sadler joked, "It doesn't matter. He's dying anyway." Tragically, this is the kind of callous remark we have come to expect from an administration whose chief once said, in declaring that McCain was not a war hero, that he preferred "people who weren't captured,"
The 2014 statement on National Security, Intelligence, and Interrogation Professionals defined torture as "a manifestation of atavistic impulses to denigrate, subjugate, and dehumanize individuals perceived to pose a threat to indivuals' or society's safety. It is primitive, unreasoned, and an affirmation of anger." There is no place for such immorality in our world.
To learn more about Torture Awareness Month and to join the effort to end the torture of solitary confinement in U.S. prisons, visit the National Religious Campaign Against Torture at http://www.nrcat.org/.