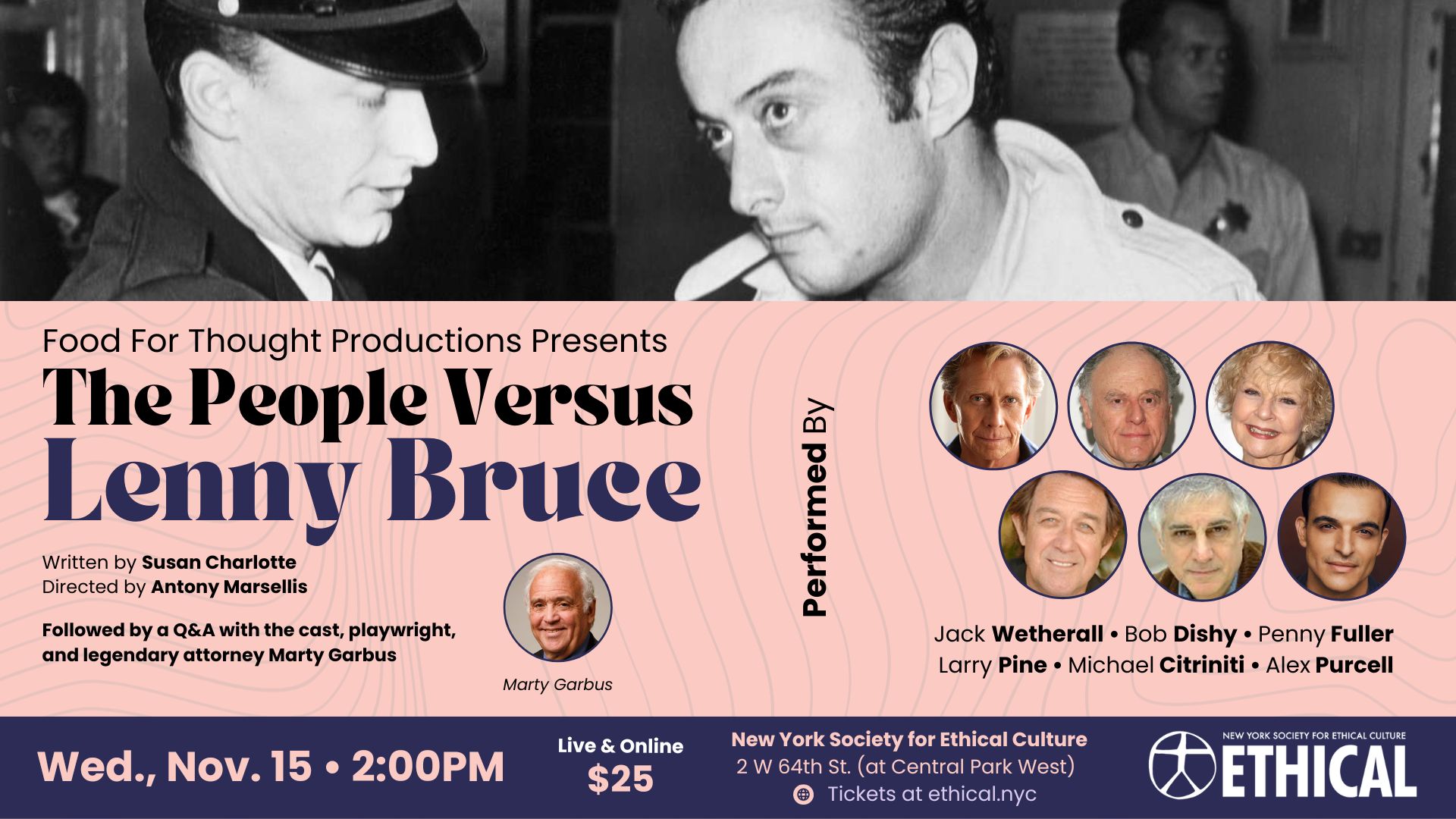 In-person and online! Followed by a Q&A with the cast, playwright, and famed attorney Marty Garbus, who represented Lenny Bruce.
What do Dorothy Kilgallen and Jules Feiffer have to do with Lenny Bruce?  Both fans of Lenny Bruce, they testified at his trial in 1964!  Join Food For Thought Productions, the award-winning theatre company, at 2pm on November 15th at the Ethical Culture Society and see "The People Versus Lenny Bruce".  Written by Susan Charlotte and directed by Antony Marsellis, this must-see show which includes characters based on Bruce, Kilgallen and Feiffer, is based on the case of legendary lawyer Marty Garbus in 1964.
Don't miss out on an award-winning Broadway cast which includes: Jack Wetherall, Bob Dishy, Penny Fuller, Larry Pine, Michael Citriniti and Alex Purcell, as Lenny Bruce.  The show will be followed by a Q & A with the cast, playwright and Marty Garbus.
The People Versus Lenny Bruce is the third segment of All The Court's A Stage, a series of one-act plays that are based on seven of Martin Garbus' cases. Garbus, who has been called "One of the world's finest trial lawyers", has represented: Philip Roth, Samuel Beckett, Igor Stravinsky, John Cheever, Daniel Ellsberg, Al Pacino, and Susan Sontag, to name a few! He also smuggled letters from Andrei Sakharov to Jimmy Carter.
In April 1964, Lenny Bruce appeared twice at the Cafe Au Go Go in Greenwich Village, with undercover police detectives in the audience. He was arrested along with club owners Howard and Elly Solomon, who were arrested for allowing an obscene performance. On both occasions, Bruce was arrested after leaving the stage. A three-judge panel presided over his widely publicized six-month trial, prosecuted by Manhattan Assistant District Attorney Richard Kuh, with Ephraim London and Martin Garbus as the defense attorneys. Bruce and Howard Solomon were found guilty of obscenity on November 4, 1964. The conviction was announced despite positive testimony and petitions of support from—among other artists, writers and educators—Woody Allen, Bob Dylan, Jules Feiffer, Allen Ginsberg, Norman Mailer, William Styron, and James Baldwin, and Manhattan journalist and television personality Dorothy Kilgallen and sociologist Herbert Gans. Bruce was sentenced to four months in a workhouse; he was set free on bail during the appeals process and died before the appeal was decided. Solomon, the owner of the club where Lenny was arrested, later saw Bruce's conviction overturned.
$25 – In-Person and Online
Click Here to Purchase Tickets on Eventbrite
About Playwright Susan Charlotte
Susan's multi-faceted career started with Prism Blues. Based on her work as a prison counselor, the play earned her a place in Columbia's MFA program and won the prestigious Joseph Kesselring Award. Her 60 full-length & one-act plays have been produced throughout the country. They include: The Shoemaker starring Danny Aiello, directed by Antony Marsellis; She's Of A Certain Age; The Round Table (w/ Oscar & Tony winner Peter Stone), and When Truth Is Not Enough. Her play, Love Divided By, was produced by the Actors Studio and was made into a film with an original score by Philip Glass. The film reopened MoMA's Titus II theatre. Her other films include: Something Like That, A Broken Sole, Come On (Hamptons Film Festival.) Her TV credits include; Did You Know My Husband? with Louise Lasser & Carole Shelley (PBS); The Comedy Zone with Patty Duke & Paul Reiser (CBS); Guiding Light and Loving (CBS).
Susan authored the acclaimed books Creativity and Creativity In Film and has written for NY Magazine and Playbill. She was also a professor at Columbia U., NYU, and City College. She is the founding artistic director of Food For Thought Productions and Cause Celebre.
About Food for Thought Productions
Food for Thought Productions was created by award-winning playwright Susan Charlotte to provide a home for the oft-neglected one-act play. FFTP has presented over a thousand shows with Oscar, Tony and Emmy award winning writers, actors and directors including Arthur Miller, August Wilson, Elaine May, Mary Alice, Elaine Stritch, Marian Seldes, Danny Aiello, Kathleen Turner, Tony Roberts, Carole Shelley, Peter Bogdonovich, Judd Hirsch, Marcia Gay Harden, Mary Bond Davis, Eric Stoltz, Kyra Sedgwick, Rosie Perez, Judith Light, Christine Baranski, Earl Hyman, Rita Moreno and so on. Food For Thought keeps going. As the world keeps changing and the unanswered questions continue to grow it is comforting to know that there is still something people can count on.