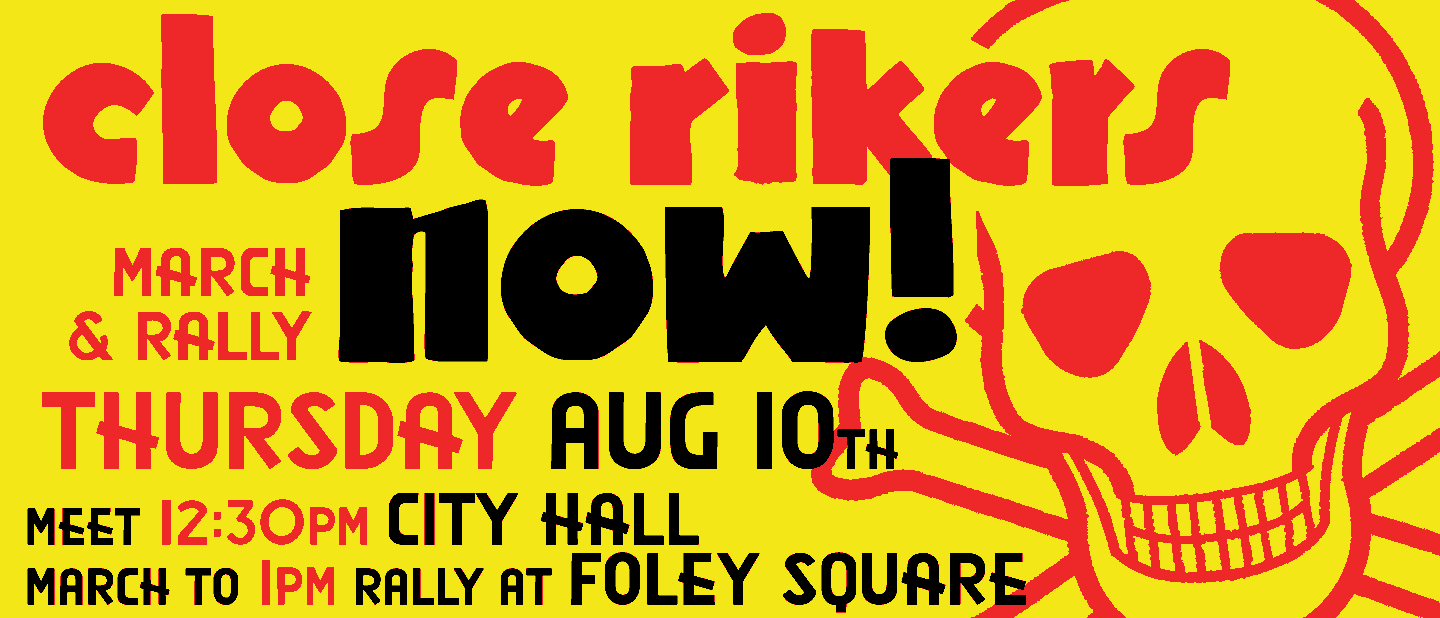 From our friends at the Katal Center for Equity, Health, and Justice and NAN NYC Second Chance Committee:
On Thursday, August 10th in Manhattan, there's an important federal court hearing about Rikers, where control of the jail complex could be taken away from Mayor Adams and assigned to an independent "receiver" — an individual who would be responsible for managing the jail complex to improve conditions and save lives. That day (Thurs 8/10) we're gathering at 12:30 at City Hall and will march together to Foley Square, near the federal court. At 1pm at Foley Square, we'll hold a rally to make clear that until Rikers is shut down, the courts must appoint a receiver to save lives. Can you join us? RSVP here to join us on 8/10 for our Close Rikers action.
By starting our action at City Hall at 12:30pm, we can make clear to Mayor Adams and City Council that Rikers must be shut down NOW. Then, we'll march to Foley Square, and as the hearing begins in federal court, we'll make our voices heard: Until Rikers is shut down, the federal courts must intervene to help save lives and improve conditions.
Support for a federal receiver is growing. Last week, the U.S. Attorney for the Southern District called for a federal receiver, describing the situation at Rikers as "a collective failure with deep roots." Dozens of community and advocacy groups have called for a receiver, along with former correctional officials, state legislators, and more. And today, more than a dozen city council members have joined Public Advocate Jumaane Williams in co-sponsoring a resolution calling for a federal receiver at Rikers.
Join us on Thursday, August 10 to demand that Rikers Be Shut Down, and that until then, the courts must appoint a receiver to save lives and improve conditions.