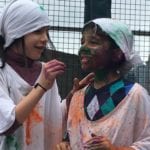 Earth Day is April 21… and the whole world is talking about it, hopefully!
Truth be told, it is ALWAYS Earth Day for Young Ethical Explorers…
But yes, dive into
EARTH DAY
with us as we bridge April 21 with two Central Park Field Trips: April 18 and 25!
  Experience Spring's awakening through breathing, movement, and sensory explorations with

two family-friendly field trips in Central Park,  led by Deepali Srivastava of Writefully Ours.
Sunday April 18, FIELD TRIP in person — Central Park's North-EAST side –weather allowing!

COLOR

HARMONY!!!  

HAPPY

"HOLI"!!!!
Our field trip will include a contactless, safe celebration of India's
spring holiday tradition of Holi
organized by Writefully Ours' Deepali Srivastava and her son, Sidd. 
They will bring the supplies
, i.e., clean white T-shirts and colors.
We'll color our friends with spray chalk to support "physical distancing."  We'll make ground murals of peace!  We'll use our imaginations to play with colors that signify the
magnificent diversity
of our planet and communities. We will draw inspiration from the trees and the waters of northern Central Park!
                Sunday April 18, FIELD TRIP in person — Central Park's North-WEST side –weather allowing!
                EARTH DAY WORKSHOP!!!  Creating EARTH hero characters and stories.
For families who put ethics at the center…
Newcomers and friends, all ages, are welcome with RSVP.
Programming for families, children and youth  will be part-virtual / part-in-person.
RSVPs and questions may be directed to:  YEE Young Ethical Explorers

RSVP for info specifics about our meeting spot.

Please note: All participants shall commit to caring for and watching out for one another.  

YEE participants operate with 100% commitment to ethical integrity.  Responsibility for children's safety and welfare remains the responsibility of their family.
Any questions, contact Audrey Kindred, program leader
(212)920-4483