May is Founder's Month at Ethical and we contemplate our founding inspiration, Felix Adler, in the house he built for ethical visioning and voicing to flourish.
Throughout the month, stay posted for blog posts on our website, highlighting ethical heroes that are admired by Ethical Culture community members. If you would like to share your tributes to heroes you hold dear, reach out to YoungETHICALexplorers@gmail.com.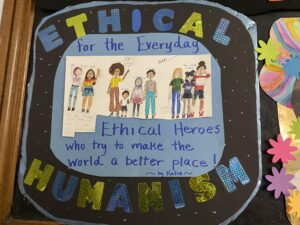 Great applause to the participants of Young Ethical Explorers (YEE) who participated in ARTISTIC  TRIBUTES TO ETHICAL HEROES on April 30th.  A diversity of art forms were represented: dance, music, poetry, visual art, and community participation ~ by a diversity of ages and visions.  We experienced tributes to Pete Seeger, Camille Saint-Saens, Mohandas Gandhi, Frederick Douglass, Dr. Wangari Maathai, and indeed, from the heart of one of our  very wise youth: "THE EVERYDAY HEROES who try to make the world a better place."  Visit this wonderful portrait of everyday heroes featured on Ethical NYC's first floor bulletin board.
One of the remarkable things about this event, was that it was initiated by the yearning request of inspired youngster. This mighty young person shared a dance she choreographed, inspired by a longtime ethical hero of hers Pete Seeger.  She was particularly motivated by a song he had created called The Big Muddy, with a great rhythm  ~ and a deep story. The song was a very political statement in its time, against the war in Vietnam.  The Big Muddy refers to The Mississippi River, where training platoons practiced for World War II.  As the performer said, "The moral of the song is TRUST WHAT YOU THINK" ~ indeed, don't just follow "a big fool."
Below are some wonderful pictures of our performers from April 30th: