Ruchira Gupta: Fighting Poverty, Patriarchy, and Human Trafficking
October 2 @ 7:00 pm

-

8:15 pm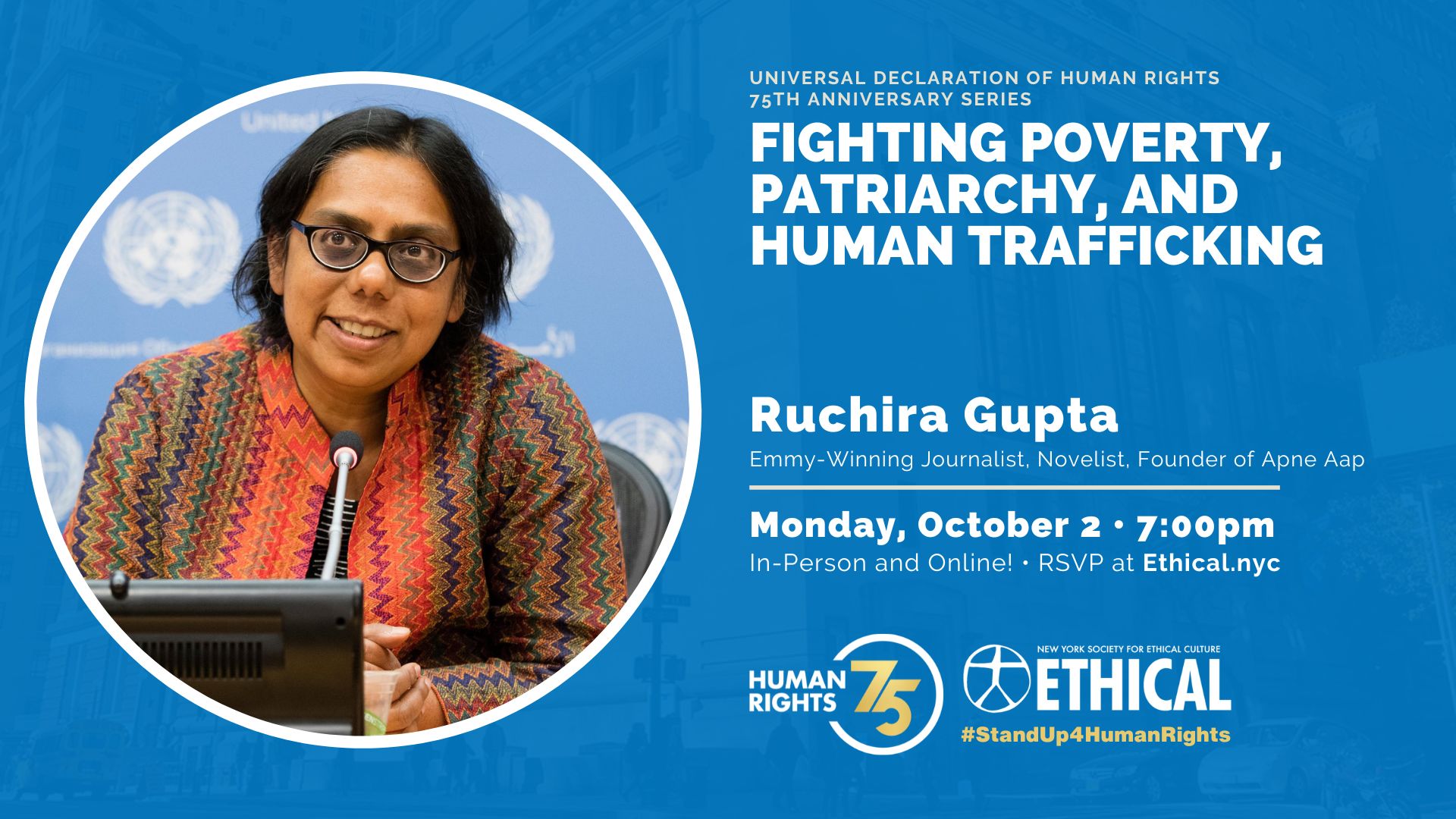 Free in-person and online! Our fall series celebrating the 75th anniversary of the Universal Declaration of Human Rights kicks off on Gandhi's birthday with an interview of anti-trafficking advocate Ruchira Gupta hosted by Leader Dr. Joe Chuman.
Human trafficking of girls in South Asia and elsewhere is a persistent product of poverty and the devaluing of women and girls. Combatting it means battling on both fronts. Join us on Gandhi's birthday for an interview with Emmy Award-winning journalist, novelist, and anti-trafficking NGO founder Ruchira Gupta.
Click here to RSVP to join in-person
Click here to RSVP to watch online
About Ruchira
Ruchira Gupta is an Emmy winning journalist and founder of the anti sex trafficking NGO Apne Aap, that empowers women and girls to exit systems of prostitution. I Kick and I Fly is her debut fiction novel.
She has been awarded the French Ordre National du Mérite, the Clinton Global Citizen Award, and the UN NGO CSW Woman of Distinction, among other honors, for her contribution to the establishment of the UN Trafficking Fund for Survivors, the passage of the US Trafficking Victims Protection Act and her grassroots activism with Apne Aap. She also holds a Doctor of Humane Letters degree from Smith College. She has co-written a book with Gloria Steinem, "As if Women Matter" and edited two anthologies, "River of Flesh" and "Renu's letters to Birju Babu".
Ruchira has worked for the United Nations in Nepal, Thailand, Kosovo, Iran, and the USA. She occasionally teaches at the New York University's Center for Global Affairs as a visiting faculty.
Ruchira divides her time between New York and Forbesganj, her childhood home in the foothills of the Himalayas, where she furthers the work of Apne Aap and paints her mother's garden. Visit her online at ruchiragupta.com.
About Leader Dr. Joe Chuman
Dr. Joe Chuman started on his road to Ethical Leadership as a leader-in-Training here at the New York Society in 1969 and continued his training at the Bergen Society, after which he became Leader of the Essex County Society before returning to the Bergen Society, where he served as leader for 46 years, retiring in January 2021. Joe has been a leader at the New York Society Since 2008. During his long career, Joe has worked as an academic, a social justice activist, a speaker, and a writer. He has been teaching human rights in the Graduate School at Columbia University for more than 20 years, teaches human rights at Hunter College, and has taught at the U. N. University for Peace in Costa Rica and at other colleges.
As an activist, Joe has advocated for civil liberties, human rights, and other progressive causes and has frequently testified before the New Jersey legislature on such issues as religious freedom, gun violence prevention, death penalty opposition, and immigrant rights. He founded the Northern New Jersey Coalition for Asylum Seekers 20 years ago and still serves as its president. Joe has written numerous book chapters, encyclopedia entrees, scores of Op-eds, and is the author of "Speaking of Ethics," a compilation of essays on Ethical Culture. Currently, he writes articles on political and socio-political issues on Substack and other social media outlets.
About the Ethical NYC Universal Declaration of Human Rights 75th Anniversary Series
Called humanity's Magna Carta by our friend Eleanor Roosevelt, the Universal Declaration of Human Rights is the foundational document of human rights that has inspired over a hundred treaties, conventions, bills, declarations, and constitutional provisions around the world.
Join us for this four-event event series celebrating the institution of fundamental rights that we all share as human beings.
Monday, October 2 at 7:00pm: Ruchira Gupta on Fighting Poverty, Patriarchy, and Human Trafficking
November (Date TBA): Jonathan Alter on Jimmy Carter and Human Rights
Sunday, December 10 at 11:00am: Amnesty International USA's Elise Auerbach on 'Woman, Life, Freedom: Women's Rights and the Uprisings in Iran'
Sunday, December 10 at 1:00pm: Letter writing for Amnesty International's Write for Rights Campaign
Related Events