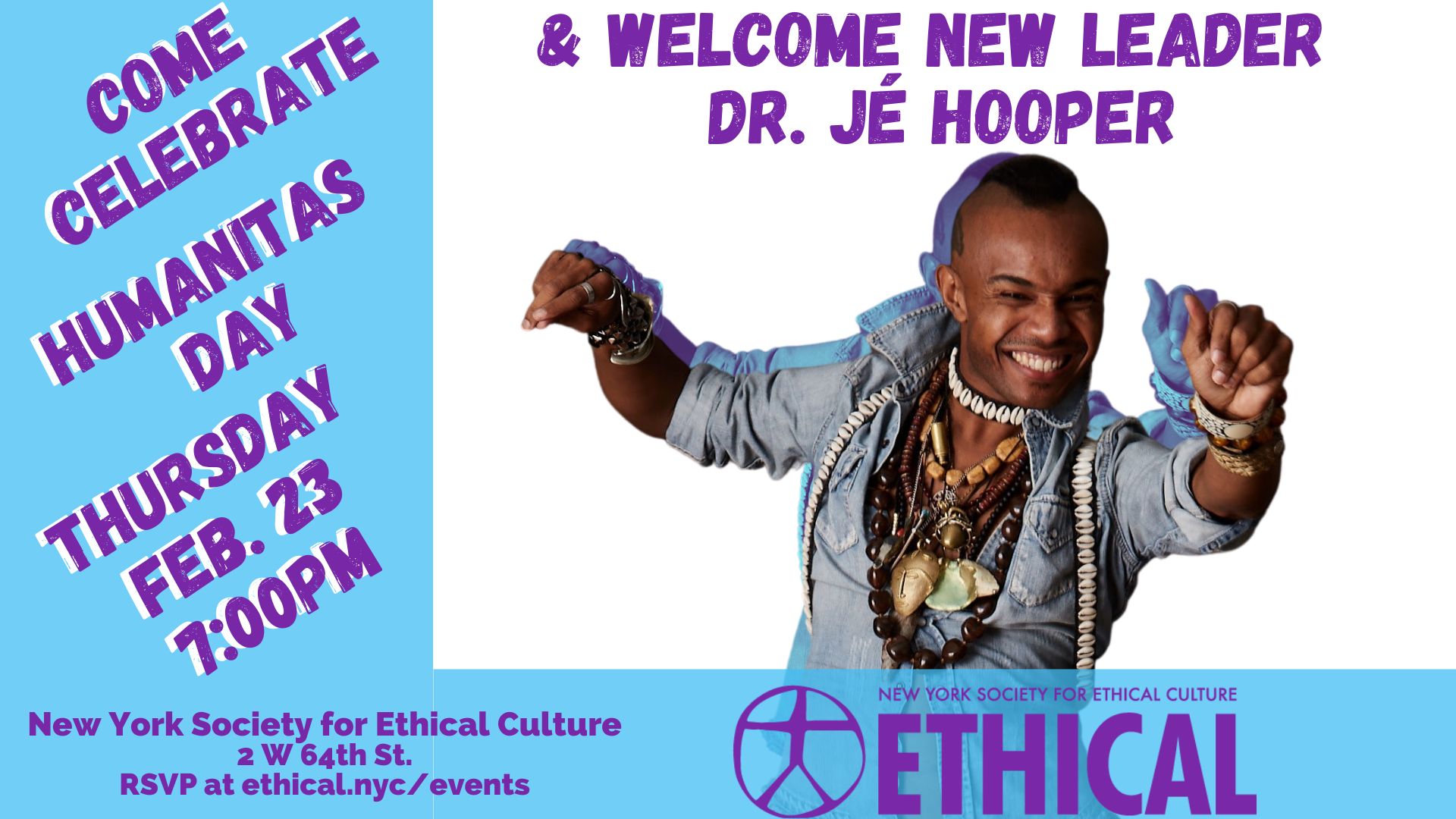 On Humanitas Day*, join us for great music, speakers, and film as we celebrate the worth and dignity of every person, and also welcome Rev. Dr. Jé Exodus Hooper to the New York Society for Ethical Culture as our newest clergy Leader.
The backdrop for our evening will be the legacy of our founder Felix Adler's work alongside W.E.B. Du Bois to confront and dismantle global racial injustice, as embodied in the 1900 Pan-African Conference held in London. Jé's short film, HUMANITAS, explores the relationship between Adler and Du Bois, and will be shown. Reception and refreshments follow.
*Humanitas Day was established in 2019 as an Ethical Culture holiday to share in the global collective wealth of all people through the acts of service and celebration.
FREE and open to the public. Click here to RSVP on Eventbrite!
Rev. Dr. Jé Exodus Hooper, Ph.D. (they/them) is an artist and Cultural Humanist. Both as performer and clergy at the First Unitarian Society of Minneapolis and within the Ethical Cultural Movement, their practice utilizes the body as preaching, decolonial Humanism, and Black Embodied-Intellectual Thought. Jé's love for community-building involves the aesthetic ability within the envelopment of Black folk-talk–one of imagination as meaning-making. Their word-working emphasizes human freedom and interconnectedness through embodiment, intuition, creativity, and improvisation.
Their most recent production Keep Liv'n expresses the importance of cultural care and self-care. Also, they are the clerical consultant at the Susquehanna Valley Ethical Society (the Valley) in Central PA. Jé as an artist has directed and created a film entitled, Humanitas: A Conscious Coloring of Kindness, along with other cultural programs that inform and inspire the human spirit.
Exemplifying a commitment to equity and inclusion through the arts and congregational life, Jé enjoys working closely together to decenter the stage and share the spotlight of all those voices that make up beloved community. These kinds of transdisciplinary approaches console and agitate communities in re-imagining and re-claiming narratives that honor the inherited worth and dignity within all people– a love-work that Jé is committed to!
Full Program:
Song:
Lindsay Wilson
Welcome:
Leader Dr. Nori Rost
Opening Address:
Liz Singer, President, Ethical NYC Board of Trustees
Rachel Pfeffer, Interim Executive Director, American Ethical Union
Song:
Lenny Harold
Libation/Mediation:
Storäe Michele
Beloved Community Statement:
Jone Johnson Lewis
Song:
Black National Anthem
Witness of Leadership:
Rev. Dr. David Breeden
Nayda Dutchin
Patti Arduini
Dr. Anthony Pinn
Message:
Anthony Cruz
Greg Bonin
Film:
Humanitas: A Coloring of Kindness
Refreshment & Music (in Social Hall/Lower Level)
COVID-19 Notice: Proof of vaccination and mask are required to attend in-person.