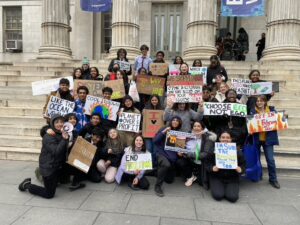 321 stands for March 21st, a day to individually and collectively defund the fossil fuel industry by boycotting banks that fuel it.

This request was made loud and clear from NYC youth, who gathered in the Fridays for Future Global Climate Strike on Friday, March 3rd, 2023. Ethical members were there to REPRESENT! Check out your bank, to see if your bank is a saving your money safely for you or rather if your bank is using your money to make a profit through fossil fuels, thereby threatening the planet, the HOME OF ALL LIFE.

To youth, it looks this stark! They made this VERY CLEAR in their compelling speeches! Let us hear this call to action! It may not be easy, but it is necessary if we are ETHICAL DEED DOERS, doing our ethical best!
Take the 3/21 opportunity to get YOUR FINANCES WORKING FOR THE PLANET!  Join THIRD ACT in showing YOUTH that their ELDERS REALLY ARE ETHICAL! ~~~  THAT THEIR ELDERS REALLY CARE ABOUT THEIR CHILDREN'S CHILDREN'S CHILDREN! Visit https://thirdact.org.

Finally, the Fridays For Futures stand up IN DEED at City Hall every Friday afternoon ~~~~ we are always welcome to show up in support!
"We are called to assist the Earth to heal her wounds and in the process, heal our own — indeed to embrace the whole of creation in all its diversity, beauty and wonder."

Dr. Wangari Maathai, Nobel Peace Honoree, Kenyan peace leader & scientist.