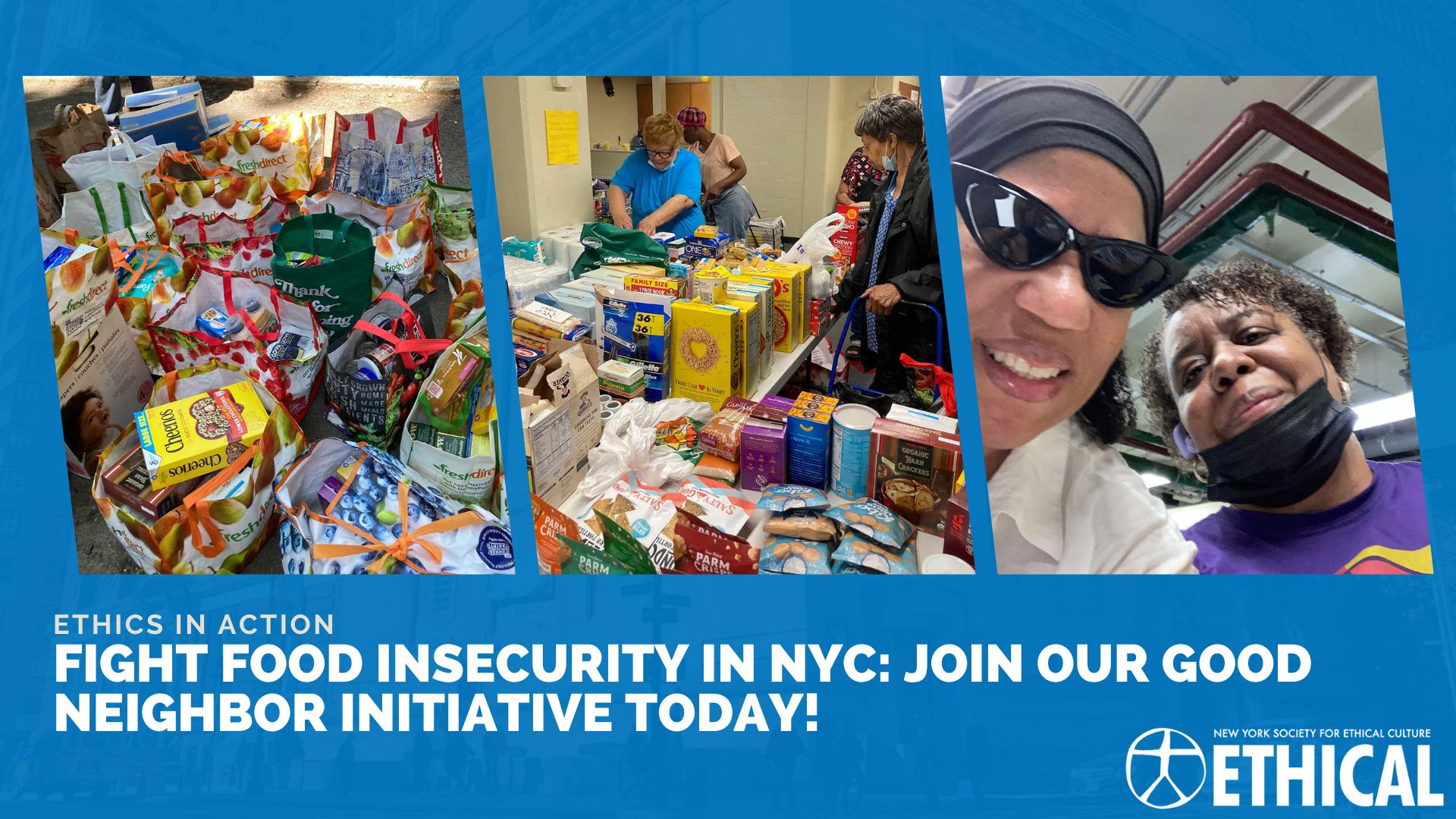 Amid inflation, rising housing costs, and the lingering pandemic, food insecurity is rampant, especially for our most vulnerable neighbors: the poor, families with children, seniors, persons with disabilities, and those on fixed incomes.
In response, the Society's Social Service Board has mobilized and partnered with our neighbors in the Resident Association at NYCHA's Amsterdam Houses, including their Harborview Terrace senior community, to collect and distribute donated food and other household necessities every month. Our neighbors have greatly appreciated our support.
So far we've collected and distributed thousands of pounds of supplies to help residents. To those that have already given: thank you! But more needs to be done. Here's how we can help:
NEW! Give Using Our Amazon Wish List
Click here to visit our Amazon Wish List. All items you purchase will be shipped directly to us, with no additional effort required!
Donate to Fund Purchases
Utilizing our memberships and relationships with wholesalers to be most effective, all funds raised will be used to purchase:
•Food, including fresh fruits and vegetables •Diapers •Tampons, pads, and hygiene products • Other household necessities as requested
Click here to give money online!
Drop Off Non-Perishable Food and Other Household Items at Our Meeting House
Our address is: 2 West 64th St, New York, NY 10023
If you have canned or boxed foodstuffs you'd like to donate (NOT fresh fruits or vegetables), or other unopened non-food necessities listed above, simply stop by our meeting house and leave them in the box in our lobby (or bring items when you attend any of our in-person programs). Alternatively, you can order items online and have them shipped to our meeting house.
Requested non-perishable food items include:
Boxed pasta • Canned meats • Nut butters • Jelly/jam/preserves (no glass) • Canned or dry soups • Canned stews and chili • Coffee (ground only) and tea (bags only) • Canned pasta (e.g. Spaghetti O's, etc.) • Hot and cold cereals • Rice • Flour • Cake mixes • Pancake mix • Syrup • Powdered milk • Juice boxes • Canned juices • Canned beans • Spam/hash • Canned gravy • Granulated sugar • Baby food and cereal • Baby formula (Enfamil/Similac) • Granola/cereal bars
Volunteer to Organize a 1-Hour Food and Household Item Drive in Your Building–We'll Pick Up!
Simply get a message to the residents of your building to donate canned and boxed food items, or the other unopened necessities listed above. Society members Howard and Janet Rose will then come to your building, collect the donated goods, and bring them to Amsterdam Houses on our drop-off day. Contact Janet Rose at jrose@nysec.org to learn how to work with your building management to get out a message to residents asking them to donate boxed and canned foods.
No building staff need to be involved, with no collection box in your lobby. Simply let residents know that the Roses will be outside at the arranged day and time!
For questions, suggestions, and to volunteer, please contact Janet Rose at jrose@socialserviceboard.org. Thank you!