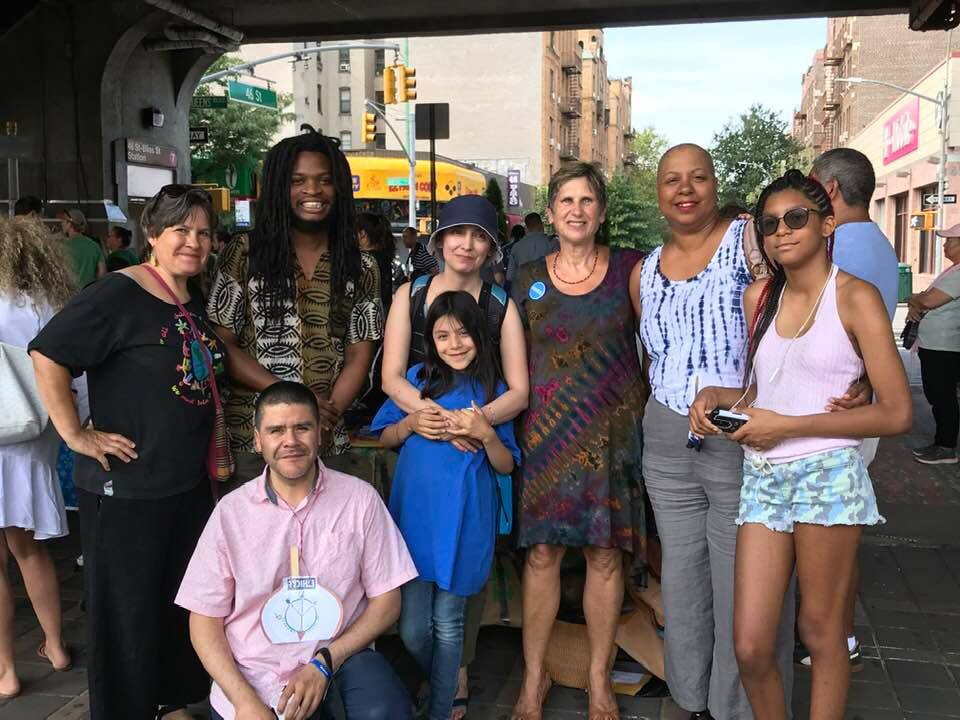 This photo, taken at A Better World Festival in Sunnyside, Queens on Sunday, July 14, shows some of the diversity in the three local Ethical Societies that participated. You can see how happy we all are to be together, working for a good cause and making new connections. The youngest among us, Maria Fernandez, made us proud when she spoke from the stage about our efforts to protect the environment.
Queens, the NYC borough where President Trump was born and grew up, is the most ethnically diverse county in the United States. In 1946, the year he was born, the demographic of Queens was almost entirely white, and the dominant language was English. Today 138 languages are spoken on the streets of Queens. People come from all over the world to experience its cultures and cuisines.
I wonder, as I read Trump's tweets and watch his rallies, how he came to hate so many people who now call Queens their home. We know that his father had a lot to do with it because both he and his son were sued by the U.S. government for their discriminatory rental housing practices, and the arc of their racism is well documented. But why does someone hate non-whites with such intense virulence and use the power of the highest political office in the country to spread that hatred? Why would someone choose to cause so much pain, to viciously attack duly elected Congressional representatives, and to consistently refuse to feel any empathy for others?
I have sought to understand but this week's demagoguery and fascist displays have worn me out, and I will no longer allow him and his supporters to demoralize me. All of my time and energy will be spent in opposing them. We are now truly fighting for the soul of our country and can make no mistake about it. If you ever wondered what you would do in Nazi Germany, know that you are doing it now. Take a stand against hatred in all its myriad forms and fight for a democracy in which no one is denied a vote and every vote is counted.
Anne Klaeysen
Leader