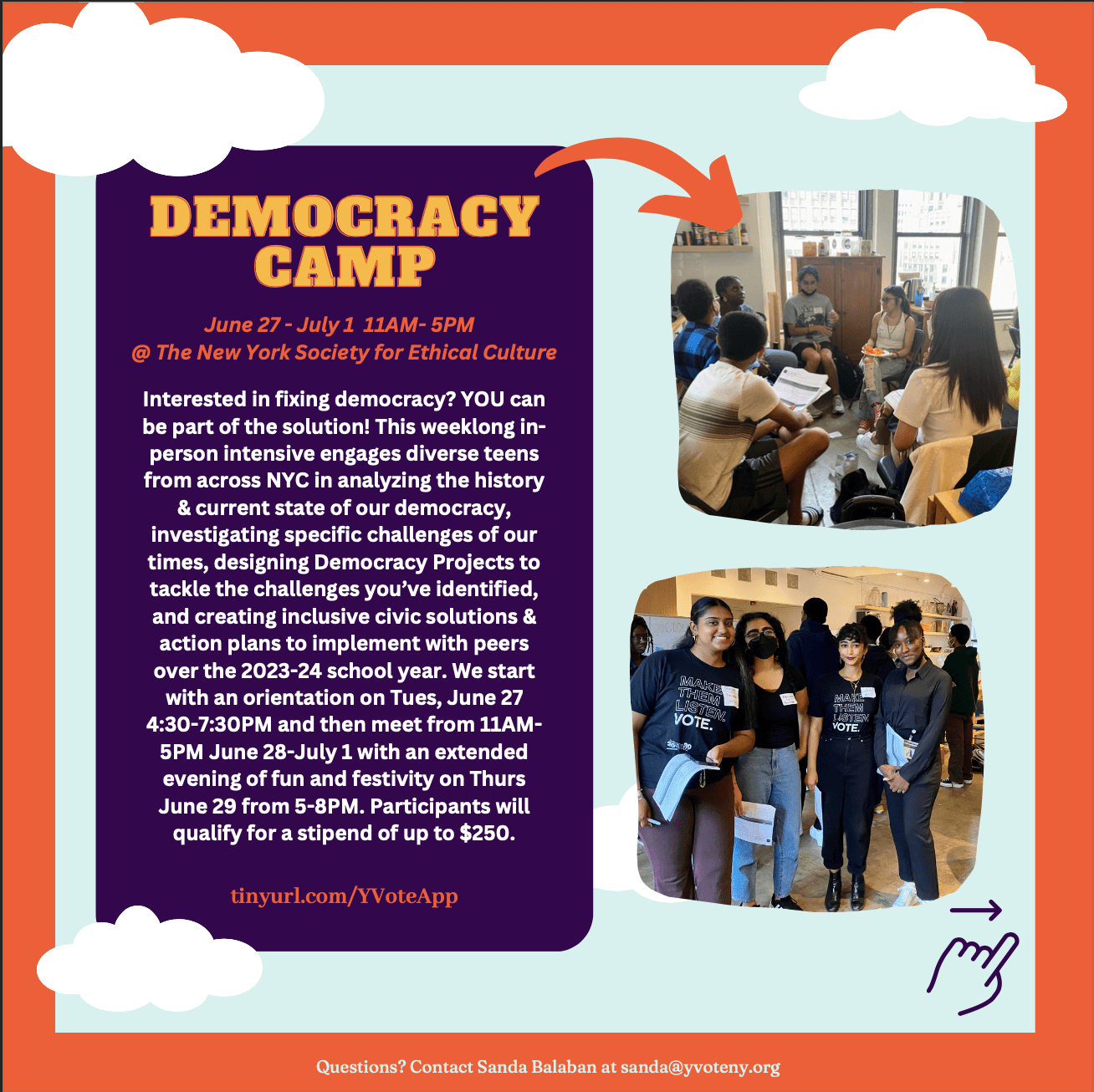 Ethical NYC is delighted welcome teens to study civic engagement this summer through hosting this special program, by partnering with
YVote/
Next Generation Politics
who offer a summer
of  free and stipended
peer-led civic programs!
You will have opportunities to learn more about: 
  creating a stronger and healthier democracy

  engaging with diverse perspectives and peers

  developing advocacy and activism skills.
There are three programs for you to choose from. Check out all 3 and see which is the best one for you–

or

apply to all of them!


Are you interested in helping democracy work better?
YOU can be part of the solution by applying to become part of the inaugural cohort of the Democracy Camp,
It's a weeklong in-person intensive engaging diverse teens from across NYC in analyzing the history and current state of our democracy, investigating specific challenges of our times (for ex, voting rights or racial injustice), designing Democracy Proposals to tackle the challenges you've identified, making recommendations about how to work across differences to create inclusive civic solutions, and creating action plans to implement with peers over the 2022-23 school year.
Democracy Camp will be conducted at the New York Society for Ethical Culture at 2 64th St in Manhattan. It will start with an orientation and community building on Tues, June 27 from 4:30-7:30PM and will then run the rest of the week from 11AM-5PM through Sat, July 1 with an extended evening of fun and festivity on Thurs, June 29 from 5-8PM. Participants will qualify for a stipend of up to $250 for full and engaged participation. Apply ASAP at www.tinyurl.com/YVoteApp
YVote
/
Next Generation Politics
is a NYC-based youth civic engagement nonprofit founded by youth and adult allies in the aftermath of the 2016 election. We bring socioeconomically, racially, and politically diverse high schoolers together to grapple with complex civic issues and current events in order to become informed, engaged citizens and leaders within your schools and communities. We focus on perspective-taking, critical thinking, and civil discourse to create the generational change we need.
Special Thanks to Ethical Culture member Elinore Kaplan for her passionate interest in this project… for planting the seed for teens to engage in Democracy Camp at Ethical NYC.
Note:  Ethical looks forward to continuing to host the invigorated ethical growth of teens through TEEN CLUBS in the fall.  To receive notifications of updates about NYSEC's youth and teen programming, reach out to EthicalFamilies@NYSEC.org.